Autel MaxiCOM MK906BT Diagnostic Scan Toolwith ECU Coding,Bi-Directional Control
customers are viewing this product
Autel MaxiCOM MK906BT
The MaxiCOM MK906BT Diagnostic Platform is an evolutionary smart solution for specialized automotive diagnosis. MK906BT comes with MaxiVCI V100 Bluetooth Box which can communicate with vehicles wirelessly. And it combined with the best possible coverage of OE-level diagnostics, and based on the revolutionary multitask-capable Android Operating system, the MaxiCOM organizes information with test instrumentation to help you diagnose symptoms, codes, and customer complaints easily, quickly and efficiently.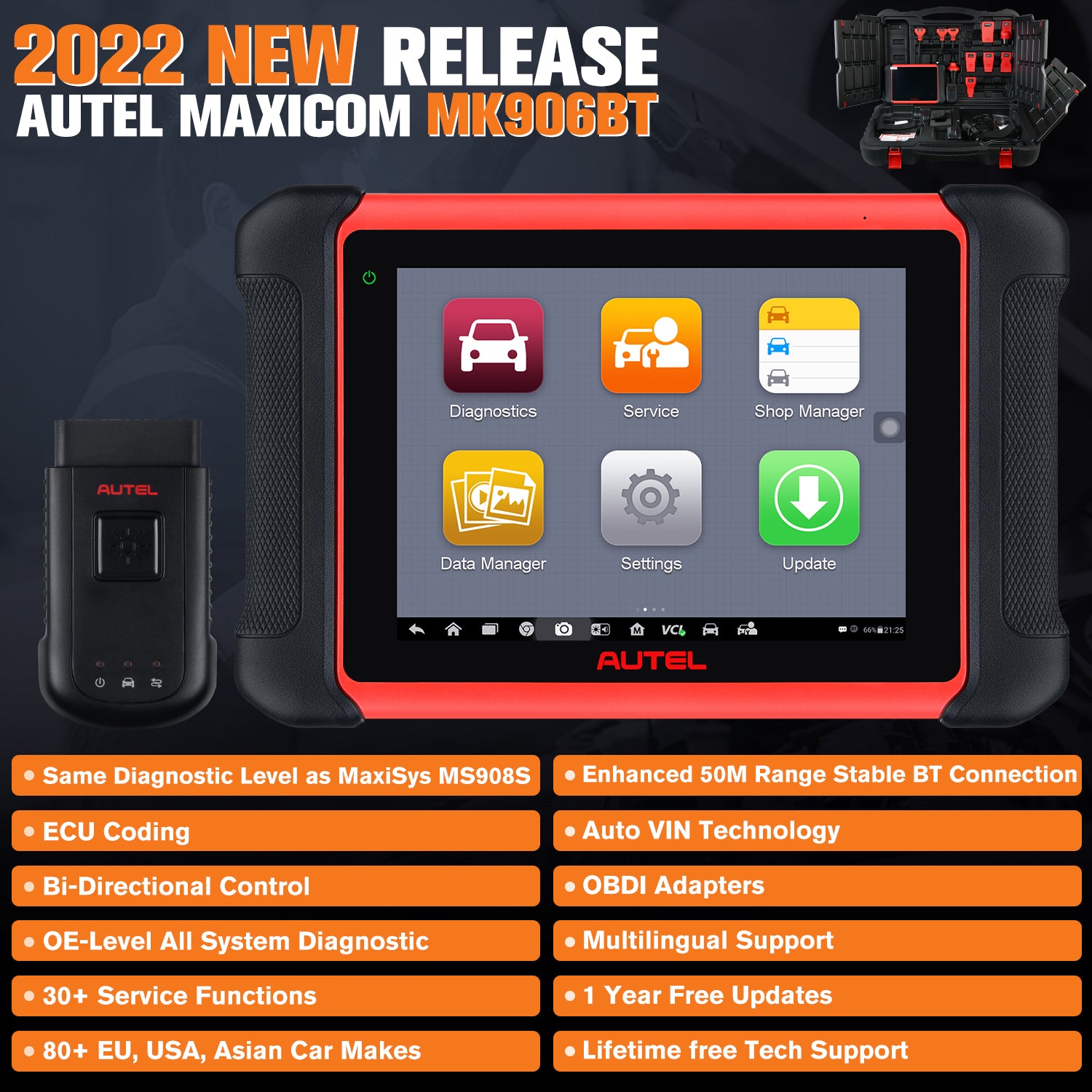 MaxiCOM MK906BT Features:
Extensive complete system coverage for more than 80 US, Asian and European makes and models;
Complete capabilities for codes, live data, active test, ECU information, adaptation, matching, coding etc.
Auto VIN technology can automatically identify the vehicle's make, model, and year information;
Instant remote control tech support anytime, anywhere;
Cloud-based MaxiFix online community provides a vast database of diagnostic and repair tips and proven filed fixes;
Interactive Data Logging sessions enable direct contact with Autel Technical Support for first-hand troubleshooting of diagnostic bugs and errors;
One-stop multitasking designed for ideal management of workshop operations to keep all data files, customer info, and vehicle records well organized;
Convenient data management system for managing internal program applications and reviewing data.
Autel MaxiCOM MK906BT Full Systems Diagnosis & Services:
Doing regular and routine maintenance on a modern car is impossible without a diagnostic system. Even the simplest procedures require the participation of an auto scanner. That's why Autel engineers have been working on them and making them as user-friendly as possible in the new MaxiCOM MK906BT. Now you can easily do functions like:
Oil Reset:

 

Reset the oil change calculator in the engine and automatic transmission

EPB:

 

Replacement of brake pads on vehicles with an electric parking brake

SAS:

 

Adaptation of the sensor to the angular position of the steering wheel

DPF:

 

Regeneration of diesel particulate filter

Brake Bleed:

 

ABS Brake Bleeding

IMMO:

 

Immobilizer keys functions(All keys lost, add new keys)

​​BMS:

 

Battery registration and reset
Seats, Odometer, Injector, CHG tire size, TEC Learn, Suspension, Throttle, WIN OR ROOF, Lang Change, Headlamp.
Autel MaxiCOM MK906BT Advanced Functions:
Autel MaxiCOM MK906BT ECU Coding--

Autel MK906BT professional auto scanner comes with advanced ECU coding function. ECU Coding allows you to establish a data link to the electronic control system of the test vehicle via the VCI device for vehicle diagnosis, service or coding. You can operate functional tests, retrieve vehicle diagnostic information such as trouble codes, event codes and live data, and perform ECU coding, for various vehicle control systems, such as engine, transmission, ABS and more. Coding functions are usually used by advanced specialists.
Autel MK906BT Bi-Directional Control & Active Test--

MK906BT automotive diagnostic scanner comes with Bi-Directional control capability to perform active tests to determine the integrity of a system or parts like ABS, window, door, roof, by reading the ECU data, or by monitoring the operation of the actuators, such as switching a solenoid, relay.


Note:

 

Available tests vary depending on the manufacturer, year, and model, and only the available tests display in the menu. To check compatibility with your vehicle, please refer to Autel website or contact us directly.
Autel MaxiCOM MK906BT Add-On Functions:
Autel MaxiCOM MK906BT is a diagnostic scanner with various interfaces that can access to more Add-on like Inspection Camera, HDMI Projector, Phone, PC, USB Memory Stock, Headset, Oscilloscope, Extend SD Card etc.
MK906BT connects to a

 

MV108

 

/ MV105 inspection camera and turns into a video inspection scope, allowing you to examine difficult-to-reach areas normally hidden from sight. It is capable of recording digital still images and videos, which offers you an economical solution to inspect machinery, facilities, and infrastructure in a safe and quick way.
MK906BT works with

 

Autel MP408

 

oscilloscope providing you an insight to the inner workings of a vehicle's electronic circuits. Featuring the user-friendly UI design combined with the unrivalled hardware specs, is able to measure and test virtually all the electrical and electronic components and circuits in any modern vehicles.