Autel MaxiCOM MK808S-TS OBD2 Bluetooth Scanner Car Tpms Diagnostic Tools
customers are viewing this product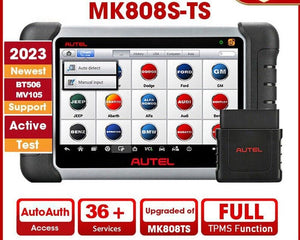 Autel MaxiCOM MK808S-TS OBD2 Bluetooth Scanner Car Tpms Diagnostic Tools
For the benefit of consumers, we upgraded the MK808TS to MK808S-TS without extra cost (still cost the same), but added more features & car models.
1. Fully Enhanced Hardware: the more powerful CPU ROCKCHIP RK3566, the improved OS Android 11, the larger 4GB+64GB, the faster & more stable 5G Wi-Fi, etc.
2. Wider Vehicle Compatibility;
3. More Features & Faster Software Updating, which means you can diagnose more new cars on the market earlier than other mechanics.
Newest Autel MaxiCOM MK808S-TS Automotive OBD2 Diagnostic Tool Car Scanner TPMS Service Programming Sensor and Bluetooth PK MK808 MS906TS
Autel scanner MK808S-TS is a tablet capable of performing a variety of advanced services functions such as complete TPMS functions, TPMS retrofitting, 28+ reset services, and whole-system diagnostics, etc. It perfectly combines the functions of comprehensive scanners (MK808) and professional TPMS tool (TS601) into one but costs far less than purchasing 2 devices separately. It's ideal for mechanics, and DIYers to use in their garages and workshops.
MK808TS's Upgraded Version -- MK808S-TS is coming
MK808S-TS have more advanced hardware.You can check the following difference.

■ MK808S-TS Hardware
CPU: Rockchip RK3566
RAM:4G
ROM:64G
Battery Capacity:5000mAh
Android Version:Android 11
Screen Size:7inch
Wifi:2.4 & 5 GHz
VCI:main cable

■ MK808TS Hardware
CPU: Rockchip RK3188
RAM:1G
ROM:64G
Battery Capacity:5000mAh
Android Version:Android 4.4.4
Screen Size:7inch
Wifi:2.4 GHz
VCI:main cable
What the Autel MK808S-TS Can Do?
● Support 150+ Global Car Brands (1996-2023): 10000 models from America, European, and Asia.
● Newly-Added Bi-Directional Control/ Active Test: Better than MK808BT+TS608;
● AutoAuth for 2017 & later FCA cars: For Chrysler, Jeep, Dodge, Fiat, etc.
● Renault Security Gateway Function: unl~ocking Renault's gateway to perform diagnoses, services, etc.
● 28+ Special Functions: The diagnostic tool has been packed with over 28 special functions which provide you a full set of reset functions for daily maintenance. Oil reset, EPB, TPMS, BMS, brake bleeding, IMMO, SAS, etc.
● Complete TPMS Functions: Autel MX-Sensor programming, TPMS sensor activation, TPMS sensor relearning. Those are the functions that help your ride calibrate with all of the TPMS sensors.
● OE-Level TPMS Retrofit: help you upgrade the indirect TPMS module to the high-level direct TPMS for safe driving, building everything from scratch. the MK808S-TS can start everything from very first beginning. Coding ECU to activate on-board TPMS module, coding the Autel TPMS module or activate OE TPMS module, TPMS module retrofitting guidelines, etc. Compatible with BMW, Benz, etc.
● OE-Level Full-System Diagnosis: The full-system diagnosis will enter every corner of on-board vehicle systems and conduct full inspection analysis and tests. Never miss a detail.
● Wireless BT MaxiVCI Diagnostics: Every single diagnosis process can be done through the MaxiVCI, a compact Bluetooth diagnostic module that can help you out from entangled cables.
● Auto VIN Scan: How many letters in a VIN code? 17! How long it takes for inputting? 30 Secs! Every second of life is precious, so let the scanner do you the job! Autel MK808S-TS can automatically access VIN code and other on-board ECU info.
● Multiple User-Oriented Features: Shop Manager, Data Manager, Remote Desk, etc.
【Complete TPMS Function】
Professional Complete TPMS Functions---Never Let a Flat Tire Wreck Your Ride
Equipped with professional complete TPMS functions, Autel MaxiCOM MK808S-TS Diagnostic Tool can work as both a highly advanced car scanner and a professional TPMS tool ‒ Enough to meet the needs of the professional tire shops. As the great combo of TS508/TS601/TS608, TPMS programming & relearn tool MK808S-TS can perform every aspect of TPMS service: all-known sensors activation; view sensors data, TPMS diagnostics; 4 ways to program Autel MX-Sensor programming; 3 positions relearn procedures; & TPMS retrofit, solving 99% of TPMS problems in the market.
● TPMS Sensor Activation‒Activate/Trigger 99% of TPMS Sensors Wirelessly: Autel TPMS tool MK808S-TS can activate 99% of TPMS sensors (315/433MHz), including the OE sensors, Autel MX-sensors, and other sensors in the market.
● TPMS Sensor Data Reading‒Check the TPMS Sensor Status Quickly: Read the sensor ID, pressure, temperature, battery condition, etc., to help you quickly know what's wrong with the sensor.
● Advanced TPMS Diagnostics‒Check the TPMS Module Status: Read/Clear Trouble Codes from TPMS, Read Live Data to check the module status, and help turn off the light after certain repairs.
● Autel MX-Sensor Programming‒Replace the Broken TPMS Sensors, Fast & Easily: Wirelessly program the Autel MX-sensors (315/433 MHz) to replace the broken TPMS sensors with low batteries or other problems. (*Only Autel MX-sensors can be programmed by MK808S-TS.) 4 ways to program TPMS Sensors: Copy by Activation, Copy by OBD, Copy by Input, and Auto Create.
● 99% TPMS Sensor Relearn‒Help Newly Replaced TPMS Sensors Work Properly: Relearn TPMS sensors to the vehicle's ECU after changing or rotating tires, or installing new sensors to ensure if the information stored in ECU matches perfectly with the equipped TPMS Sensor ID and location. 3 ways to relearn TPMS sensors: Stationary Relearn, Automatic Relearn, and OBD Relearn.
● TPMS Retrofit‒Upgrade the TPMS Modules on the Cars: help you upgrade the indirect TPMS module to the high-level direct TPMS for safe driving. (*Only available for the low configuration car models whose high-end models are installed direct TPMS by default.) Compatible with BMW, Benz, etc.

● TPMS by OEM Part No.‒ An efficient method to quickly and accurately determine the current vehicle's model, year and frequency info., avoiding TPMS matching failure caused by incorrect selection.
【Advanced TPMS Retrofit】
TPMS retrofit, which can help vehicles without factory-fitted OEM tire pressure module or sensors build everything from scratch, is a highly advanced function that the other special tools can only dream of! (*Only available for the low configuration car models whose high-end models are installed direct TPMS by default.) Compatible with BMW, Benz, etc.
This Autel TPMS relearn tool MK808S-TS can retrofit your car with an OEM tire pressure module, and then program & relearn the sensors to the car.
Upgrade the Low-Level Indirect TPMS to the High-Level Direct TPMS!

How to Perform the TPMS Retrofit Functions?
Here are the specific steps for your reference:
Step 1: Back up the original vehicle data;
Step 2: Code the Autel TPMS module;
Step 3: Install the Autel TPMS module on the vehicle following the instruction;
Step 4: Program the Autel TPMS sensors (Note: For the OE tire sensors, this step can be skipped);
Step 5: Activate the Autel TPMS sensors or OE sensors;
Step 6: Relearn the sensors with on-board TPMS module;
Once you finish the above steps and sit back to the seat, you will surprisingly find out the pressure of each tire has been shown on the dashboard.
【Bi-Directional Control/ Active Test】
As the 2022 newly-upgraded version of Autel MaxiCOM MK808TS, the newly-launched MK808S-TS scanner is not only an affordable scanner, but also a bidirectional scan tool. It inherits the powerful Bi-directional Control/Active Tests (released on June 1, 2022), which makes MK808S-TS the most cost-effective Autel scanner.
In addition to reading/clearing codes and reading data from all modules, this bidirectional scan tool MK808S-TS can also send data to command the vehicle ECUs and monitor the operation of the actuators, even the relays, to track down the problem.
【28+ Special Functions】
As a smart diagnostic scanner in the era of Artificial Intelligence, Autel MaxiCOM MK808TS comes with 28+ service functions to help professional mechanics and technicians in workshops solve over 80% vehicle maintenance tasks fast and easily.


Oil Reset Service enables you to reset the maintenance light after changing the oil.

EPB Service allows you to deactivate and activate the brake control unit, open and close the brake cylinder when you change, or install brake pads for your vehicles.

ABS Brake Bleeding helps you to activate or control the anti-lock brake system, or components, turn off the light on the dashboard.

SAS Service helps you to process the sensor relearn and turn off the light or after you disassemble, replace the steering angle sensor, steering gear or steering related parts.

Airbag Service keeps your driving safely. There are several possible causes when the air bag warning light stays on, including the trouble of airbag, air spring, collision sensor, airbag plug loosening etc. The scan tool reads the reason and turn off the light.

BMS Service enables you to control the anti-lock brake system, calibrate the steering angle sensor after disassemble and replacement.

Anti-Theft Matching of The IMMO Function helps you disable the lost keys and program new replaced keys, keep the vehicles safe.

Throttle Body Adjustment enables you to complete the throttle matching after you clean the throttle but the idle speed is unstable or excessively high.

Adjust A/F adjust the ratio of air to fuel ratio on the engine to help it reaches the best working condition to ensure the vehicle's fuel economy.

Windows Calibration helps you to calibrate the "one-touch" windows function after you disassemble the door trim, replacing the lifting motor, lifting bracket, etc.

Seat Calibration enables you to restore the original seat function of your electric seat once the function fails after you repair or replace the seat or the accumulator on it.

DPF Regeneration allows removing PM from the DPF by burning the collected black smoke via the exhaust heating method. The PM deposited in the filter overly could affect the engine's performance. This scanner helps you complete the DPF reset and regeneration.

Besides the above mentioned services, it supports other special services such as Cylinder Service, Trans Adaption, CHG Tire Size, Language Change, Odometer, Headlamp Calibration, and so on. Functions vary by the cars.
【Factory-Level All System Diagnostics】
To root out car problems hidden underneath the hood, Autel professional scanner MK808S-TS features OE-level full-system diagnostics, which functions the same as the Snap-on scanners but covers more vehicles. This Autel scanner can dive into every corner of the systems, such as TCM, ECM, EPS, PDM, BCM, etc. to do Read/Clear Codes, ECU info., Live Data, Active Tests, & Special Functions. Also, it presents everything about your ride with a specific report.
【Wireless BT MaxiVCI Connection】
Every single diagnosis process can be done through the MaxiVCI, a compact Bluetooth diagnostic module that can help you out from entangled cables.
【AUTOAUTH for FCA SGW Access 】
The Autel OBD2 scanner MK808S-TS supports AUTOAUTH for FCA SGW access, allowing you to clear codes, do bi-directional control (active tests), and perform special functions for Chrysler FCA models after 2018 without the need for a bypass cable. *AutoAuth account needs to be purchased by yourself. Compatible with Fiat, Chrysler, Alfa Romeo, Dodge, etc. (From 2018-2023).
【Renault Security Gateway Function】
Renault Security Gateway Function is used for unlocking Renault's gateway to perform service functions, active tests, coding, etc. without the need for a dongle or PC. With this feature, the Autel MaxiCOM MK808S-TS allows you to pay to perform those functions via one-click on these models (after 2019), such as CLIO V, CAPTUR II, CAPTUR II CN, MEGANE IV ph2, ESPACE V ph2, TALISMAN/SM6 ph2, NEW ZOE, ARKANA CN, XM3/NEW ARKANA, NEW SANDERO/LOGAN, etc.
【Shop Manager】
If you are a mechanic shop owner, the Shop Manager of this Autel intelligent scanner will keep all your customer information, detailed vehicle data files, and vehicle test records well-organized, making it super convenient for you to review, analysis, or share the data again.
【Data Manager】
If you are a car hobbyist who works on cars a lot, this Autel scanner MK808S-TS would also worth your money to get. The Data Manager opens the organization system for saved data files, allowing you to store, print, and review the saved files anytime.
【Remote Desk】
The Remote Desk APP of the Autel MK808S-TS scan tool can launch the TeamViewer QuickSupport program, which is a simple, fast, and secure remote-control interface, to help you get ad-hoc remote support from Autel's technicians, colleagues or friends
【Wireless Diagnoses & Auto VIN】
When working with this Autel diagnostic tablet MK808S-TS, its VCI acts as a vehicle communication interface device to fast read the vehicle data and then wirelessly send it to the tablet via Bluetooth, providing super-fast wireless Bluetooth diagnostics for cars. Designed with Auto VIN technology, Autel newly-released scanner MK808S-TS can directly get detailed information about the car, ranging from engine type to where it was manufactured via a single touch.
【Multiple Vehicle Models】
Asia: For Acura, Daewoo, Holden, Honda, Hyundai, Infiniti, Isuzu, Kia, Lexus, Mazda, Mitsubishi, Nissan, Scion, SsangYong, Subaru, Suzuki, Toyota, BYD, ChangAn, Chery, DFM, FAW, Foton, Geely, GreatWall, Haval, JAC, Lifan, Luxgen, MG, Zotye Europe: For Abarth, Alfa-Romeo, Alpina, AstonMartin, Audi, Bentley, Benz, BMW, Citroen, Dacia, Ferrari, Fiat, Jaguar, Lamborghini, Lancia, LandRover, Lotus, Maserati, Maybach, Mini, Opel, Peugeot, Porsche, Renault, Rolls-Royce, SAAB, Skoda, Smart, Volvo, Volkswagen USA: For Buick, Cadillac, Chevrolet, Chrysler, Dodge, Ford, GMC, Hummer, Jeep, Lincoln, Mercury, Oldsmobile, Pontiac, Saturn, Tesla
【Multi-Languages】
English, German, Spanish,Japanese,Portuguese, Dutch, French, Italian.Korean, Russian ,Polish,Swedish,Persian,Turkish,Thai,Vietnamese,Hebrew,Arabic,Indonesian
【Advanced Hardware】
Android 11 based tablet diagnostic tool greatly improves the working efficiency with performance and power optimized 1.5GHZ Cortex-A9 Processor.

7 inch touchable LCD screen with 1024*600 resolutions offers ultra-clear visuals of the diagnostic data, making it easy to navigate and read codes.

4GB RAM / 64GB On-Board ROM Memory is not only an extended storage space but a way to reduce the possible issue of slow response. Built-in 5000 mAh battery provides up to 7 hours continuous battery life for giving you a worry-free operation experience.

MaxiVCI Mini is equipped for connecting between the diagnostic tablet and DLC for wirelessly vehicle data transmission via the fast and reliable Bluetooth 2.1 EDR, allowing technicians to have complete freedom to move anywhere in the repair shop when the VCI is connected to the car.
【WARRANTY】
12-month warranty for any possible quality problems.
【PACKAGE LIST】
1*Main Unit
1*USB Cable (for charging)
1*USB Cable (for test)
1*MaxiVCI Mini
1*USB External Power Adapter
1*Quick Reference Guide
1*Carry case
1*Magnet