XTOOL X100 PRO3 Car Key Programmer PIN Code Reader Diagnostic Scanner IMMO Tool
customers are viewing this product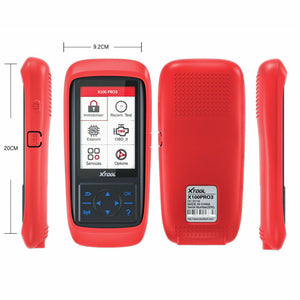 Why Chose XTOOL:
1. All XTOOL products provide three-year warranty
2. XTOOL has hundreds of engineers to ensure continuous software upgrades
3. Online free upgrade, the model will be updated to the latest year
4. Provide lifetime technical support and 24-hour online service
5. Delivery guarantee, fast delivery within 72 hours
X100 PRO3

 is a professional key matching machine with 7 special functions OBD2/EOBD diagnostic function.
It is an upgraded version of X100PRO2, which cancels the odometer change and adjustment function, but adds EPB, ABS, TPS reset functions, which can meet the needs of more The needs of multiple car owners

X100 PRO3 Main works for most of Europe, Asia, America, Australia Car Models Key Programmer

Supported Languages: English, German, Spanish,Portuguese, French, Italian.Polish,Russian
7 
Kinds of Special Reset Service Functions:

*Oil Reset Service: Performs reset for the Engine Oil Life system, which calculates an optimal oil life change interval depending on the vehicle driving conditions and climate, and turns off the warning light;

*Electronic Parking Brake (EPB) Service: Maintains the electronic braking system safely and effectively through deactivating and activating the brake control system, assisting with brake fluid control, opening and closing brake pads, and setting brakes after disc or pad replacement, etc.

*Steering Angle Sensor (SAS) Service: Performs calibration for the Steering Angle Sensor (SAS), which permanently stores the current steering wheel position as the straight-ahead position in the steering angle sensor EEPROM. On successful completion of the calibration, the steering angle sensor fault memory is automatically cleared.

*IMMO Service: enables you to disable the lost vehicle keys and program a replacement key fob.

*ABS Bleeding:ABS brake bleeding to get a firm brake pad after air exhaustion.

And many more ...
Complete OBD2 functions:


Reading Codes: 

Show the detailed description of the Diagnostic Trouble Code (DTCs).
Erasing Codes & Reset: Turns off Check Engine Light (MIL), clears codes and resets monitors.
Data Stream: Reads and displays live ECU/PCM data stream, plotting functions graphically and stores freeze frame data.
I/M Readiness Status: Shows whether the various emissions-related systems on the vehicle are operating properly and are ready for inspection and maintenance testing.
Read Live Data Stream: Show the information of continuous data stream from a vehicle in live graphic (waveform) display.
View Freeze Frame Data: Check the certain vehicle conditions which are recorded by the on-board computer at the time the emission-related fault occurs.
O2 Sensor Test: Allows retrieval and viewing of O2 sensor monitor test results for the most recently performed tests from the vehicle's on-board computer.
On-Board Monitor Test: Retrieves and displays test results for emission-related powertrain components and systems.
Read Vehicle Information: Display the information such as VIN (Vehicle Identification Number), CID (Calibration ID) and CVN (Calibration verification number), etc.
Component Test: Certain vehicle components can be actuated by commands sent from the scanner to test their operability.