XTOOL EZ400 PRO Tablet OBD2 Fault Code Reader Reset Diagnostic Scan Tool
customers are viewing this product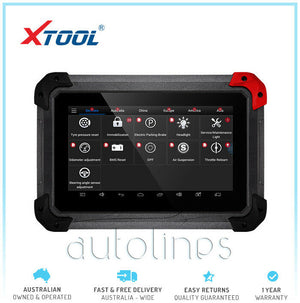 XTOOL EZ400 PRO Tablet OBD2 Fault Code Reader Reset Diagnostic Scan Tool

MAIN FEATURES:
Easy registration with EZ400 PRO connected to WIFI
Wireless diagnosis via Bluetooth
One-click software update via WIFI
Remote access
Diagnosis reports in PDF file
Record and playback live data
7 inch multi-touch screen
On-board battery
Extensive vehicle coverage for most US,
Asian and European vehicle makes
EZ400 PRO Diagnosis System
EZ400 PRO is a high-end and new style auto diagnostic device developed by XTOOL based on Android system. Its open source Android operating system provides fast boot-up and multitasking. EZ400 PRO provides extensive vehicle coverage for most US, Asian and European makes, which makes it the best solution for workshops.
Front View
Top View of EZ400PRO Tablet
①MicroUSB:Battery charge or data synchronization with PC
②DB15 Port:Supports wired connection with car by the cable
③Power Button: Power on or power off
Wired Connection ①→②→③→④
a. Connect cables and EZ400PRO in following order: ①→②→③→④
b. Switch on the ignition and turn on EZ400PRO tablet, then tap on EZ400PRO application to test vehicles. (Shown as follows)
① EZ400PRO Mainframe
② Main Test Cable
③ OBDⅡ-16
④ Vehicle
Precautions Before Use
1. The vehicle power supply has to meet the normal voltage limits DC4.8V---5
2. When pull and plug test wire harness, users should pinch the front-end of the wire harness to pull and plug, not pull the middle section of the wire harness. Users should check the corresponding direction of the port and plug in horizontally when they plug the wire harness, instead of inserting in an oblique way, which may damage the terminal.
3. When taking some special functions tests, users are required to operate the device according to operating instructions. For vehicle, it has to strictly meet the requirements, for example, the conditions that some vehicle models need to be reached are as follows: engine temperature 80℃/105℃, turn off the loads (such as headlights, air-conditioner, etc.), put accelerator pedal in released position, etc.
4. The ECU for Chinese domestic vehicle models are relatively disorderly, so when users meet conditions, such as the car can not be tested or the test data is wrong, they should consider whether the selected menu corresponds to the tested electronic control system, or they can find the car ECU and select the right menu according to the model number on the ECU label.
5. If users can not find the tested vehicle model or electronic control system in EZ400PRO test menu, they may need to update the software or consult Xtool technical service department
6. Banned to have connection test by using harness not from Xtool to avoid unnecessary losses.
7. Banned to power off directly in the communication between EZ400PRO and vehicle. Users should cancel the task and return to the main interface, then power off.
8. The device should be put and lifted slightly to avoid collision when using EZ400PRO. When click the screen, touch it gently to guarantee the service life of the touch screen.
9. During long period of non-use, please disconnect the power and turn it off.
Different vehicles have slight different menus.
Common main function menu includes the following options:
Read ECU:
this function is to read ECU version information, which is the equivalent of "System Identification" or "System Information" in some electronic control systems, all mean to read ECU related software and hardware versions, models and production date of diesel engine, part number, etc. It is convenient for us to make record in the maintenance process, and it also makes later date feedback and management easier.
Read DTCs:
read trouble codes stored in ECU.
Clear DTCs:
clear current and historical trouble codes memory in ECU, under the premise that all the troubles are eliminated. The trouble codes can not be erased without eliminating all the troubles, which will cause the diagnostic tool always reading the trouble code because the code will always be saved in ECU.
Suggestion:
users should better not to clear trouble codes, we need record the trouble details after reading code, which is provided as reference for maintenance. After dealing with troubles, there will be no trouble code when we re-read.
Read Live Data:
that is to read the parameters of running engine, such as oil pressure, temperature, engine speed, fuel oil temperature, coolant temperature, intake air temperature, etc. Based on these parameters, we can judge directly where the problem lies, which helps to narrow the scope in maintenance. For some vehicles, during their actual operation, the problems such as performance characteristics offset, sensitivity reduction, can be judged in live data. This function needs us very familiar with engine parameters, for instance, when idle speed is 800RPM or 750RPM, coolant operating temperature is between 80~105℃, what are the operating voltage and time of each sensor and actuator?
Special Functions:
depends on vehicle models.
Actuation/Ative/ Components Test:
mainly to judge whether these actuating components of engine are working properly.
Diagnostic Reports
Diagnostic Reports is for checking the saved files, such as the report of Live Data or Trouble Codes or pictures generating in the process of diagnosis, users also can know what cars have been tested. It includes three parts: PDF Files, Pictures and Data Playback.
PACKAGE CONTENT:
SUITABLE FOR THE FOLLOWING VEHICLE MAKE: