Xhorse VVDI MINî OBD-Tool Work with Key Tool Max
customers are viewing this product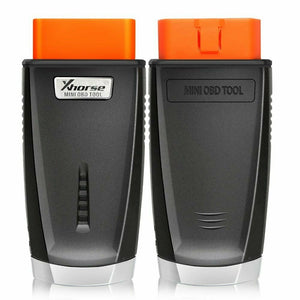 VVDI MINI OBD Tool For Xhorse VVDI Key Tool Max

Note: This MINI OBD TOOL just can sold to the buyer who has the VVDI KEY TOOL MAX already, the MINI OBD Tool can not use alone.
This is the VVDI Mini OBD Tool, which can be used withVVDI Key Tool Maxto perform remote function like Generate transponder,Transponder Clone, Generate Remote,Remote Clone, OBD matching transponder/remote/smart card.
Main Functions:
Now justImmo programmingfunction andCollection testing datafunction release,other functions are under development,will release in the future.
VVDI Mini OBD Tool Functions:


How to use it with VVDI Key Tool Max?
How to Update VVDI KeyTool Max (& Mini OBD Tool) Software?

You need Xhorse Keytool Upgrade Kit.
Install it on your PC, make sure Internet-connected online.
>>connect white USB cable provided on Mini OBD Dongle to PC USB. Just follow on pop-up screen instruction. This stage do not switch ON your KeyTool Max.
The upgrade kit will Auto Detect your device and update to the next version.
IMPORTANT update firmware version in sequence do not jump to the latest Version number.
Do it step by step until you get the latest version.
Finished>>>Switch on your Key Tool Max and pair (Bluetooth) with Mini OBD Tool, and you get screen pop-up menu on Key Tool Max.