Vjoycar Y5Pro Switchback Model 3/Y MultiData Display Dashboard Car Speedometer
customers are viewing this product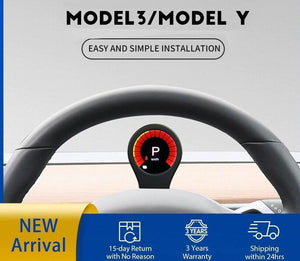 Product introduction:
●This product is specially developed for Tesla Model 3 and Model Y, which is compatible with the original car information. The structure adopts the non-destructive installation mode of private model of the special car, and perfectly combines with the central control panel, which is closer to the original car's screen style.
● Equipped with 2 different cable sockets, which can work well on all Tesla Model 3 and Model Y, can support both Intel Atom ( 2017~2021) and AMD Ryzen (2022~).

Product Features:

- 3 types UI interfaces: Long press the left wheel button for 5 seconds to switch three interface styles
- The brightness of the screen will change synchronously with the screen brightness of the central control screen
- Support Mobile phone holder 15W wireless fast charging; The screen will be off automatically after switching
- Real-time synchronization:
• Compatible with all original car information displays
• current speed display (KM/H or MPH)
• Battery usage
• Front trunk status:open /close
• Left front door status:open/close
• Right front door status:open /close
• Left rear door status:open /close
• Right rear door status:open /close
• Left turn signal/Right turn signal
• High beam/position light/Low beam Indicator
• Gear display
• Handbrake Reminder
• Seat belt Indicator
• Free software update remotely: it can be installed on Model 3 / Y from 2017 to 2022 ;
No matter which software version needed, Y5 is supported to update software freely.
More Details:
Product Parameters: