Vjoycar Y3-Pro Digital HUD Perform Center Console LCD Screen Dashboard for Tesla
customers are viewing this product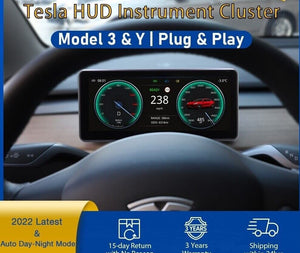 Product introduction:
●This product is specially developed for Tesla Model 3 and Model Y, which is compatible with the original car information, Bluetooth, front view, navigation, instrument information display and other integrated machine. The structure adopts the non-destructive installation mode of private model of the special car, and perfectly combines with the central control panel, which is closer to the original car's large screen style, won't block any view from the car.
●Connecting Carplay & Android Auto wirelessly, which can control or make voice calls through the steering wheel buttons to simplify the operation and avoid driving safety hazards, so that you can travel safely and have entertainment and personalized high-end products at the same time.
No any damage to original car circuit; Read & Display original car information.
1. Center Console Dashboard For Tesla Model 3 & Model Y;
2. Touch Screen HD Performance LCD Display;
3. Display size: 8.8inch;
4. Support Carplay, Android Auto and full screen Navigation ;
5. Can make calls, send massages, see Movies and listen to Music...
6. USB For Media Play,
7. Support wifi,wifi hotspot and Bluetooth wireless Connection;
8. Brightness Adjust Automatically and Manually;
9. Support Two style or Single Speed Meter and Dual Speed Meter;
10. Operated by Steering Wheel or Touch screen;
11. Multi-screen operation support ;
12. Multi-interface display option;
13. Tire pressure Display and Monitoring;
14. Car's front review with optional camera;
15. Screen Shut OFF and ON;
16. Adopted blue-light blocking technology, protect your eyes without flashing;
17. Multiple languages are supported: English, Chinese
18. Free software update remotely:it can be installed on Model 3 / Y from 2017 to 2022 ;
No matter which software version needed, Y3 Pro is supported to update software freely.
Vjoycar Y3 Pro Performance LCD HUD Display:
Suitable for global Tesla Model 3 and Model Y
Optional installation method: left-hand driver and right-hand driver;
Now new cars after 2022 use AMD Ryzen processor, so the default packing is with the cable for AMD also. If your car is from 2017~2021 and works with Intel Atom processor, we will change the cable, will send out the correct cable socket according to your order details.
AMD is AMD Ryzen, Intel is Intel Atom  
Notice before buy:
If you want to match a frond camera with the performance LCD, please choose the version with camera (last 4 options when make an order):
2022 Updated Display Interfaces:
Newest Touch-Screen Display for Model 3 / Y Center Console Dashboard:
Fully screen to display car information in real-time, such as speed, turning light, gear position, battery level, endurance mileage and total mileage, high and lower beam, belt reminding, battery left reminding, driving distance etc. Display whatever you want a Model 3 / Y display. Keep eyes ahead while driving!

Adopted blue-light blocking technology, protect your eyes without flashing;

Product Parameters:
Package List:
1 * Main LCD Screen Host
1 * Wired cable
1 * Installation tools
1 * Front camera (Optional)
Notice: 2 options for connectors:
1. Cable Suitable for AMD Ryzen (newest cars after the year 2022 in general)
2. Cable Suitable for Intel Atom