Thinkcar Thinktool ProsOBD2 Professional All System Diagnostic Scanner
customers are viewing this product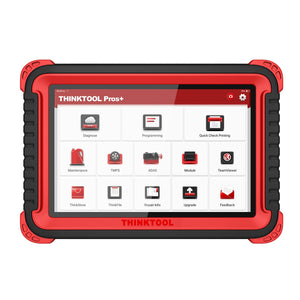 Thinkcar Thinktool ProsOBD2 Professional All System Diagnostic Scanner Code Reader Online Program scanner ECU Coding
THINKCAR THINKTOOL Pros+10inch Car full system Scanner bluetooth wifi with 28 Special service, support ECU Coding programming ,ADAS Calibration, Active test+ Android 10 OS running on 10-inch HD IPS Touch Screen + 128GB Memory + 3 years free update online...
Full system diagnostic
Engines/Auto Transmission/Airbags/Immobilizer/Key Coding/ABS/Cruise Control/Instruments/ Self Leveling Suspension systems/Seats/Doors/Gateway/Steering Angle/Air Suspension/Body Systems/Electronic Power Steering & Motor Assisted/Power Steering/Tyre Pressure/Rain Sensors/4WD System/Stabilizer/Intelligent Parking Assist/Door Motors/Audio Systems/Air Conditioning/Tiptronic/Anti Theft/Soft Top/Headlamp Leveling/Central Locking/Automatic Clutch/ DPF Reset/Electric Windows/Plip Programming/Heated Rear Window/Xenon Headlights/Wash Wipe/Fuel Burning Heater/Transfer Box/Seat Memory/Oil Life Service Reset/Sliding Doors/Electronic Throttle/Navigation System/Rollover Sensor/Cruise Control/ Multi Function Steering Wheel/Aux Heating/Electronic Parking Brake/Clutch Electronics etc.( Great for car repair shops and mechanics to improve business)
Actuation Test:
This function is used to test whether the execution components in the electronic control system can work
Oline Programming
Think Tool Pros+ supports programming and coding, which is to write the relevant control information of the software into the automotive computer's programmable EPROM or FLASH by making use of the electronic communication transmission technology.
ECU CODING
The Coding function is used to re-flash the vehicle control modules, it allows you to reprogram adaptive data for certain components after making repairs or replacements.
ADAS calibration
Advanced Driver Assistance System (ADAS) is an electronic component in a vehicle, including various safety functions of the vehicle, such as automatic emergency braking (AEB), lane departure warning (LDW),lane keeping assist, blind spot elimination, night vision camera and Adaptive lighting. The function on the equipment is disabled by default, and the user needs to activate the function with an activation card before using it. And this function needs to be matched with THINKCAR ADAS calibration tools. Mainly used to calibrate various camera and radar of driver assistance systems
Graphical display
Combine: Displayed in graph merge status for data comparison. Value: Displayed the parameters in values and shown in list format. Customize: Customize the data stream option to be viewed. Tap the button, a pull-down list of the data stream items appears on the screen. Select the desired items (max12 items), and then screen will display the waveforms corresponding to these items immediately. If need to remove any items, just deselect them.
Multi-Language supported
You can select the language of your country to operate THINKCAR THINKTOOL PROS+ with one click English,German,Spanish,French, Italian, Japanese, Portuguese,Russian ,Chinese
Diagnostic Feedback
If you encounter an unresolved problem or diagnostic software bug during diagnosis, you can revert the most recent 20 test records to Thinkcar Team. When we receive your feedback, we will analyze and troubleshoot it in a timely manner, to improve the quality of our products and user experience.
Quick print diagnostic reports
Thermal printer, work with the main unit, also can work with module dock. Quick print diagnostic reports anytime and anywhere.
THINKCAR THINKTOOL PROS+ has 28 service functions which allows you to reset various systems in your vehicle. support more function than other scanners priced similarly
1.Oil Reset 2.DPF Regeneration 3.AFS(headlamp) Reset 4.EGR Adaption 5.Brake-pad Reset 6.Immobilize 7.Windows Calibration 8.Coolant Bleeding 9.Steering Angle Reset 10.Injector Coding 11.Seat Calibration 12.Transport Mode 13.Battery Matching 14.Airbag Reset 15.Tyre Reset 16.ODO Reset 17.ABS Bleeding 18.Gear Learning 19.Language Change 20.Adblue Reset 21.Elec. Throtle Adaption 22.Suspension Matching 23.AIF Reset 24.Nox Sensor Reset 25.TPMS Reset 26.AT Learning 27.Sunroof Initialization 28.Stop/Start Reset
Quick test:
It enables you to quickly access all the electronic control units of the vehicle and generate a detailed report about vehicle health.support system scan and system select System Scan: automatically scan all systems of the vehicle System Selection: manually choose the automotive electronic control system
Quick Check and Printing
It adopts smart detection mode. After the vehicle is connected, the system will automatically recognize the vehicle information, automatically check the vehicle, and automatically generates a report. Automatic printing can be set so that no human intervention is needed throughout the process.
How to use the thinktool pros+ to diagnose car
More functions