THINKCAR Thinktool Mini OBD2 Car Automotive Scanner All System Diagnostic tool
customers are viewing this product
THINKCAR Thinktool Mini OBD2 Car Automotive Scanner All System Diagnostic tool
THINKCAR Thinktool Mini OBD2 Car Automotive Scanner All System DPF IMMO 28 Reset OBD 2 Code Reader Diagnostic Tool Free Update
Do You Know Thinkcar?
It is composed of a group of partners who love car modification, are proficient in car maintenance and master mobile Internet technology. 80% of our team members have technical background and have been engaged in technology research and development in related fields for many years.We are committed to the production of the world's smallest OBD products, with most complete functions, the cost control to the extreme, the function to the most perfect. User's experience is our priority. By launching practical vehicle tools with Internet functions, we build up the "THINKCAR" brand series of products and services.
Thinkcar Thinktool Mini--A Professional Car Tool With All System Diagnostic , 28 Reset Service, Lifetime Free Update Online
ThinkTool Mini OBD2 diagnostic scan tool comes with full systems diagnosis, 28 Reset Functions and Matainance Service, Actuation Test(Optional), and ECU Coding(Optional), which works on 94+ car makes. With full OBD2/EOBD2 and more add-on functions, this professional Bluetooth diagnostic scanner helps you find and fix the problem of the car, save your time and energy!
Good News: work for Brazil GM, Fiat now!
What Makes Thinktool Mini Different ?
☑Thinkcar Thinktool Mini is a modular design car scan tool, which is a professional car diagnostic scanner for all available vehicle modules including PCM, ECM, EPS, PDM, TPM, BCM, ABS, SCCM, etc. It performs professional wireless diagnosis on all car systems such as ABS, SRS, Engine, Transmission, Brake Systems, etc.

☑Full System Diagnosis for 96 Car Makes: Thinktool mini code reader scan tool will be able to perform full system diagnosis on 220+ car brands, it will offer more choice and chance to help you to solve the problems no matter what kinds of vehicles you encounter.

☑28 Maintenance & Reset Functions: Except diagnostic functions, it can also be a maintenance reset tool. The 28 upgraded functions include: oil reset, Sunroof reset, EPB service, ABS bleeding, Injector Coding, Suspension reset, Gearbox reset, AFS Headlamp Reset, Throttle Adaptation, Gear Learning, EGR Reset, BMS, SAS, DPF, IMMO, basic TPMS Reset service, etc.

☑9 Expandable Functional Modules: Including the Module Dock, LED Working Light, Printer, Oscilloscope, Thermal Imager, Battery Tester, TPMS, Video Scope, and more. (If you need the expandable modules, you need to make subscription for them sperately).

☑Wireless Connection, Bluetooth Diagnosis: The wired scan tools are equipped with diagnostic cables and you have to connect the car scanner with the OBDII port via cable during the diagnosis, which limits the diagnostic distance within 1m. While thinktool mini offers wireless connector, making it convenient and efficient during the work.

☑Screenshot & Screen Recorder: you can capture and take down the diagnositc process with these feature rather than use the telephone to take pictures. One-Click Quick Check and Scan QR to read Diagnostic Report.

☑Optional Subscription functions: The advanced functions like actuation test and ecu coding are only covered by those bidirectional scan tool that cost a lot, which is very unnecessary for those who only want to do one or two cars. To offer customers better choice, we decide to add the two functions as optional upgrades, which needs subscription for one car make to get the both functions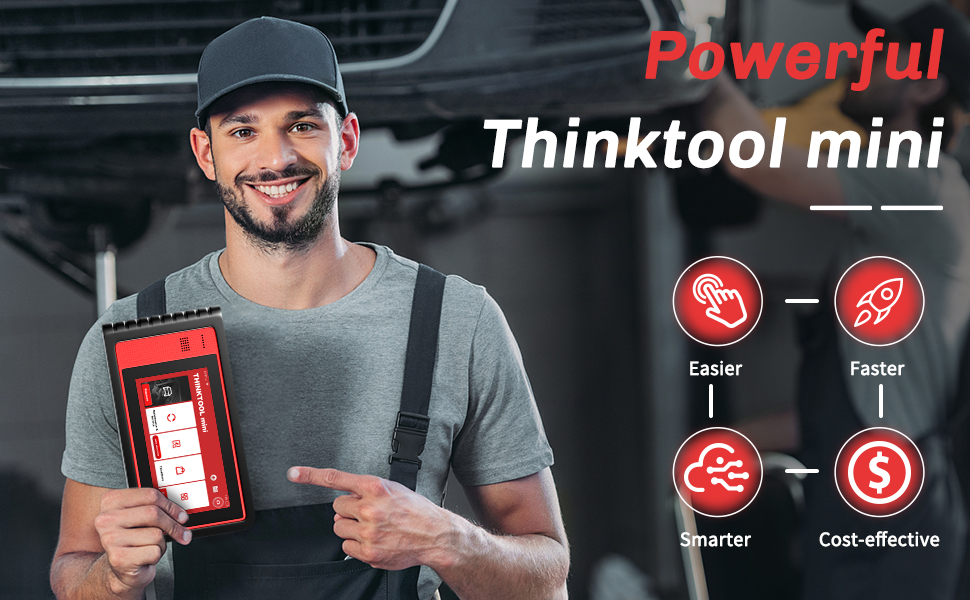 All System Diagnostic for 94 Car Makes:
Thinktool Mini can Diagnose all available ECU module,such as : Engine,Transmission,ABS, SAS, TPMS, Airbag, BMS, DPF, EPS, IMMO, EPB,EVAP,Air Suspension,Body Systems etc. It offers comprehensive and swift diagnosis, through Read Codes, Erase Codes, Read ECU Module Info and Live Data, making itself an excellent Diagnostic scanner for professional technicians.

Additionally, the thinktool mini car diagnostic scanner for all cars is able to read and reset fault codes , retrieve ecu information for all available systems.

--read fault codes: read and decode the DTCs to identify where the fault location is;
--clear fault codes: erase the DTCs to turn off the MIL after repairs;
--retrieve ecu information: allows you to retrieve vehicle information;
--Graph live data stream: view the dynamic data stream to determine vehicle condition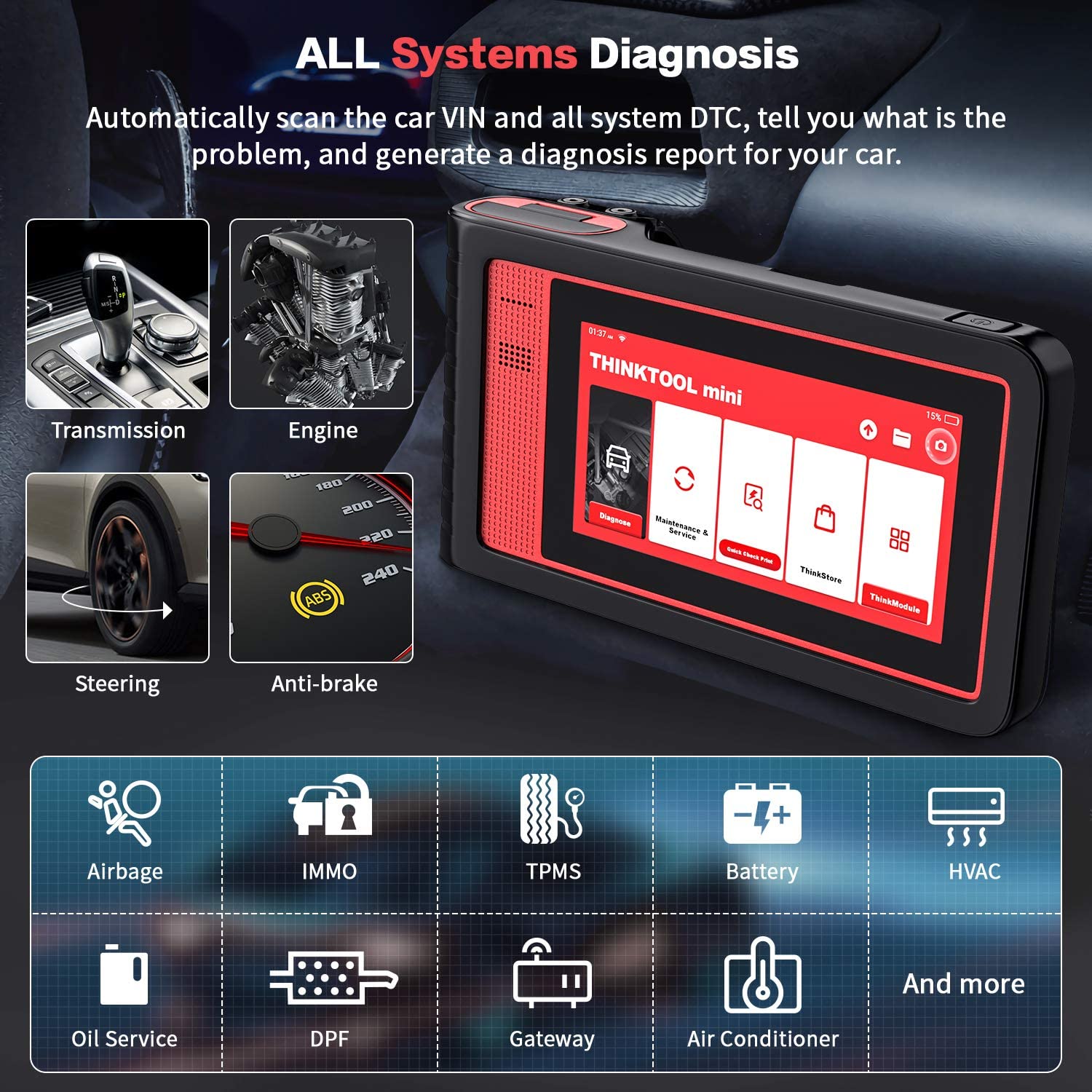 Professional Diagnostic Scanner that Fits Your Needs - 28 Maintenance Service
1. Oil Light Reset (for 53 brands): This allows you to perform a reset for a new calculation of the Engine Oil Life system once changed the oil.

2. Steering Angle Reset (for 44 brands): Reset the steering angle to zero to keep the car running straight.

3. Injector Coding: Write the new injector code into the car system for the correct cylinder injection quantity.

4. IMMO: Disable any lost keys and add new keys. **ONLY for cars with an easy IMMO system.

5. DPF Regeneration (for 39 brands): Especially works for D-P-F system with D-P-F regeneration, D-P-F component replacement teach-in and D-P-F teach-in after replacing the engine control unit.

6. EGR Adaption: Learn the Exhaust Gas Recirculation valve after being cleaned.

7. ABS Bleeding (for 34 brands): Help exhaust the air after repair the ABS pump system.

8. AdBlue Reset: Reset urea after the diesel exhaust treatment fluid is replaced or filled up.

9. Throttle Matching (for 37 brands): Initialize the throttle actuators to the default state.

10. TPMS Reset: Reset the tire pressure.

11. EPB Reset (for 41 brands): Help replace and reset the brake pad.

12. Tire Reset: Set the size parameters of the modified or replaced tire.

13. AFS Headlamp Reset: Initialize the adaptive headlamp system.

14. Sunroof Initialization: Initialize the sunroof when locked off or closed.

15. Battery Reset (for 33 brands): Register the battery after replacement.

16. Seat Calibration: Calibrate the memory in replaced or repaired seats.

17. Airbag Reset: Resets the airbag data to clear the airbag collision fault indicator.

18. A/F Reset: Set or learn Air/Fuel ratio parameters.

19. Gearbox Reset: Help complete the gearbox self-learning to improve gear shifting quality.

20. Transport Mode: Deactivate the transport mode.

21. Windows Calibration: Perform door window matching to recover ECU initial memory.

22. Language Change: Change vehicle system language.

23. Suspension Reset: Adjust the vehicle body height sensor for level calibration.

25. NOx Sensor Reset: Reset catalytic converter learned value stored in ECU.

26. Stop/Start Reset: Set up the automatic start-stop function in ECU.

27. Coolant Bleeding: Activate the electronic water pump.

28. ETS Reset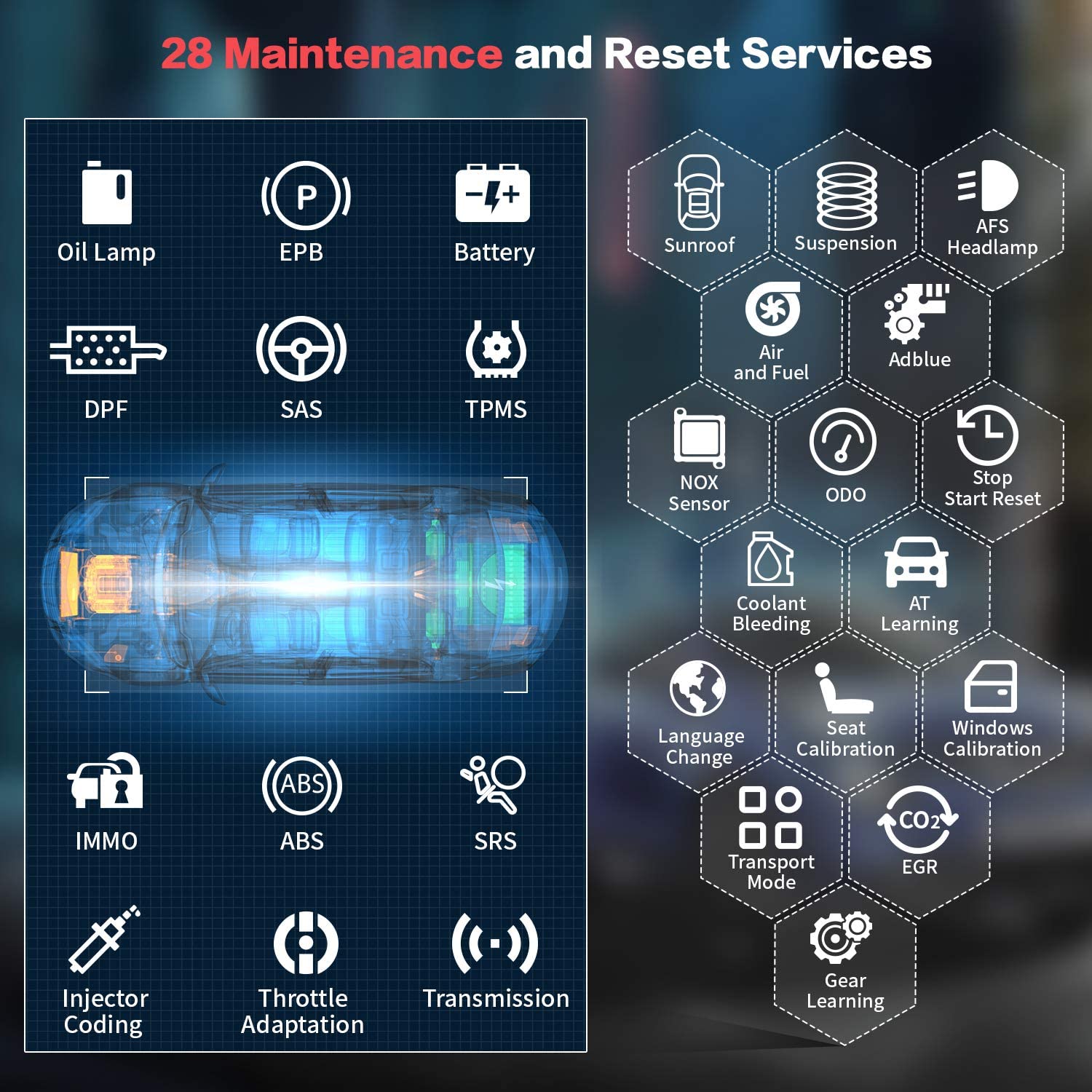 Powerful Add-On Features
●AUTOVIN SCAN: click "diagnose" and "autosearch" after connecting to the vehicle. Then the thinktool mini automotive diagnostic tool will begin to scan the VIN automatically.

●One-Key Wifi Update: no need to update on computer. Just click update after connecting wifi, then all softwares will start to update. (you will enjoy lifetime update through one-key wifi update, which is rare in diagnostic market as other diagnostic tools only offer one year update.)

●One-Key Screenshot: use the feature to capture and save the diagnostic process for you rather than take pictures by telephone.

●One-Key Screen Recorder: you will hardly find this feature on other scanners. This is one of the biggest advantage of thinktool Mini, which will be a big surprise to those who like recording video of the whole diagnostic process. With this feature, you don't need to hand up a telphone during the diagnosis.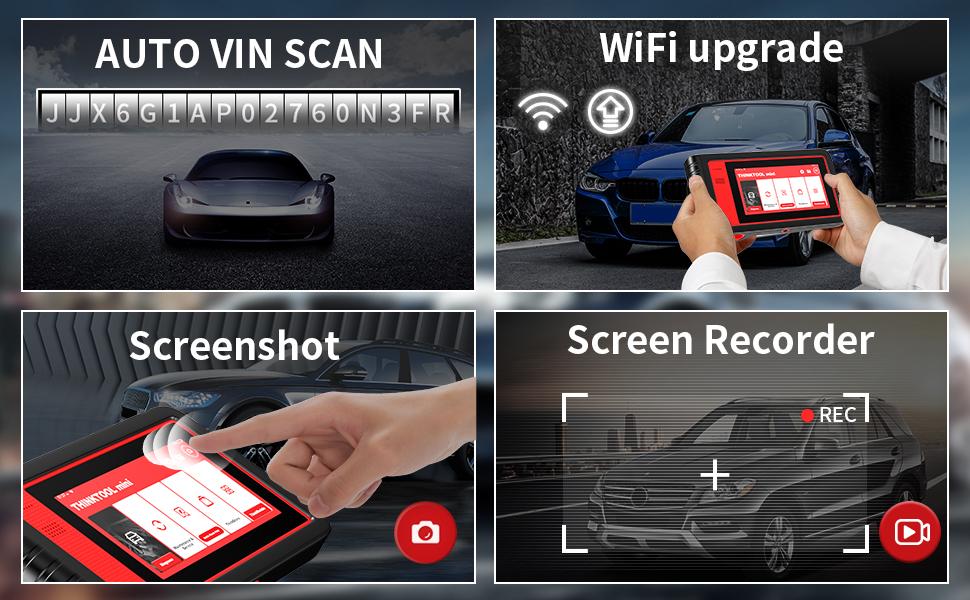 Full 10 Mode OBDII Check
1.Reading Codes: Show the detailed description of the Diagnostic Trouble Code (DTCs)

2.Erasing Codes & Reset: Turns off Check Engine Light (MIL), clears codes and resets monitors.

3.Data Stream: Reads and displays live ECU/PCM data stream, plotting functions graphically and stores freeze frame data.

4.I/M Readiness Status: Shows whether the various emissions-related systems on the vehicle are operating properly and are ready for inspection and maintenance testing.

5.Read Live Data Stream: Show the information of continuous data stream from a vehicle in live graphic (waveform) display.

6.View Freeze Frame Data: Check the certain vehicle conditions which are recorded by the on-board computer at the time the emission-related fault occurs.

7.O2 Sensor Test: Allows retrieval and viewing of O2 sensor monitor test results for the most recently performed tests from the vehicle's on-board computer.

8.On-Board Monitor Test: Retrieves and displays test results for emission-related powertrain components and systems.

9.Read Vehicle Information:Display the information such as VIN (Vehicle Identification Number), CID (Calibration ID) and CVN (Calibration verification number), etc.

10.Component Test: Certain vehicle components can be actuated by commands sent from the scanner to test their operability.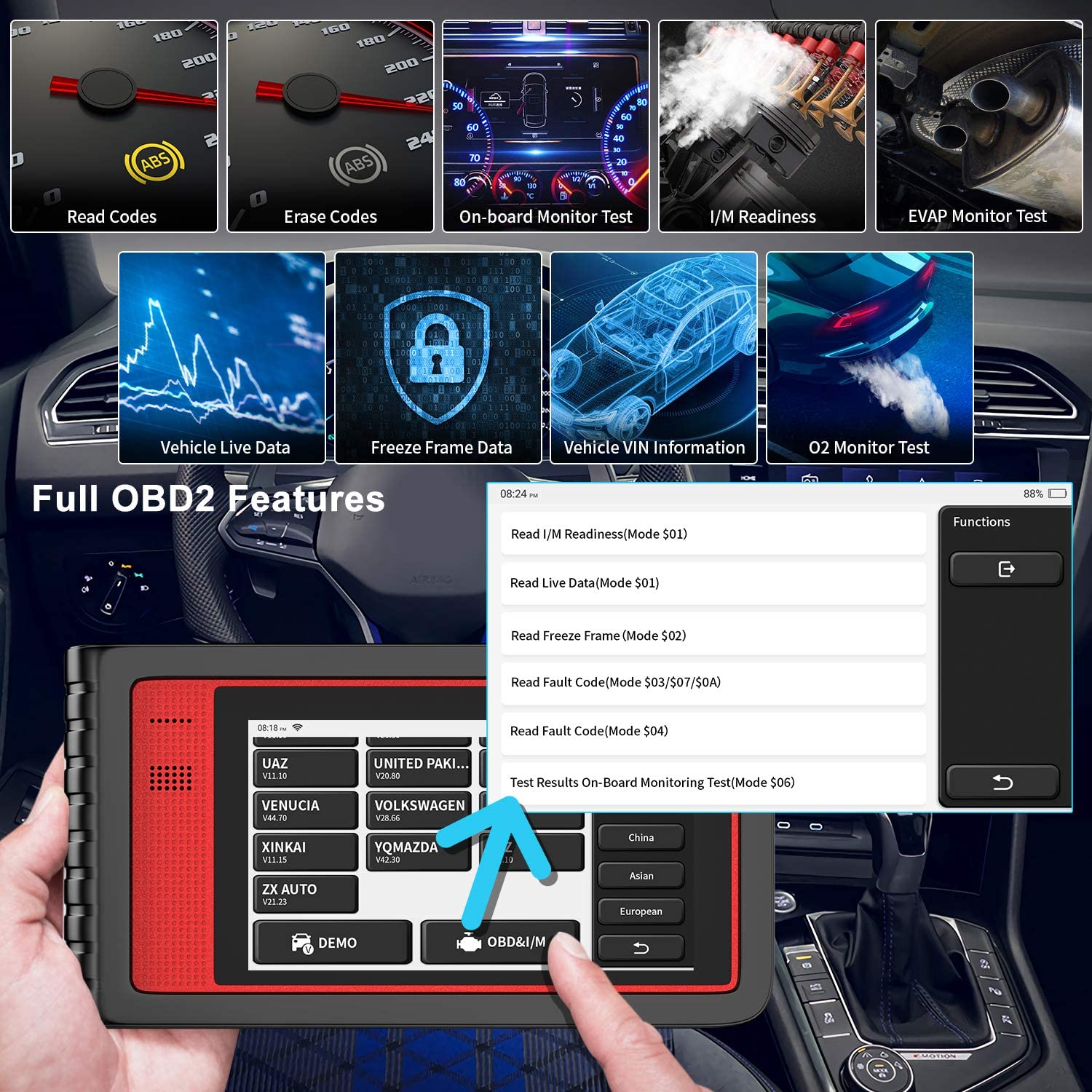 Wireless Connection, more popular and convenience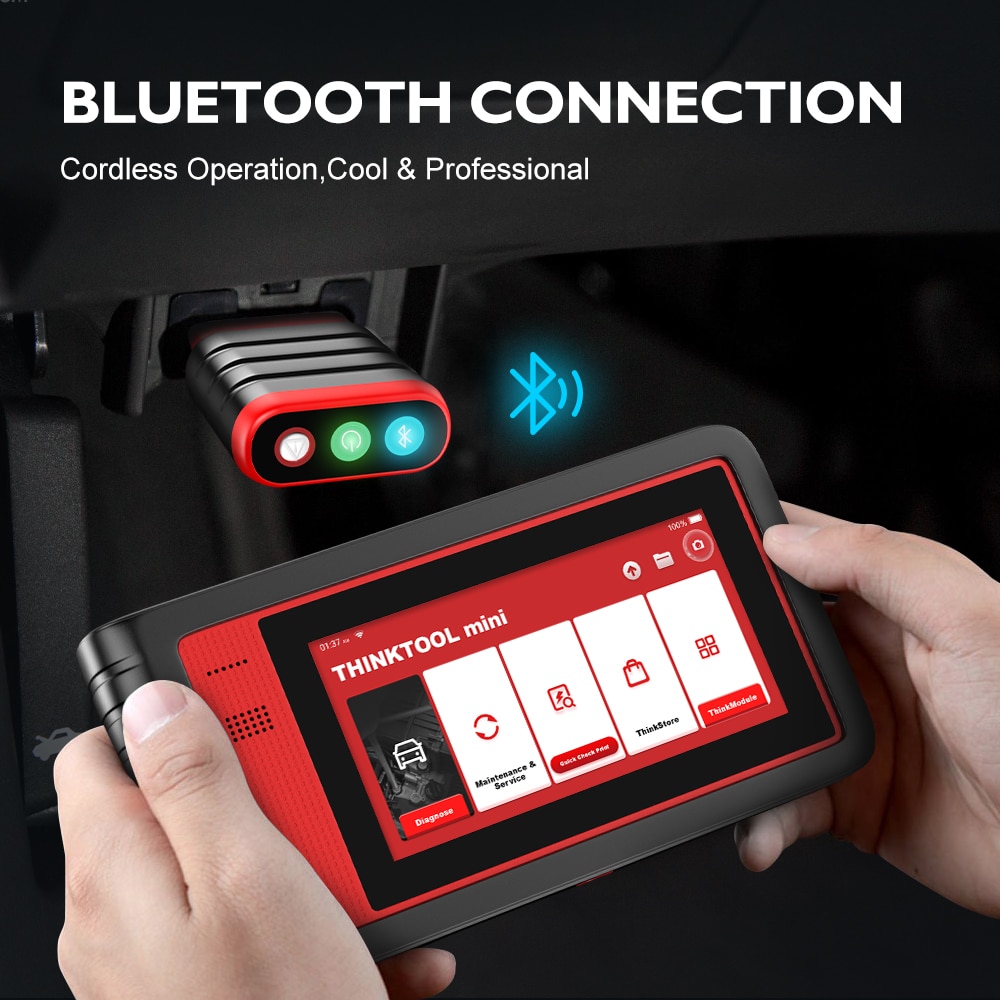 Optional Bi-direction Tests & ECU Coding
Active Test and ECU Coding (Subscription Function): As's known, some advanced functions like active test and ecu coding are only covered by those bidirectional scan tool that cost thousands of dollars, which is expensive for those who only want to do one or two cars. To offer customers better choice, we decide to add the two functions as optional upgrades, which is 49.95 USD/Year for one car make to get the both functions. If you need it, you could activate it by clicking "thinkstore". To check the compatibility, please send us VIN before the purchase.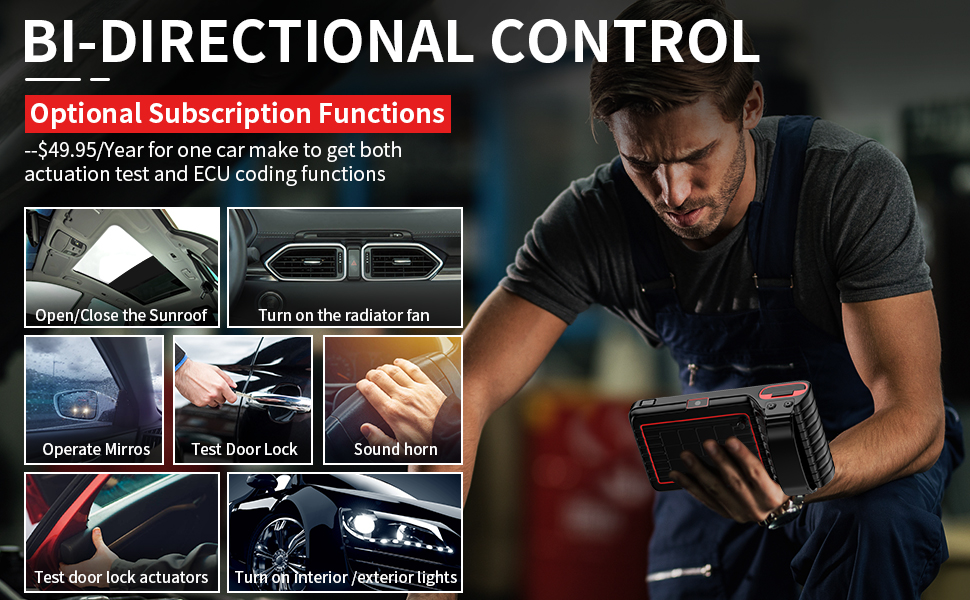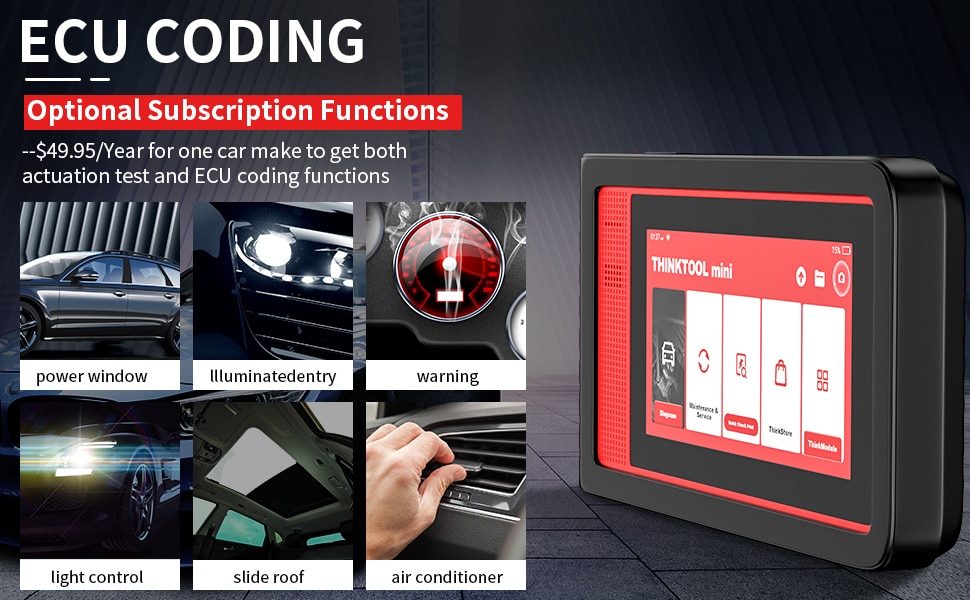 Thinktool mini supports multi languages:
English, French, German, Spanish, Italian, Portuguese, Japanese,Russian
Wide vehicle coverage and is compatible with 90% of all car models from the US, Europe, and Asia.
For Amercian
for Buick, for Chrysler, for Cadillac, for Chevrolet, for Doge, for AU Ford, for Brazil Fiat, for Brazil GM, for Ford, for GM, for Jeep, for Lincoln, for SGM

For European
for Aston Martin, for Audi, for Alfa Remeo, for Abarth, for BMW, for Bentley, for Bugatti, for Citroen, for DR, for Dacia, for EU Ford, for Ferrari, for Fiat, for GAZ, for Iveco, for IZH, for Jaguar, for Land Rover, for Lamborghini, for Lancia, for Mercedes, for Maserati, for Maybach, for Mini, for Opel, for Opel (south africa), for PAZ, for Peugeot, for Porche, for Renault, for Rover, for Rolls-royce, for SAAB, for Seat, for Skoda, for Smart, for Sprinter, for UAZ, for VAZ, for Volvo, for Volkswagen, for Vauxhall, for ZAZ

For Asian
Acura, for Daewoo, for Daihatsu, for AU Holden, for Honda, for Hyundai, for Ikco, for Isuzu, for Infiniti, for Kia, for Luxgen, for Lexus, for Mahindra (India), for Maruti (India), for Tata (India), for Mahindra, for Maruti, for Mazda, for Mitsubishi, for MVM, for Nissan, for Nissangtr, for Perodua (Malaysia), for Proton (Malaysia), for Perodua, for Proton, for Renault Samsung, for Saipa, for Ssangyong, for Subaru, for Suzuki, for Toyota, for Tlisuzu, for United Pakistan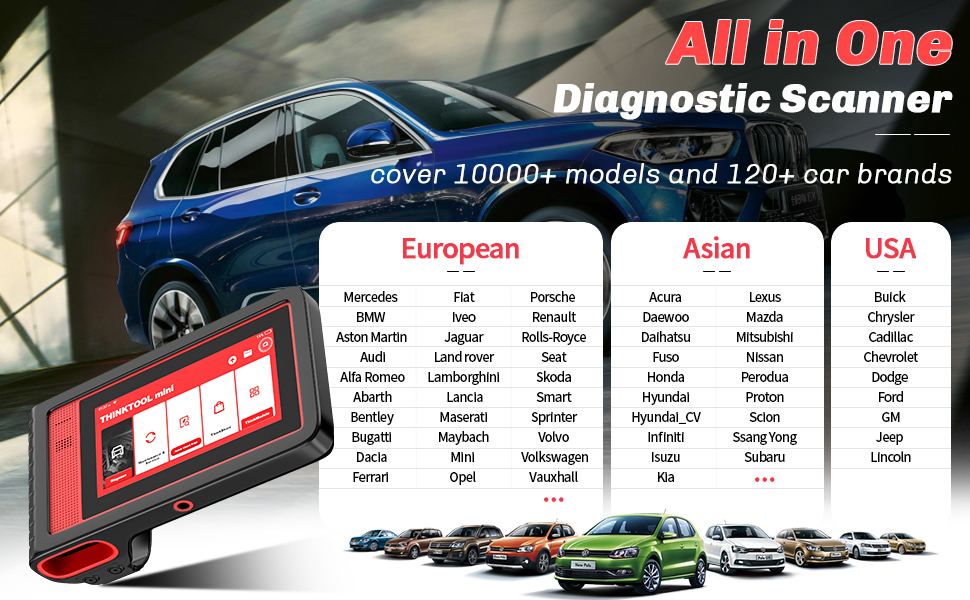 Product detail: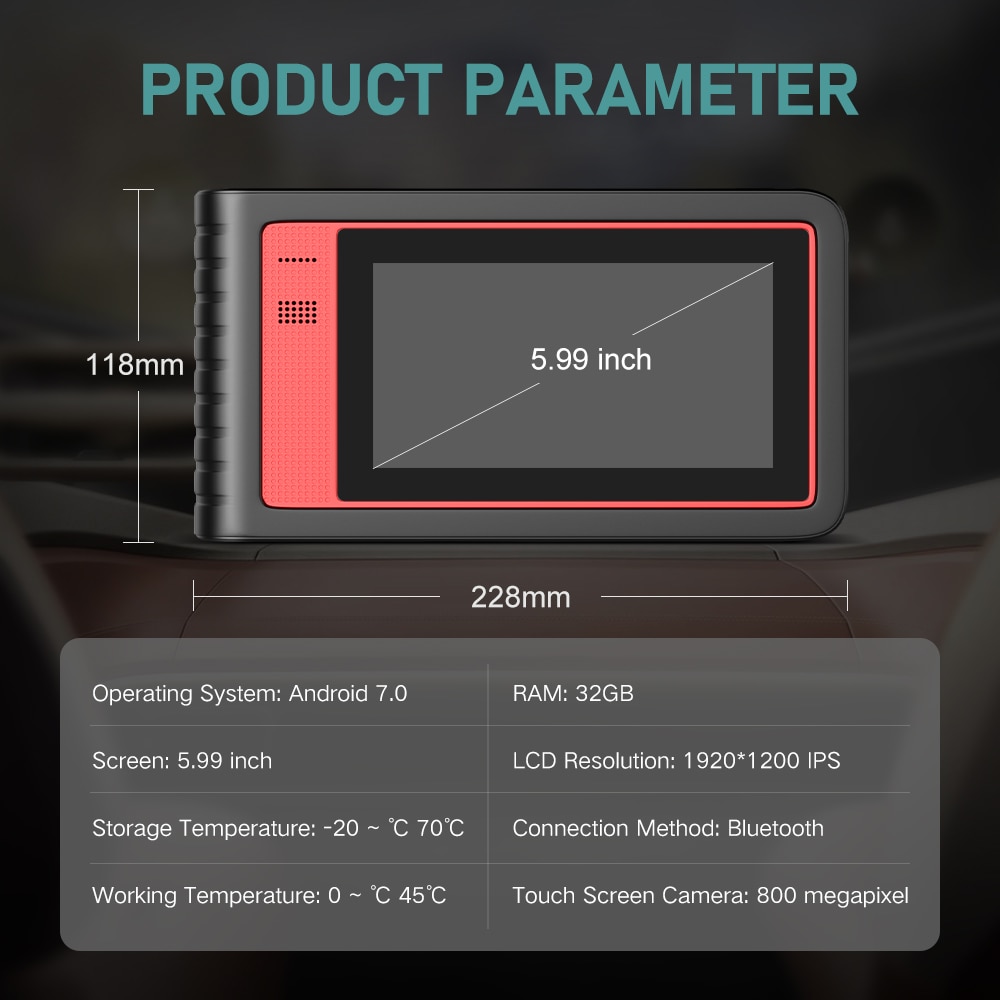 Package Content:
• 1*Thinktool mini
• 1*Bluetooth (Pre-installed in the Unit)
• 1*Charging Cable
• 1*Passport Envelope
• 1*User Manual