THINKCAR Thinkscan Plus S7 OBD2 Scanner Automotive Professional Diagnostic tool
customers are viewing this product
THINKCAR Thinkscan Plus S7 OBD2 Scanner Automotive ABS Airbag ECM BCM TCM IC OBD2 Scanner Professional DPF EPB Diagnostic Tools
THINKCAR Thinkscan Plus S7 OBD2 Scanner Automotive ABS Airbag ECM BCM TCM IC Car Diagnostics Scanner Tool with 5 Reset Function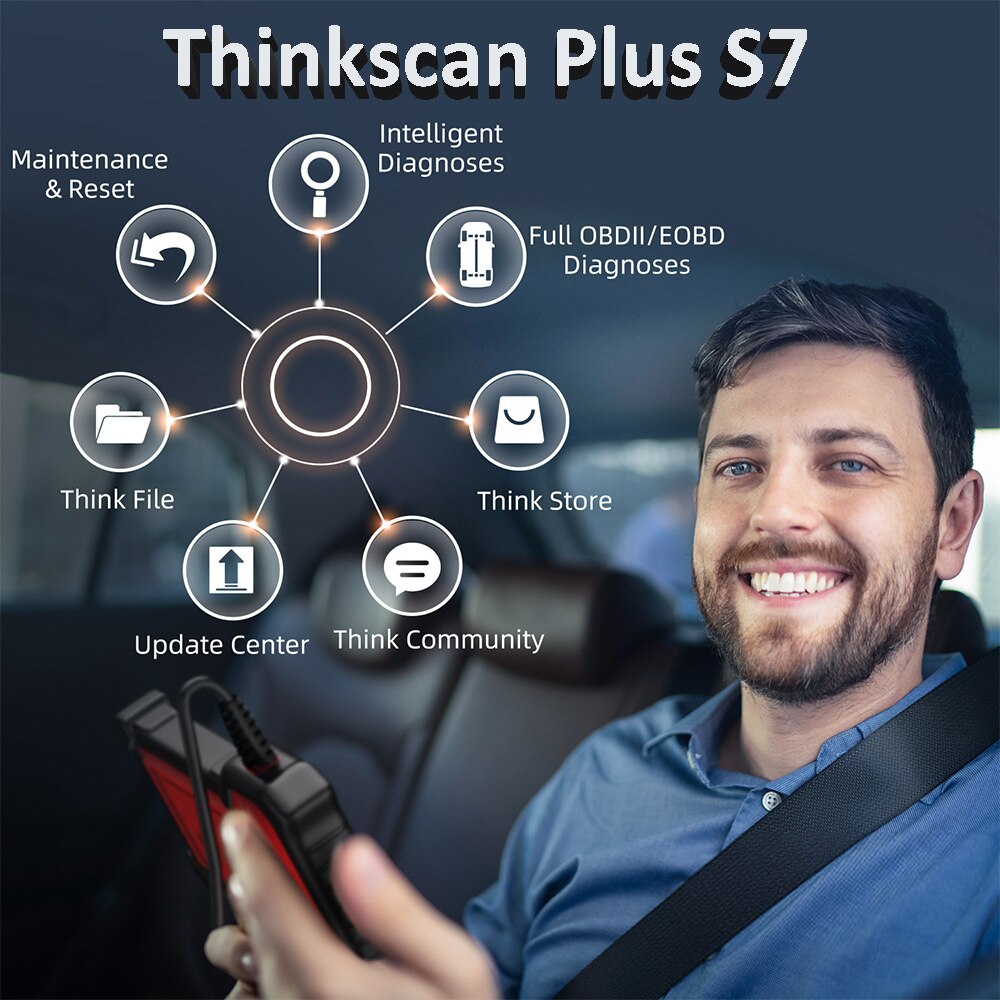 Thinkscan Plus S7 System Diagnostic Scanner For ABS SRS ECM TCM BCM IC AC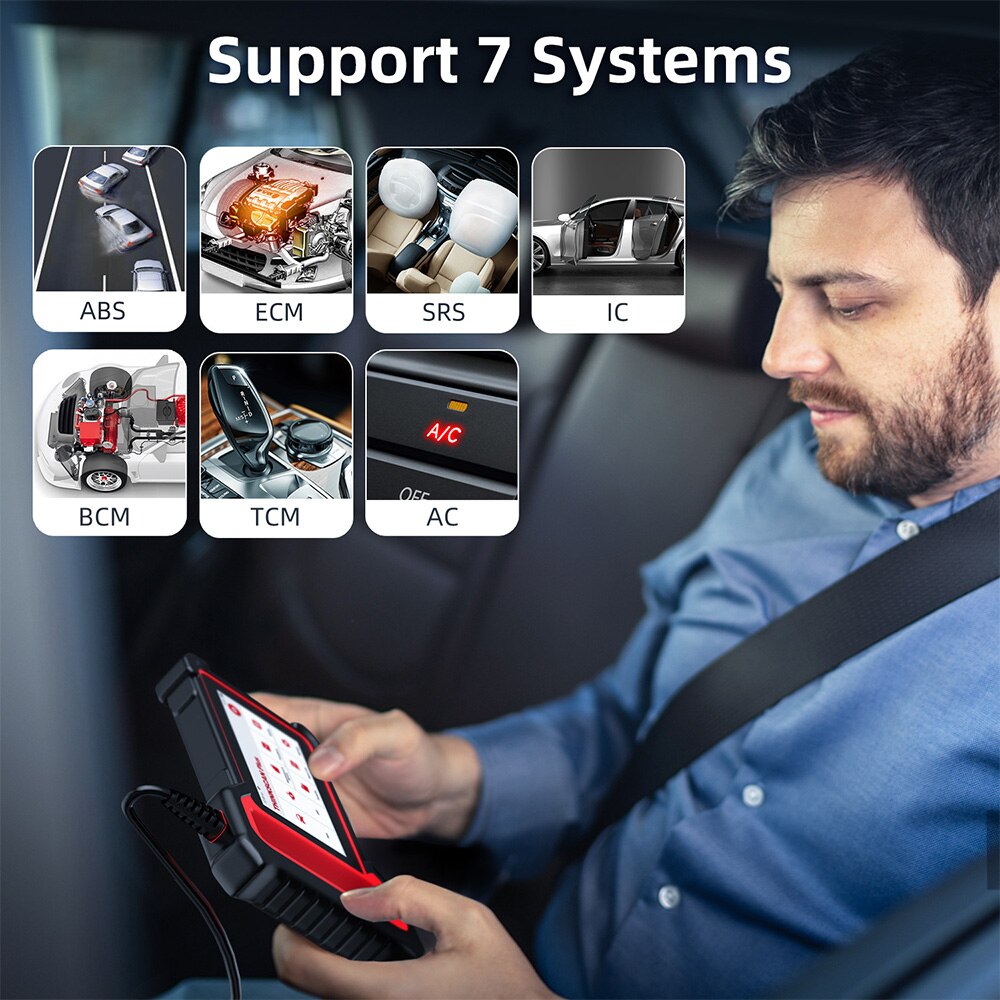 Choose 5 Free Reset Function of 28 Special Service Function Arbitrarily
You Can Choose 2 Reset Service as Lifetime Free from 28 Maintenance Service

1.Oil Lamp Reset Service

Allows you to perform reset for a new calculation of Engine Oil Life system once changed the oil.

2.EPB Electronic Park Brake Reset

It is important in the maintenance of electronic braking system's safety and efficiency.

3.BAT battery service

Allows the scan tool to evaluate the battery charge state, monitor the close-circuit current, register the battery replacement, and activate the rest state of the vehicle.

4.DPF Diesel Particulate Filter Reset

Specially works for Diesel Particulate Filter system with DPF regeneration, DPF component replacement teach-in and DPF teach-in after replacing the engine control unit.

5.SAS Steering Angel Sensor Reset

Helps clear the fault steering angle sensor memories and plays an important role in the steering angle sensor calibration.

6.TPMS Tire Pressure Monitoring System Reset

Makes sense in displaying sensor IDs from the vehicle's ECU, inputting TPMS sensor replacement IDs and testing sensors.

7.IMMO Key Programming

The unique car key programming and read pin code function, it is mainly used to disable the lost vehicle keys and program a new replacement key fob.

8.ABS Bleeding

ABS brake bleeding to get a firm brake pad after air exhaustion after repair ABS pump system.

9.Sunroof Reset

The sunroof needs to be reset when the sunroof control unit have communication problem or changed.

10.Suspension Reset

Try reset electronic suspension air ride with the massage system close all doors koeo flip through messages system go to suspension reset or on off.

11.Gearbox (Transmission )Reset

Procedure Reset Transmission Adaptive Learning DIY. Start the car and drive. Once you perform this procedure the Engine Control Unit (ECU) and Transmission Control Unit (TCU) will work together to learn how you drive by monitoring your driving pattern. After you follow this programming method of the TCU / ECU drive the car.

12.AFS Headlamp Reset

'AFS' means Adaptive Front lighting System (at night with the Bi-Xenon headlights) it swivels either side, pressing that button means they stay pointing straight ahead and don't turn when you turn the steering wheel.

13.Injector Coding

Leaking injectors and some dead injectors can be missed even when an injector is disabled. Other problems with the ignition system and mechanical components also may not show an rpm loss when an injector is turned off.

14.Throttle Adaptation

The throttle body is a tube containing a pivoting flat valve (butterfly) that is used to control the amount of air entering an engine. In an electronically fuel injected car, a throttle position sensor and air flow sensor communicate with the computer, which supplies the corresponding amount of fuel needed at the injectors. It must need re-learning throttle sensor position after clearing or repair.

15.Gear Learning

The scan tool monitors certain camshaft position sensors signals to determine if all conditions are met to continue with the procedure for Engine running.

16.EGR Reset

Reduce nitrogen oxides (NOx) in the exhaust gas and improve fuel economy at partial load.

17.A/F Reset

This function is applied to set or learn Air/Fuel ratio parameters.

18.Adblue Reset(Diesel Engine Exhaust Gas Filter)

After the diesel exhaust treatment fluid (car urea) is replaced or filled up, urea reset operation is required.

19.Airbag Reset

This function resets the airbag data to clear the airbag collision fault indicator.

20.Coolant Bleeding

Use this function to activate the electronic water pump before venting the cooling system.

21.AT Learning

This function can complete the gearbox self-learning to improve gear shifting quality. When the gearbox is disassembled or repaired (after some of the car battery is powered off), it will lead to shift delay or impact problem. In this case, this function needs to be done so that the gearbox can automatically compensate according to the driving conditions so as to achieve more comfortable and better shift

22.Language Change

This function is used to change the system language of the vehicle central control panel.

23.Nox Sensor Reset

Nox sensor is a sensor used to detect the content of nitrogen oxides (Nox) in engine exhaust. lf the Nox fault is re-initialized and the Nox catalytic converter is replaced, it is necessary to reset the catalytic converter learned value stored in the engine Ecu.

24.ODO Reset

a) ODO reset is to copy,write, or rewrite the value of kilometers in the chip of odometer by using a car diagnostic computer and data cable, so that the odometer shows the actual mileage.
b)Usually when the mileage is not correct due to the damaged vehicle speed sensor or odometer failure, it
is necessary to do ODO reset after maintenance.

25.Stop/Start Reset

This function is used to open or close the automatic start-stop function via setting the hidden function in ECU(provided that the vehicle has a hidden function and supported by hardware).

26.Seat Calibration

This function is applied to match the seats with memory function that are replaced and repaired.

27.Transport Mode

ln order to reduce power consumption, the following functions may be disabled, including limiting the vehicle speed, not waking up the door opening network, and disabling the remote control key, etc.At this time, the transport mode needs to be deactivated to restore the vehicle to normal.

28.Windows Calibration

This feature is designed to perform door window matching to recover ECU initial memory, and recover the automatic ascending and descending function of power window.

NOTE:If you need more special functions, you need to pay an additional $29.95 /year for a function.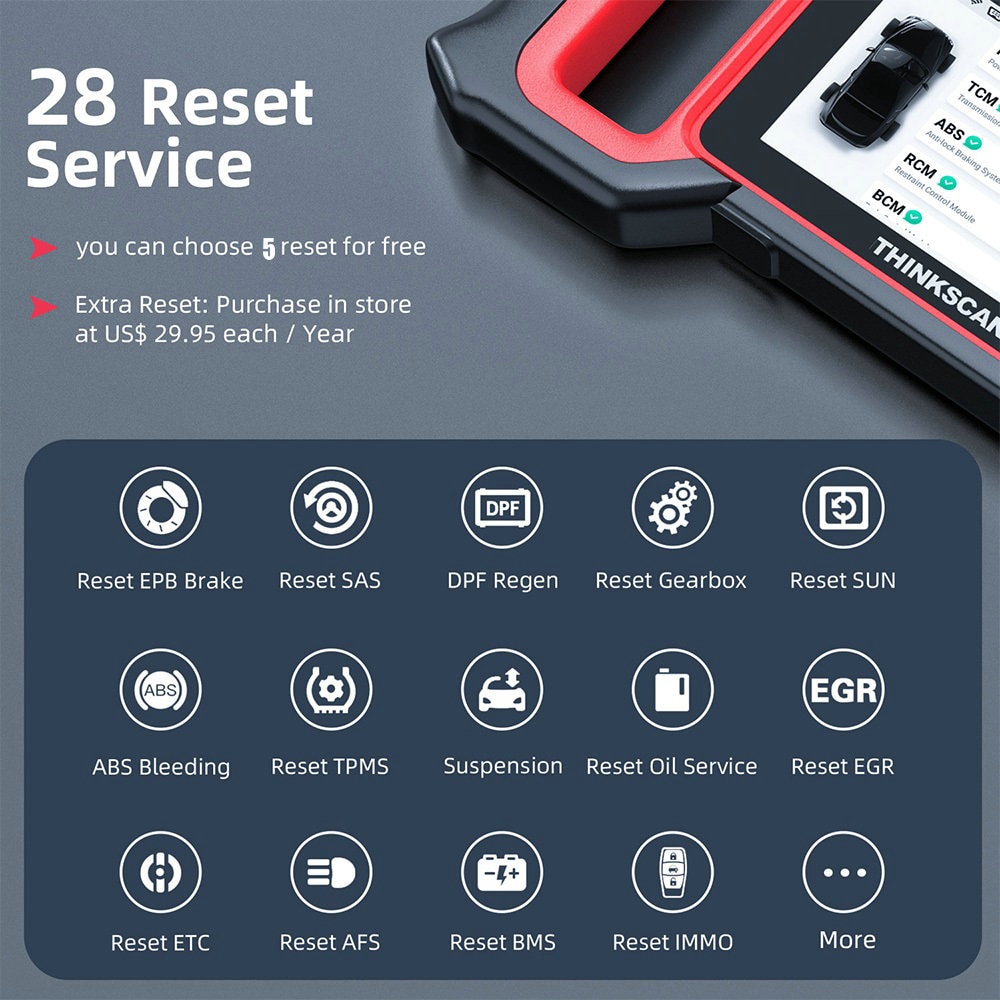 THINKCAR Thinkscan Plus S7 Support All OBD2 Function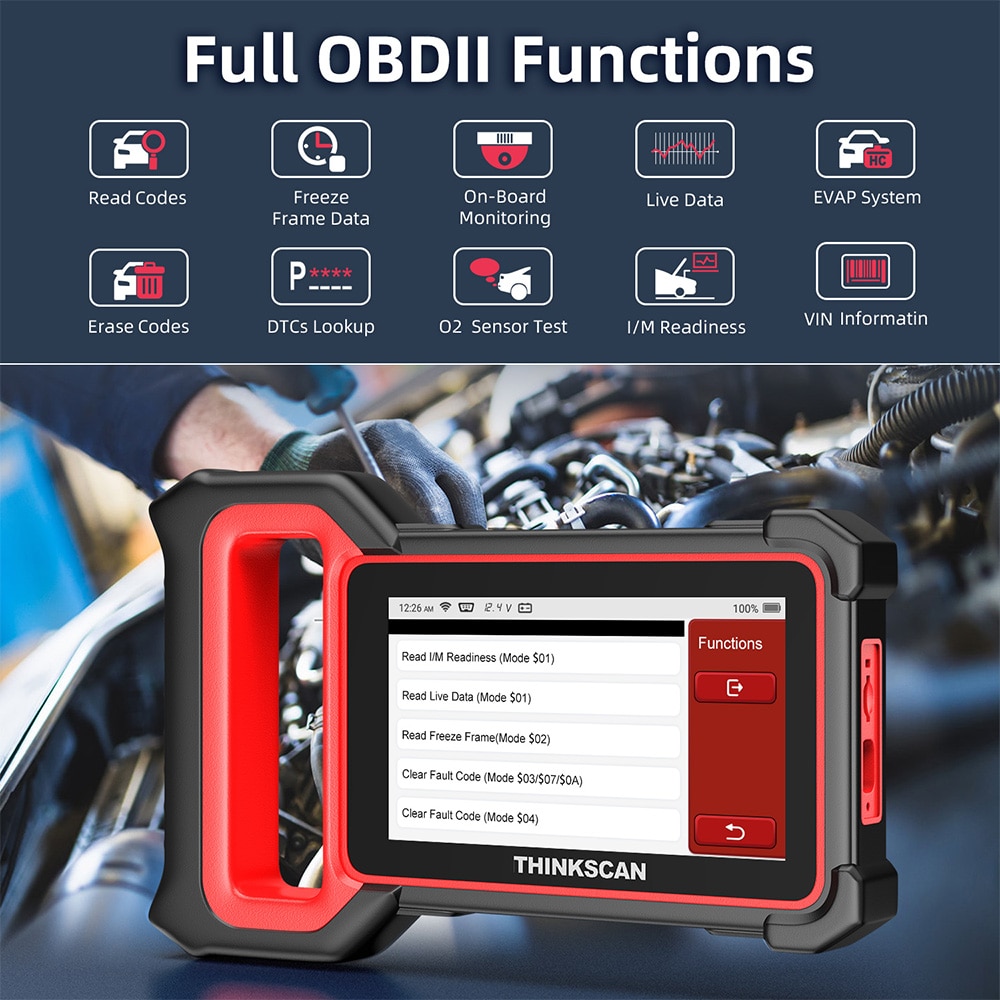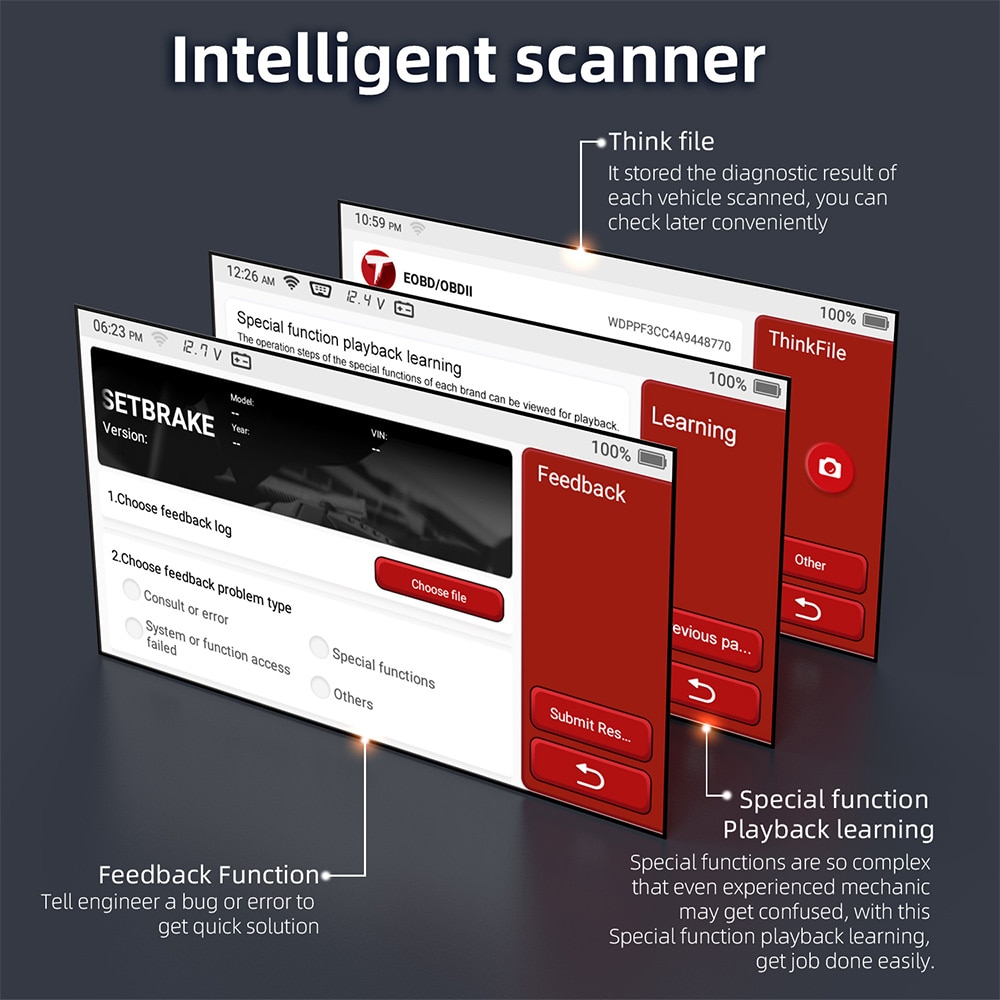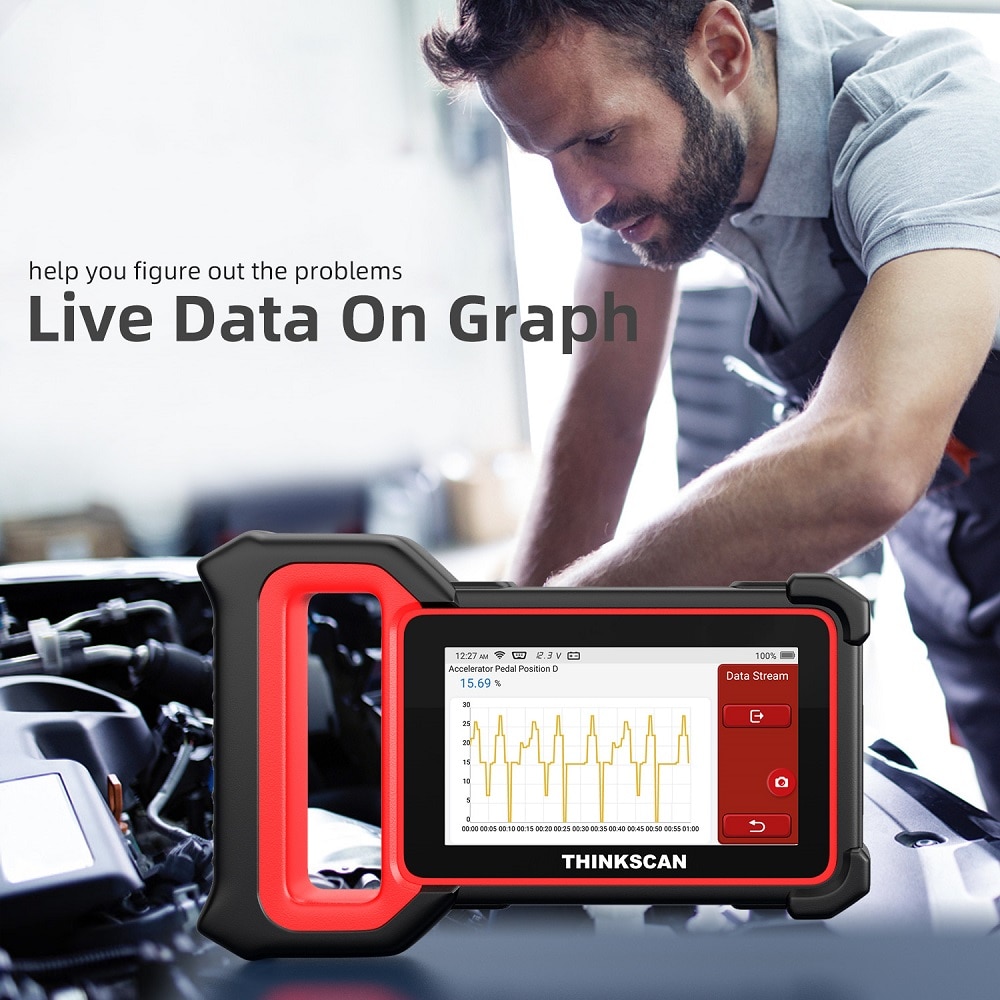 THINKCAR Thinkscan Plus S7 Automotive Scanner Multi-language
Support English, Russian, Spanish, Portuguese, French, Japanese, German, Italian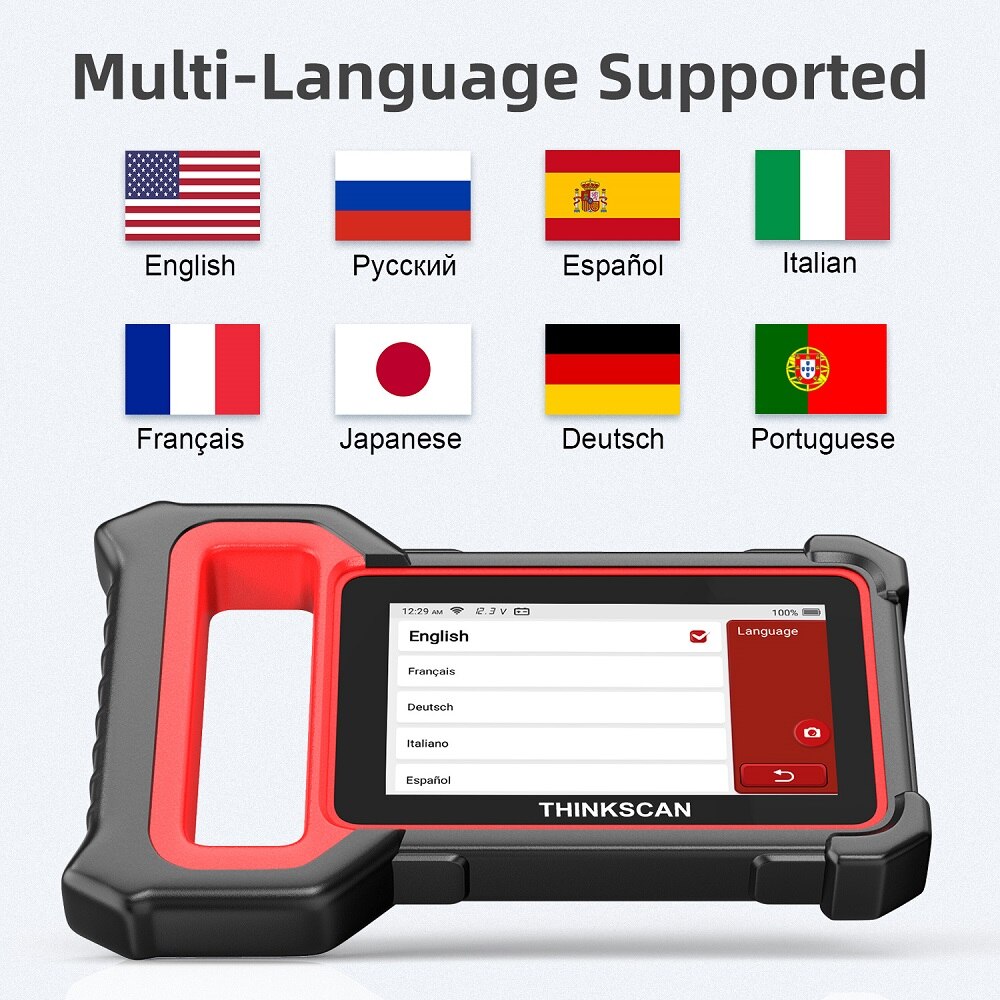 Support More Than 98+ Car Maker List
For AUDI , For BENZ , For BMW , For CHRYSLER
For CITROEN , For DACIA , For DAEWOO , For FIAT
For GM , For HOLDEN , For HONDA , For HYUNDAI
For JAGUAR , For JPISUZU , For KIA , For LANDROVER
For MAHINDRA , For MARUTI , For MAZDA , For MINI
For MITSUBISHI , For NISSAN , For OPEL , For PEUGEOT
For PORSCHE , For RENAULT , For SAAB , For SEAT
For SKODA , For SMART , For SPRINTER , For SUBARU
For SUZUKI , For TATA , For TOYOTA , For USAFORD
For VOLVO , For VW...Updating

NOTE:
Please Leave us message in below format, we will reply you within 8 hours.
for example : xx, 2005, 2.0cc, Diesel