THINKCAR Thinkscan Plus S7 OBD2 Scanner 7System Code Reader Scan Diagnostic Tool
customers are viewing this product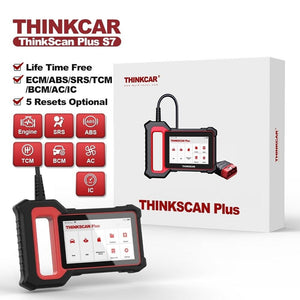 Thinkscan Plus S2/S4/S7 products are a new generation of mid-to-high end DIY products based on Android system launched by THINKCAR, which can realize online upgrade of diagnostic software. Its main functions include not only OBD/EOBD standard protocol diagnosis, but more importantly, it has professional vehicle diagnostic software and maintenance software, which can perform a comprehensive diagnosis of all vehicle electronic control systems. Different series support different systems and functions.
Differences of THINKSCAN Plus S2/S4/S7
THINKSCAN Plus S2:
Support to 3 Systems(ECM/ABS/SRS) and you could choose 2 Reset services lifetime free.

THINKSCAN Plus S4:
Support to 5 Systems(ECM/TCM/ABS/SRS/BCM) and you could choose 3 Reset services lifetime free.

THINKSCAN Plus S7:
Support to 7 Systems(ECM/ABS/SRS/TCM/BCM/AC/IC) and you could choose 5 Reset services lifetime free.
Why You Need THINKSCAN Plus S7?
Are you troubled by the renewal of model software and functions? THINKSCAN Plus S7 Support to 7 Systems(ECM/ABS/SRS/TCM/BCM/AC/IC) and you could choose 5 Reset services lifetime free.
1.Thinkscan Plus S7 Support to diagnostic ECM/ABS/SRS/TCM/BCM/AC/IC system errors, and delete the errors.
2.Thinkscan Plus S7 supports to do Full obd 2 function,including Read/Clear codes,data stream,I/M readiness,O2 sensor,DTC look up and more....
3. Thinkscan Plus S7 can do 5 reset revices functions like you choose.
4.You can do screen shortcuts via I/M key with Thinkscan Plus S7 devices, easy and fast
5.Thinkscan Plus S7 Support to printe Diagnostic Report data, checking errors
6.Thinkscan Plus S7 software update free lifetime.
Support 7 System Diagnostic:
This car obd2 scanner is capable of reading and clearing trouble codes of ECM/ABS/SRS/TCM/BCM/AC/IC Engine.
Free Engine system Diagnostic:
You can diagnose the engine system via ecu obd2 port, support all 10 OBDII test modes, such as live data, O2 sensor test, component test and more;read and clear the engine error codes, find out the exactly problem, repair it, and turn off the MIL engine light.
Free ABS system Diagnostic:
Diagnosing an ABS problem should always start with a visual inspection of all brake components, next you will need to retrieve ABS codes to tell you where the problem is, and this is what this scanner does for you.
Free SRS system Diagnostic:
safety restraint system, is made up of impact sensors, a control module, and the airbags themselves, and this diagnostic device can detect every electronic parameter to check its health status.
Chassis System(BCM) Diagnostic:
Carry out fault diagnosis on body/frame/transmission system/steering system/brake system/driving system
Free Auto Transmission System:
AT is a set of transmission used to coordinate the engine speed and the actual speed of the wheel, which is used to give full play to the best performance of the engine. THINKSCAN609 obd2 scanner can read/clear codes and view live data retrieve the error information from AT
Support 28 Reset Services(Buyer choose 5 resets)
THINKSCAN Plus S04 currently supports 16 maintenance software, which will be increased to 26-28 in the future. The maintenance software is completely free to use and free to upgrade.
1.Oil Reset :allows you to perform reset for a new calculation of Engine Oil Life system once changed the oil.
2.EPB Reset :is important in the maintenance of electronic braking system's safety and efficiency.
3.BMS Reset:allows the scan tool to evaluate the battery charge state, monitor the close-circuit current, register the battery replacement, and activate the rest state of the vehicle.
4.DPF Reset:specially works for Diesel Particulate Filter system with DPF regeneration, DPF component replacement teach-in and DPF teach-in after replacing the engine control unit.
5.SAS Reset:helps clear the fault steering angle sensor memories and plays an important role in the steering angle sensor calibration.
6.TPMS Reset :makes sense in displaying sensor IDs from the vehicle's ECU, inputting TPMS sensor replacement IDs and testing sensors.
7.IMMO reset:it is mainly used to disable the lost vehicle keys and program a new replacement key fob.
8.ABS Bleeding:ABS brake bleeding to get a firm brake pad after air exhaustion.
9.Throttle reset: The throttle body is a tube containing a pivoting flat valve (butterfly) that is used to control the amount of air entering an engine. In an electronically fuel injected car, a throttle position sensor and air flow sensor communicate with the computer, which supplies the corresponding amount of fuel needed at the injectors. It must need re-learning throttle sensor position after clearing or repair
10.Injector Coding:Leaking injectors and some dead injectors can be missed even when an injector is disabled. Other problems with the ignition system and mechanical components also may not show an rpm loss when an injector is turned off.
11.Gear Learning:After the engine ECU, crankshaft position sensor, or crankshaft flywheel is replaced, or the DTC 'tooth not learned' is present, tooth learning must be performed.
12.Suspension Matching:Adjust the vehicle height sensor for level calibration.
13.Sunroof Initialization:Set the sunroof lock off, close in rain, memory function of sliding 1 tilting sunroof, outside temperature threshold, etc.
14.Battery Matching:By clearing the original breakdown information about the lack of battery power,rematch the battery.
15.A/F Reset:Applied to set or lean Air/Fuel ratio parameters.
16.Steering Angle Reset:helps clear the fault steering angle sensor memories and plays an important role in the steering angle sensor calibration.
and more……
Reading Codes
Show the detailed description of the Diagnostic Trouble Code (DTCs)
Erasing Codes & Reset
Turns off Check Engine Light (MIL), clears codes and resets monitors.
Data Stream
Reads and displays live ECU/PCM data stream, plotting functions graphically and stores freeze frame data.
I/M Readiness Status
Shows whether the various emissions-related systems on the vehicle are operating properly and are ready for inspection and maintenance testing.
Read Live Data Stream
Show the information of continuous data stream from a vehicle in live graphic (waveform) display.
View Freeze Frame Data
Check the certain vehicle conditions which are recorded by the on-board computer at the time the emission-related fault occurs.
O2 Sensor Test
Allows retrieval and viewing of O2 sensor monitor test results for the most recently performed tests from the vehicle's on-board computer.
On-Board Monitor Test
Retrieves and displays test results for emission-related powertrain components and systems.
Read Vehicle Information
Display the information such as VIN (Vehicle Identification Number), CID (Calibration ID) and CVN (Calibration verification number), etc.
Component Test
Certain vehicle components can be actuated by commands sent from the scanner to test their operability
How to Register/Update Thinkscan Plus S07
1.Initial Use
2.Turn on the Machine
3.Language Setting
4.Connect WIFI
5.Choose Time Zone
6.User Agreement
7.Create an Account
8.Typing in Business Information
FAQ:
Here we list some common questions and answers related to this tool.
Q: Why does it have no responses when connected to a car computer?
A: Check whether the connection with the vehicle diagnostic socket is normal, whether the ignition switch is on, and whether the tool supports the car.

Q: Why does the system stop while reading the data stream?
A: This may be caused by loose diagnostic dongles. Please unplug the dongle and reconnect it firmly.

Q:Communication error with vehicle ECU?
A: Please confirm:
1.Whether diagnostic dongle is correctly connected.
2.Whether ignition switch is ON.
3. If all checks are normal, send vehicle year, make, model and VIN number to us using
Feedback feature.
Q: Why does the host screen flash when the engine ignition starts?
A: It is normal and caused by electromagnetic interference.

Q: How to upgrade the system software?
A: 1. Start the tool and ensure a stable Internet connection.
2.Go to "Set up" -> "App Update", click "OTA" and then click "check version" to enter the system upgrade interface.
3. Complete the process by following the instructions on the screen step by step. It
may take a few minutes depending on the internet speed. please be patient. After successfully completing the upgrade, the tool will automatically restart and enter the main interface.

Q: Please explain the account and points.
A: To use THINKSCAN Plus S04, you need to register an account. Each account has the opportunity to earn points by recommending others to buy products and participating in official events. 1 point can be deducted for 1 dollar when purchasing products or services

Q: How to capture the screenshot?
A: A"Screenshot" icon is always floating on the screen. Tap it to capture the current screen and the screenshot is saved in the Think File module.
Support 93+ Worldwide Vehicle Coverage
For people:
1.Car service technician
2.Small and medium repair shop
3.Individual owners who like deep DIY vehicles.
Application scenario:
1.For maintenance technicians, the Thinkscan Plus, which is convenient to carry, is the best choice for road rescue or door-to-door service.
2.For small repair shops, there is no need to purchase expensive diagnostic equipment, Thinkscan Plus can also meet the fault diagnosis of different brands of vehicles.
3.In-depth DIY car owners, car owners with certain maintenance skills and strong hands-on ability, can always keep this comprehensive and powerful, yet economical diagnostic equipment.
Product Parameters:
Display Screen :5-Inch/TFT(IPS)
Connection :Wi-Fi/Bluetooth
RAM:1G
ROM:8G
Working Temperature : 32℉~122℉
Storage Temperature: -4℉~144℉