THINKCAR Thinkscan Plus S2 OBD2 Scanner Car ABS SRS ECM Diagnosis Oil DPF Reset
customers are viewing this product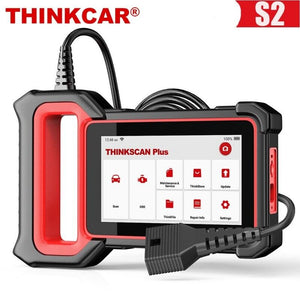 THINKCAR Thinkscan Plus S2 ABS SRS ECM Diagnosis & 2 Reset Service
This OBD2 scanner comes with ABS/SRS/Engine systems diagnosis+28 special reset features. With this vehicle diagnostic scan tool, you can read & erase fault codes for 1000+ car models around the world. Use this vehicle diagnostic tool to diagnose your car, it's so easy to find and fix problems, save your time and energy! With a 5'' HD touchscreen, big holder, Android 7.0 system, easy to carry or use. Update the device via WIFI, you will be able to diagnose more new cars!
Why Choose ThinkScan Plus S2?
●Read and erase error codes, show the data stream, read vehicle info. for 120+ car brands.
●Perform Full obd2 function-Read/Clear codes, data stream, I/M readiness, O2 sen sor, DTC lookup, and more.
●One-Click update software.
●Support Multiple Languages:English, Russian, Spanish, Portuguese, French, Japanese, German, Italian
●Support More than 120+ Car Brands
●With a big handle, easy to operate and easy to carry
●5-Inch HD Touch Screen
●Screenshot & Screen Recorder, Scan the QR to Share & Print Diagnostic Report
●One-click to share your report, picture and video
●Battery Voltage Monitoring: Click the indicator on the top to get the battery stream, know your battery condition.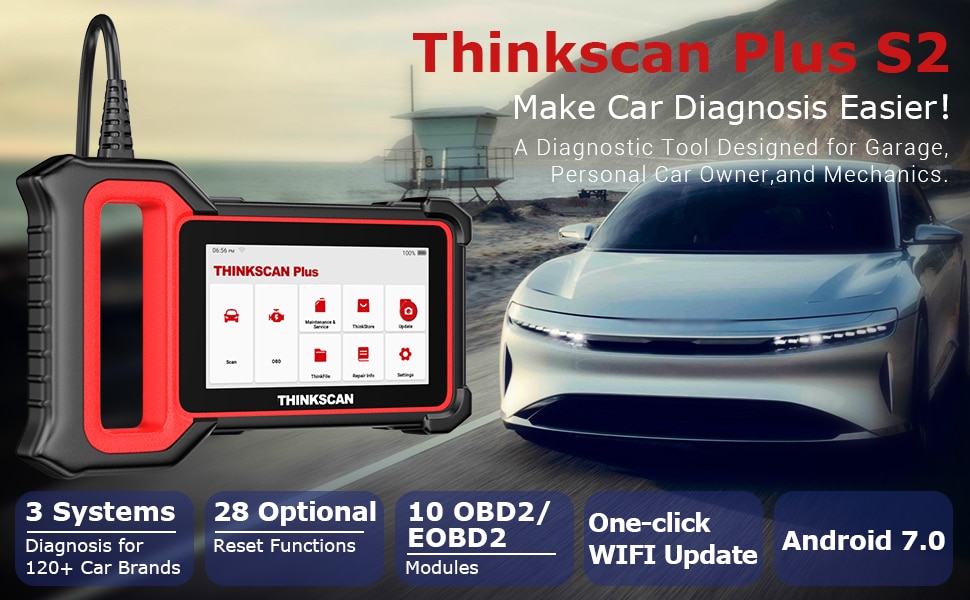 A Practical OBD2 Diagnostic Tool-Meet Your Needs!
This code reader is a very cost-effective car diagnostic scan tool, not only suitable for car engine systems, but also for vehicle ABS and Airbag systems. All of them are commonly used in automobiles, almost covering the most frequently-used modules of the cars, which can fully meet the daily use. It worth every penny!

●Anti-lock Braking System Diagnosis: Retrieve ABS codes to tell you where the problem is, then you can fix it.
●Engine System Diagnosis: It supports all 10 OBDII test modes-live data, O2 sen sor test, Fr eeze Frame data, and more; read and clear the engine error codes, find out the exact problem, and repair the car easily.
●SRS System Diagnosis: A safety restraint system, is made up of impact sensors, a control module, and the airbags themselves, and this diagnostic device can detect every electronic parameter to check its health status.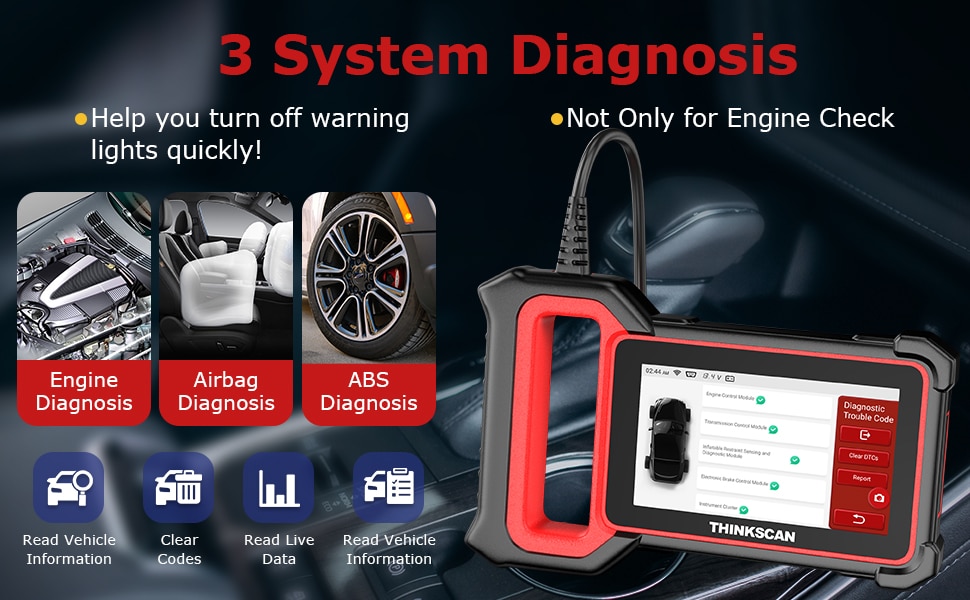 Choose from 28 Special Funcitons-Meet your needs!
**Please kindly note >>>>If you need more than 3 reset functions, it will cost more include 29.95 USD one year for 1 more reset function. >>>>The compatibility of special functions varies by model and year, if you cannot sure please check with us first!


1. Oil Light Reset: Reset your oil service after you change the oil or simply want to reset your vehicle inspection warning light.
2. Steering Angle Reset: Reset the steering angle to zero to keep the car running straight.
3. Injector Coding: Write the new injector code into the car system for the correct cylinder injection quantity;
4. IMMO Service: Disable any lost key and add new keys. (**Not support some vehicle brands with high-level anti-theft systems likes Audi, Benz, BMW, VW, etc.)
5. DPF Regeneration: DPF regeneration is mainly periodically used combustion and oxidation to remove particles deposited in the filter to ensure that the DPF continues to work normally;
6. EGR Adaption: Learn the Exhaust Gas Recirculation valve after being cleaned;
7. ABS Bleeding: Help exhaust the air;
8. AdBlue Reset: Reset urea after the diesel exhaust treatment fluid is replaced or filled up;
9. Throttle Matching: Initialize the throttle actuators to the default state;
10. TPMS Reset: Reset the tire pressure;
11. EPB Reset: Help replace and reset the brake pad;
12. Tire Rese; 13. AFS Headlamp Reset; 14. Sunroof Initialization; 15. Battery Reset; 16. Seat Calibration; 17. Airbag Reset; 18. A/F Reset; 19. Gearbox Reset; 20. Transport Mode; 21. Windows Calibration; 22. Language Change; 23. Suspension Reset; 25. NOx Sensor Reset; 26. Stop/Start Reset; 27. Coolant Bleeding; 28. Suspension Reset.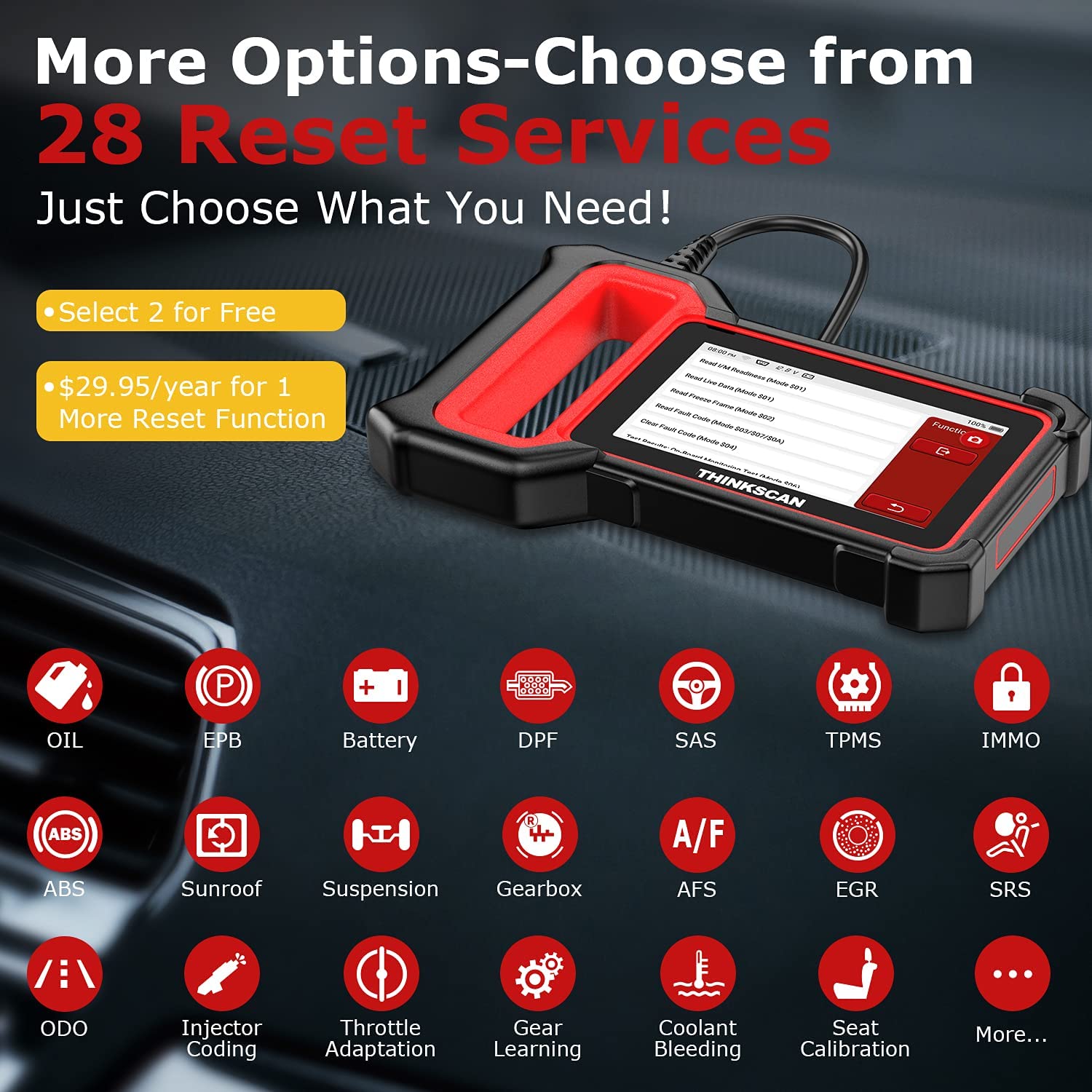 What Else You Can Get?
▶Auto VIN Reading
▶Fast System Check
▶Diagnostic Report Print
▶Share Data with One click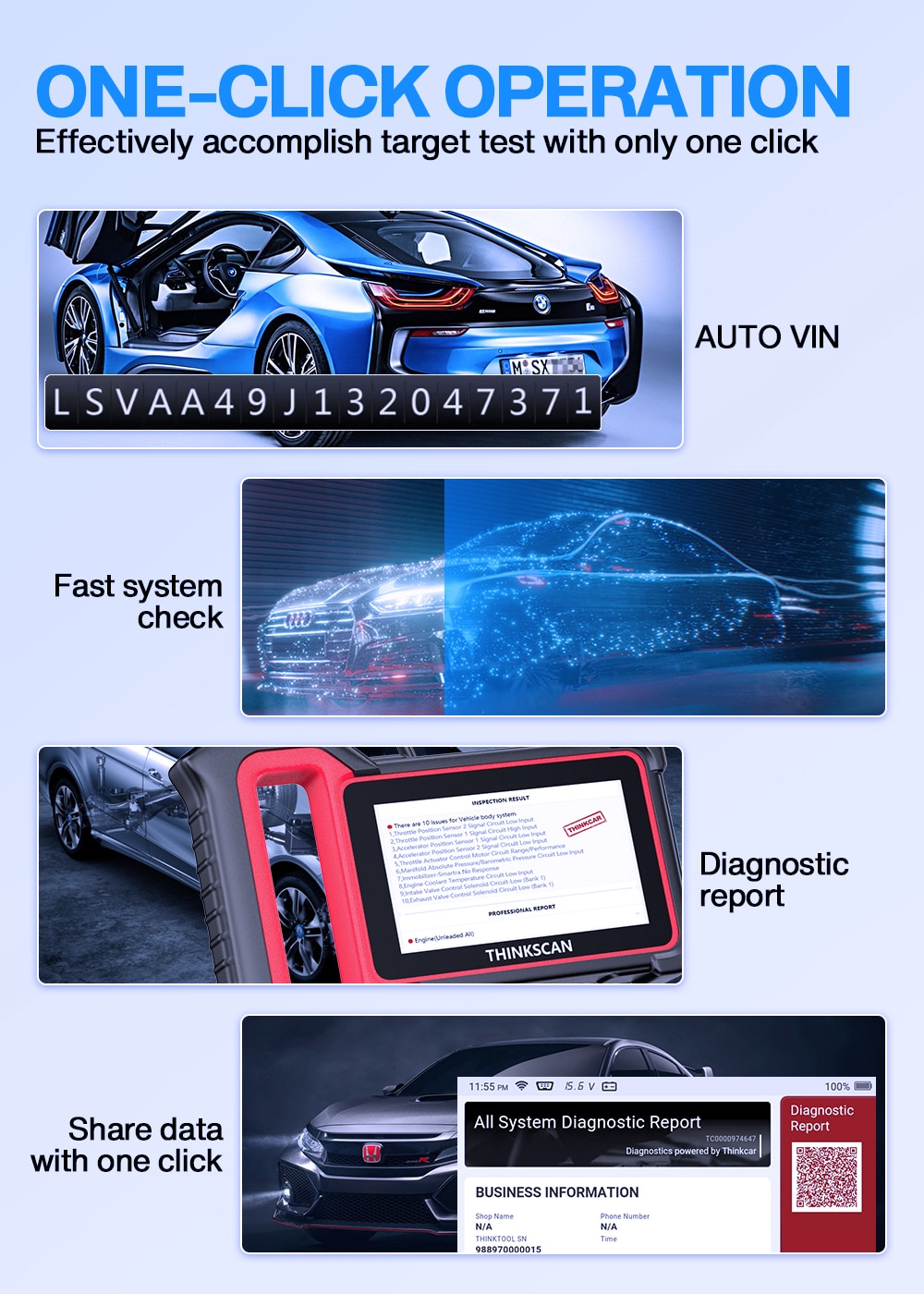 Universal OBDII Functions
Mode 01---Request current powertrain diagnostic data.
Mode 02—Request freeze frame information.
Mode 03—Request emissions-related diagnostic code .
Mode 04—Clear/reset emissions-related diagnostic information.
Mode 05—Request oxygen sensor monitoring test results.
Mode 06—Request on-board monitoring test results for specific monitored systems.
Mode 07—Request emission-related diagnostic trouble codes detected during current or last completed driving cycle.
Mode 08—Request control of on-board system, test or component.
Mode 09—Request vehicle information.
Mode 10—Request emissions-related diagnostic trouble codes with permanent status after a clear/reset emission-related diagnostic information.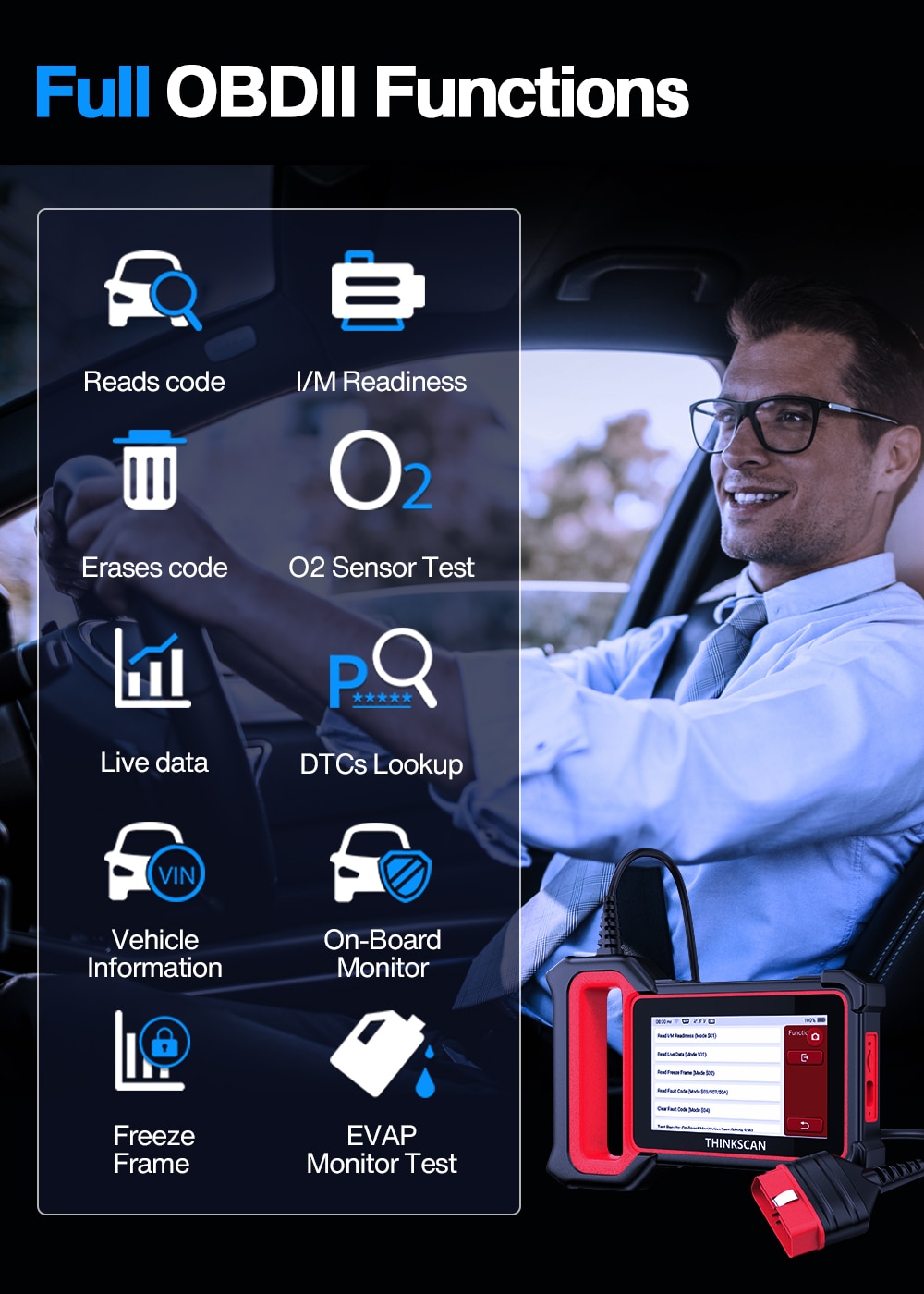 Thinkscan Plus S2 Support Multi Language
English, Russian, Spanish, Italian, French, Japanese, German, Portuguese.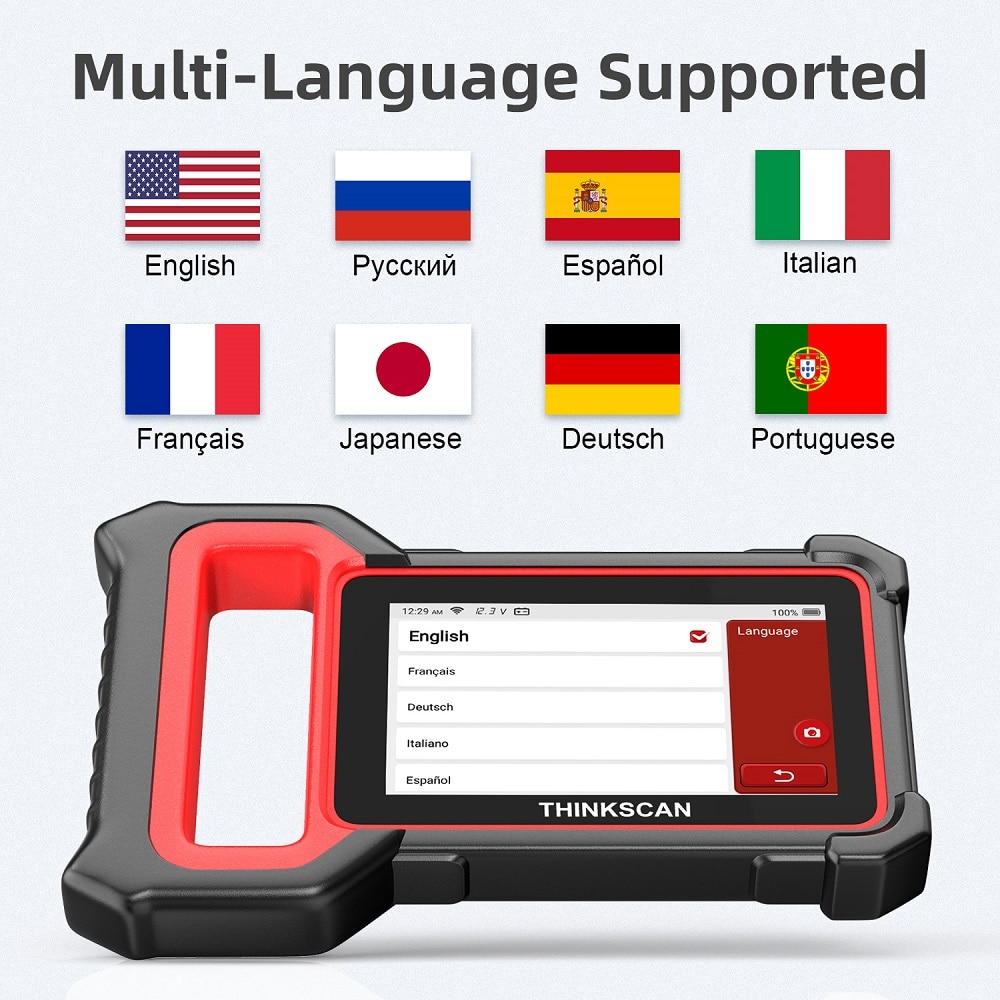 Diagnostic cover all vehicles that support the OBD protocol after 1996
For AUDI , For BENZ , For BMW , For CHRYSLER
For CITROEN , For DACIA , For DAEWOO , For FIAT
For GM , For HOLDEN , For HONDA , For HYUNDAI
For JAGUAR , For JPISUZU , For KIA , For LANDROVER
For MAHINDRA , For MARUTI , For MAZDA , For MINI
For MITSUBISHI , For NISSAN , For OPEL , For PEUGEOT
For PORSCHE , For RENAULT , For SAAB , For SEAT
For SKODA , For SMART , For SPRINTER , For SUBARU
For SUZUKI , For TATA , For TOYOTA , For USAFORD
For VOLVO , For VW...Updating