S90 Car Inclinometer 4x4 GPS Speed HUD MPH KMH Slope Meter Off-road Compass
customers are viewing this product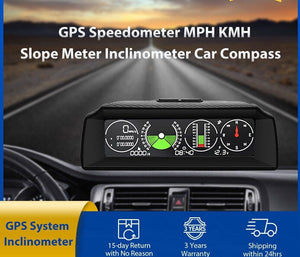 S90 Car Inclinometer 4x4 GPS Speed HUD MPH KMH Slope Meter Off-road Compass
Product Highlights:
1.- 2in 1 Smart Car Safety System: Head Up Display & Vehicle Inclinometer
2.- Speed Unit:KM/H & MPH Switch freely.
3.- Built-in high-precision GPS module, more accurate with Speed, Attitude, Longitude and latitude, Compass.
4.- Easy installation: Plug & Play,connects withUSB connector,can work on all vehicles.
5.- Different kinds of Alarms:
Over-speed alarm, Low/Over Voltage Alarm, Tilt Angle Danger alarm, Pitch Angle Danger Alarm, Fatigue Driving alarm
6. Accept customized orders (start with 100pcs at least) : add buyer's own logo on the start-up screen, add more functions...
Wide Range of Applications: suitable for All cars:
Inclinometer + GPS HUD S9 Display Information:
GPS Speed, Clock, Coordinates Display / Longitude and latitude, Compass, Altitude,Vehicle Roll Angle, Vehicle Pitch Angle, Voltage,M/H & MPH Switch freely......
Different Alarms:
Over-speed alarm, Low/Over Voltage Alarm, Tilt Angle Danger alarm, Pitch Angle Danger Alarm, Fatigue Driving alarm
GPS Car HUD: Built-in a high-precision dual-channel satellite GPS signal module, which can locate the current position of the vehicle, provide latitude and longitude, vehicle speed, altitude and precise compass direction, and no longer get lost while driving:
Slope meter function, Pitch Angle: -40 to 40 degree , Roll Angel: -40 to 40 degree:
Real-time measurement of vehicle rolling angle and pitch angle. Accurately display the downhill/uphill  and left/right inclination value and equipped with over-slope alarm
Product Specifications:


Power Supply: DC 10V ~ 30V
GPS Cold Start Duration: 32s( Average)
Working Temperature: -40℃ +80℃
Voltage Range: DC 5V ~ 30V
Speed Precision: < 0.36Km/h
GPS Hot Start Duration: 1s(Average)
Wireless Transmission Frequency: 2.4GHz
Weight: 403g
Package List:
1X Main Host
1X USB Cable (1.8m)
1X Non-slip Mat
1XSection cup bracket
1X Manuel