OTOFIX D1 MAX OBD2 Bi-directional Automotive Scan ECU Coding DTC PK MK906BT
customers are viewing this product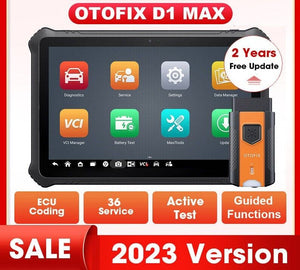 OTOFIX D1 MAX OBD2 Diagnostic Scanner Bi-directional Automotive Scan Tool ECU Coding DTC PK MK906BT
If you're a pro-mechanic looking for a professional scanner that can do specialized auto diagnostics with top settings. It is a 2022 all-rounder scanner for all vehicles with ECU coding, active tests, 36+ service functions, all system diagnostics, and 10.4 inch high-end functions etc., running smarter & faster than much more expensive snap-on car scanners.
Specifications
Operating System:Android 11
Processor:Qualcomm SM6225 octa-core processor
Memory:4 GB RAM & 128 GB
Display:10.4-inch touchscreen with 2000 x 1200 p resolution
Connectivity:
Wi-Fi (802.11 b/g/n/ac)
Type-C USB
Bluetooth V5.0
Camera:
Rear: 8 megapixel, autofocus with flashlight
Front: 5 megapixel
Audio Input/Output:Input: Microphone
Output: Bipolar speakers, 3-Band 3.5 mm
stereo/standard headset jack
Input Voltage:9 to 12.4 V
Supported Automotive Protocols:
ISO 9142-2, ISO 14230-2, ISO 15765-4, K/L-Line,
Flashing Code, SAE-J1850 VPW, SAE-J1850 PWM,
CAN ISO 11898, Highspeed, Middlespeed, Lowspeed
and Singlewire CAN, GM UART, UART Echo Byte
Protocol, Honda Diag-H Protocol, TP 2.0, TP 1.6, SAE
J1939, SAE J1708, Fault-Tolerant CAN
Full System Diagnostics with Bi-directional Control
Autel D1 MAX can access to ALL vehicle systems and subsystems, such asBody, Chassis, Powertrain, Networkand etc., to perform a comprehensive scanning on ECUs to locate fault systems and retrieve DTCs.

1. To diagnoseBrake Systemif you feel the brake pedal is mushy and notice unusual odor or noise, etc. A properly operating brake system is critical to ensure safe vehicle control and operation;

2. To diagnoseEmission Systemif the system is affected by vehicle age or poor quality fuel. A good emission system reduces harmful gases to a large degree and protects you from being fined;

3. To diagnoseFuel systemif vehicle won't start or "Check Engine" light is illuminated. Check car's fuel system regularly ensures the best performance of your car with the lowest emissions;

4. To diagnoseTransmissionif your car is slipping or difficult to shift. The system plays an important part in the overall performance of your car;

5. To diagnoseWiper Systemif you observe chattering or streaking wiper. If the car is not regularly checked, the accident might happen because you can't see clearly;

6. To diagnoseLight Systemif you see rapid signal blinking or dimming lights.

And many more ...
36+ Hot Service Functions for Reset Performing
The diagnostic scanner is a professional tool aiming at providing mechanics and DIY enthusiasts with access to the systems to perform various maintenance and services.

1.Oil Service Reset– Performs reset for the Engine Oil Life system, which calculates an optimal oil life change interval depending on the vehicle driving conditions and climate, and turns off the warning light;

2.TPMS Service– Quickly looks up the tire sensor IDs from the vehicle's ECU, as well as to perform TPMS programming and reset procedures after tire sensors are replaced;

3.EPB Service– Initializes the throttle actuators to the default state for regulating throttle (or idle engine) operations accurately;

4.ABS/SRS Services– Performs various bi-directional tests to check the operating conditions of both the Anti-lock Braking System and the Supplemental Restraint System;

5.SAS Service– Performs steering angle adjustment, clears steering sensor fault memory and turns off steering wheel warning light;

6.DPF Regeneration Service– Clears particulate matter from the DPF filter to stabilize the filter performance.

7.BMS Service-Perform a reset on the vehicle battery for clearing the fault information and re-match the battery;

8.Brake Bleed-When your brake pedal becomes soft and inconvenient to control, this diagnostic tool can perform bi-directional tests to check the Anti-lock Braking System;

9.IMMO Service-Clear the lost car key's information and program the new key into the ECU database to protect user's car from being stolen;

10.Injector Coding-Make the cylinder better identify injector after ECU or injector is replaced;

11.SAS Service-to perform calibration for the Steering Angle Sensor and clear steering sensor fault memory;

12.Throttle Adaptation-initialize the throttle actuators to the default state for regulating throttle (or idle engine) operations accurately

13.Headlamp

14.Suspension

15.Lang change

16.Odometer

17.Seats

18.CHG tire size

19.TEC learn

20.WIN DR ROOF
ECU Codin
Optimally code your car by changing some settings to fit your needs, such as setting alarms, doors locking, etc.
1. Access the ECU to make full use of the hidden features or disable the car's annoying functions, like activating the auto side mirrors folding function, disabling the automatic engine Start-Stop function, etc.
2. Provide excellent solutions for issues of drivability, power loss, fuel efficiency, etc. to improve the car's performance.
3. Reprogram the adaptive data for certain components after repairs or replacements.
ECU Online Coding is available for BMW, VW, Porsche, Renault, etc.
Please Note: ECU Coding changes preprogrammed options which depend on the type and number of electronic features already built in. Thus, ECU coding is not universally compatible and varies for different vehicles.
Auto VIN
Just one click can facilitate the vehicle diagnostic process. D1 Plus scanner tool incorporates the latest Auto VIN technology that allows technicians or repairmen to easily identify vehicle information such as manufacturer, model, year and place of manufacture, etc.
Language
English, Simplified Chinese, Traditional Chinese, Spanish, French, German, Polish, Italian, Japanese, Korean, Dutch, Portuguese, Swedish, Russian

After you get the product, please tell us your SN of machine to activate the language you need .
Extensive Vehicle Coverage
No need to worry about compatibility issues. The device currently supports 80+ car manufacturers and 140+ car brands worldwide. Also, you will be able to get more new car models through subsequent high-frequency software updates.

It is compatible with: Chrysler, Dodge, Ford, GM, Jeep, Abarth, Alfa, Citroen, Fiat, Lancia, Opel, Peugeot, Porsche, Renault, Saab, Vauxhall, Volvo, Aston Martin, Audi, Bentley, Benz, Sprinter, BMW, Bugatti, Ferrari, Jaguar, Lamborghini, Land Rover, Maserati, Maybach, Mini, Rolls-Royce, Seat, Skoda, Smart, VW, VW CV, Dacia, Ford EU, LT3, Acura, Daewoo, Daihatsu, Honda, Hyundai, Hyundai CV, Infiniti, Kia, Lexus, Maruti Suzuki, Mazda, Mitsubishi, Nissan, Nissan GTR, Samsung, Scion, Ssang Yong, Subaru, Suzuki, Toyota, Isuzu, Mahindra, Perodua, Proton, TATA, HINO, UD, Fuso.
More Advanced Functions to Meet Your Extra Needs
1.Flash Hidden Functions for BMW,Mini,VW,Audi,Skoda.
2.Inspect Narrow and Dark Places with Endoscope MV105/MV108
3.Test Battery Health Status with Battery Tester BT506
4.Enhance Vehicle's Comfortability.
Update Service & Warranty
2 years free upate service

1 year warrantry for any quality problem