OTOFIX D1 Max Automotive Car Diagnostic Tool Advanced ECU Coding 36+ Services
customers are viewing this product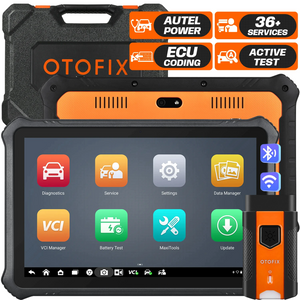 OTOFIX D1 Max
OTOFIX D1 Max is a powerful diagnostic tool that provides one-stop solutions when paired with the OTOFIX cloud-based app on your phone or tablet. You'll never have to wonder what that check engine light means when you have the ability to run full systems diagnostics, comprehensive service functions, and dealership-grade diagnosis and diagnostic trouble code (DTC) analysis.
Support Languages:
English / Portuguese / Germany / Japanese / French / Spanish / Italian/ Dutch/ Polish/ Swedish/Russian/ Korean/ Vietnamese/ Thai/Traditional Chinese. (Please leave the S/N of machine to authorize the language you want after you receive it.)
ECU Coding & Comprehensive 36 Service Functions
OTOFIX D1 Max professional auto scanner comes with an advanced ECU coding function. This function allows you to establish a data link to the electronic control system of the test vehicle via the VCI device for vehicle diagnosis, service or coding. You can operate functional tests, retrieve vehicle diagnostic information such as trouble codes, event codes and live data, and perform ECU coding, for various vehicle control systems, such as engine, transmission, ABS and more.

OTOFIX D1 Max provides you with service functions commonly performed in garages including Oil Service Reset, EPB, TPMS, BMS, Seats, Odometer, Brake bleed, DPF, Immo keys, Injector, CHG tire size, TEC learn, SAS, Suspension, Throttle, WIN DR ROOF, Lang change, Headlamp, Trans Adaption, Airbag Reset, Cylinder and so on.
Bi-directional Control&All System Diagnostics
During the actuator test/active test, OTOFIX D1 Max outputs the command to the ECU to control and drive the actuators, and then by reading the ECU data, and monitoring the operation of the actuators, such as switching an injector between two operating states to diagnose the integrity of the system or parts. (This option is used to access vehicle-specific subsystem and component tests. The available test varies by the vehicle manufacturer, year, and model.)

This function can test specific subsystems and components. It's also called Actuator Test or Function Test. Bi-directional Active Test allows OTOFIX D1 Max to interactively operate and test vehicle devices like wipers, door controls, windows, a/c, engine fans, idle control, etc.

OTOFIX D1 Max performs complete systems diagnoses including functional tests, retrieving vehicle diagnostic information (error codes), freeze frame data and live data for various vehicle control systems (engine, transmission, ABS, etc.). OTOFIX provides its users with all the information important to a vehicle's health in an accessible, easy-to-read way.
Specifications
Operating System:Android 11
Processor:Qualcomm SM6225 octa-core processor
Memory:4 GB RAM & 128 GB
Display:10.4-inch touchscreen with 2000 x 1200 p resolution
Connectivity:
Wi-Fi (802.11 b/g/n/ac)
Type-C USB
Bluetooth V5.0
Camera:
Rear: 8 megapixel, autofocus with flashlight
Front: 5 megapixel
Audio Input/Output:Input: Microphone
Output: Bipolar speakers, 3-Band 3.5 mm
stereo/standard headset jack
Input Voltage:9 to 12.4 V
Supported Automotive Protocols:
ISO 9142-2, ISO 14230-2, ISO 15765-4, K/L-Line,
Flashing Code, SAE-J1850 VPW, SAE-J1850 PWM,
CAN ISO 11898, Highspeed, Middlespeed, Lowspeed
and Singlewire CAN, GM UART, UART Echo Byte
Protocol, Honda Diag-H Protocol, TP 2.0, TP 1.6, SAE
J1939, SAE J1708, Fault-Tolerant CAN