Original LAUNCH Creader CRP129 4System Code Reader Scanner for ENG/ AT/ ABS/ SRS
customers are viewing this product
Original LAUNCH Creader CRP129 4 System Code Reader Scanner for ENG/ AT/ ABS/ SRS with Brake/ SAS/ Oil Service Light Reset


Highlights:

1. Lifetime Free Update Online
2. Support 4 System Diagnose:
 Engine, Transmission, ABS, Airbag
3. Basic Diagnostic Function:
 Read DTCs, Clear DTCs, Read data stream
4. Multi-Language Supported: 
English/ French/ Spanish/ German/ Russian/ Japanese/ Portuguese
5. Support Multiple Car Models: 
covering over 40 prevailing models from Asia, America and Europe
Please Notice:
1. Works on 12V vehicle battery ONLY;
2. Must be 16 PIN OBD II protocol.
3. No Battery in The Device
, and you don't need to charge it. When you plug it into the car, it will work.
4. For transmission, ABS, and SRS (airbag) diagnostic, it only works with 2006 and newer OBD2 protocol vehicles

Description:
Launch CRP129 is newly developed by Launch Tech on the basis of Creader Professional 123.It is world's first DIY diagnostic product integrated with OBDII,Car Model Diagnosis and Engine Oil Lamp Reset.The main functions not only include OBDII/EOBD standard protocol diagnosis,but also carry forward the typical car model diagnosis of X431 series.What's more,it has the ability to perform Service Lamp Reset to the vehicle.It make maintenance and service be easily fixed with sigle hand!
Launch Creader crp129 features OEM enhanced functionality one might expect from a bigger scan tool. Functions include electronic parking brake release, steering angle reset and service reminder reset not to mention the ability to display and graph live PID data for A/T, SRS, and ABS, along with complete generic OBDII. The tool includes quick boot up, manufacturer-specific code definitions, DTC-specific troubleshooter tips, free internet updates, and the ability to print via PC.
Vehicle Coverage:
LAUNCH CRP129 code reader supports 43 (more than CRP123 supported vehicles) brands of Asian, US and European vehicles, including SUZUKI, INFINITI, GM, USAFORD, MAZDA, EUROFORD, CHRYSLER, JAGUAR, VOLVO, RENAULT, TOYOTA, DAEWOO, JPISUZU, ACURA, OPEL, LANDROVER, SAAB, DACIA, BENZ, LEXUS, ROMEO, FIAT, VAUXHALL, LANCIA, SEAT, VW, PEUGEOT, CITROEN, SKODA, HYUNDAI, MITSUBISHI, PORSCHE, SUBARU, SPRINTER, AUDI, HONDA, BMW, KIA, MINI, NISSAN, SMART, AUSTFORD, HOLDEN.
Launch Creader CRP129 Functions:
1. 4 System Diagnostic
LAUNCH CRP129 is a must-have diagnosis tool for car enthusiasts which amalgamates the best features of code scanners and professional mid-line scan tools with extensive system coverage of most 2006 US/EU-based and newer vehicles, more than 40 brands including all CRP123 supported vehicles, plus Asian: Daewoo; American: EU-Ford; Europe: Alfa-Romeo, Citroen, Dacia, Lancia, Mini, Peugeot, Renault, Vauxhall. Moreover, CRP129 is a highly cost-efficient small diagnostic device characterized for the special design of adding benefits of reading/clearing error codes and reading DataStream for 4 following systems
1) Transmission:
 Tests the Automatic Transmission (AT) which is a type of motor vehicle transmission that can automatically change gear ratios as the vehicle moves, freeing the driver from having to shift gears manually.
2) Engine:
 Easily determines the cause of Check Engine Light, and turn off the warning light.
3) Airbag System:
 Retrieves and clears codes in Supplemental Restraint System (SRS), and turn off the warning light.
4) ABS: 
Performs various bi-directional tests to check the operating conditions of Anti-lock Braking System (ABS), and turn off the warning light
2. Three Special Functions
1) Oil Maintenance Reset: 
This function allows you to perform reset for the Engine Oil Life system, which calculates an optimal oil life change interval depend on the vehicle driving conditions and climate, and to turn off the warning light. The Oil Life Reminder must be reset every time the oil is changed, so the system can calculate when the next oil change is required.
2) EPB Reset:
 Reads and clears Electronic Parking Brake (EPB) trouble codes and turns off the ECU and brake warning light. If the brake pad wears the brake pad sense line, the brake pad sense line will send a signal sense line to the on-board computer to replace the brake pad. After replacing the brake pad, you need to reset the brake pad to clear the car alarms.
3) SAS Reset: 
Calibrates the Steering Angle Sensor (SAS) after the replacement. The steering angle sensor is a critical part that measures the steering wheel position angle and rate of turn. The SAS requires a reset to ensure proper calibration for adjusted alignment at any time for any reason.
3. Full OBD2 Functions
LAUNCH CRP129 boasts a myriad of functions. Don't let its size mislead you. It is super helpful for technician to diagnose the trouble fast and accurately with its complete OBD2 functions on most 1996 US-based, 2002 EU-based vehicles:
1) Live Data: Shows the information of continuous data stream from vehicle in live graphic (waveform) display.
2) Freeze Frame: Checks the certain vehicle conditions which are recorded by the on-board computer at the time the emission-related fault occurs.
3) O2 Sensor Test: Shows the last results of O2 sensor test in graphic display for troubleshooting.
4) On-Board Monitor Test: Reads the results of on-board diagnostic monitoring tests for specific components/systems.
5) DTCs Read & Clear: Shows the detailed description of the current Diagnostic Trouble Code (DTC) and clears/resets the diagnostic information.
6) Read Vehicle Information: Displays the information such as VIN (Vehicle identification Number), CID (Calibration ID) and CVN (Calibration verification number), etc.
7) I/M Status: Shows whether the various emissions-related systems on the vehicle are operating properly and are ready for inspection and maintenance testing.
8) And much more …
How to Register Your Creader CRP129?
How to Update This Tool?
There are two methods to update this tool. We would recommend method 2 (Via TF card) which is more accessible than method 1(Via USB cable).
Step 1: Go to LAUNCH official website(refer to the manual) and click Updating Tool Download icon.
Step 2: Download and install the CRP129 update tool and launch the program when installed.
Step 3: You will be prompted to type in the serial # (located on the back of the tool)
Step 4: Hit [Device Upgrade] to enter the register page, type your email info (check the "Register Code" on the device menu "Help--Tool Information").
Note: the "User password" is equal to the "Register Code."
Step 5: Install the TF card from the tool into the supplied USB TF card adapter and insert into USB port of CPU.
Step 6: Reopen the CRP update Suite and select the updates you would like to preform or click select all and click Download.
Step 7: Once all steps are complete, reinsert the TF card into the tool and power the tool via USB in computer or via OBD2 port in vehicle. The tool will prompt you to upgrade, select OK button on tool to proceed.
LAUNCH CRP129 Customer Review
by small repair shop technician
Launch CRP129 tablet is compact and easy to take, the buttons are designed using fiber so comfortable to touch and rugged. It has 3.5" touch screen and clear to view. Hook it up to the vehicle, CRP129 device was quick to get going from the initial power up and it was also quick to operate. The response in moving through the menus and executing tasks was immediate. Downloading and running updates (which is partly down to internet connection speed) was reasonable.
CRP129 tablet is limited to cover all system, it only access to the basic 4 systems (ABS, ECU, Airbag and Transmission), however it supports 40 car models ( from USA, European and Asia)– it has a improvement comparing CRP123. Besides, I prefer CRP129 tablet to CRP123 because it can perform basic diagnostic function and also some reset maintenance functions incl. reset service maintenance lights, steering angle resets and release electronic parking brake. That fits my daily repair work.
CRP129 tablet meet my requirement to print out the diagnostic results. I and my customers can check it anywhere anytime when I use it, it is very good.
The last point I want to mention is it is available with also French and Spanish, so anyone whose mother language is French or Spanish, CRP129 tablet can't be much better to fit you.
In a word: I tested not all car brands it claims it can work; my overall impression to CRP129 is it really works great as it described.
Parameters:
Screen: 3.5inch
Voltage Input: 9-15V
Connection: Standard 16PIN OBD Diagnostic Interface
Working Temperature: -0℃~55℃
Storage Temperature: -20℃ ~ 70℃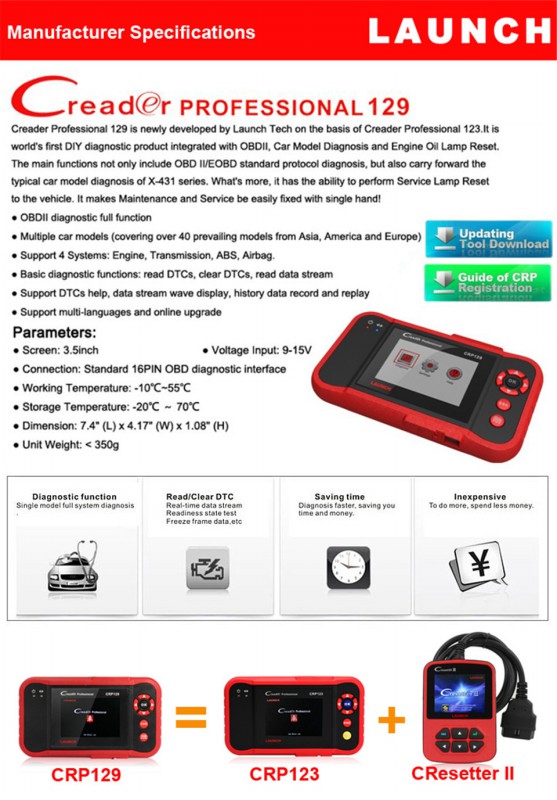 Package List:
1pc x LAUNCH Creader CRP129
1pc x Diagostic OBDII CABLE
1pc x USB Charging Cable
1pc x U disk