OBDSTAR iScan for DUCATI Motorcycle Diagnostic Tool Support IMMO Programming
customers are viewing this product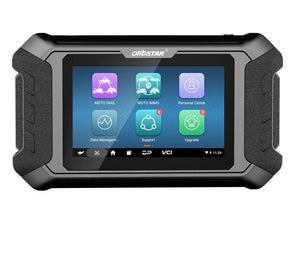 OBDSTAR iScan for DUCATI is a professional for DUCATI motorcycle diagnostic scanner. It is a portable tablet with stylish appearance. Designed with ingenuity and practicality, it is a perfect tool for DUCATI motorcycle maintenance and repair. Based on RK3128 quad-core processor and equipped with a 5.0-inch capacitive touch screen, OBDSTAR iScan for DUCATI brings its customers professional diagnostic experience and good user experience.
Advanced Function of OBDSTAR iScan for DUCATI
1. The first fault guidance, help data, technical bulletin, diag socket and so on help you diagnose accurately and efficiently;
2. Diversified data stream display modes such as text, waveform diagram and instrument diagram, allow you to easily analyze faults;
3. Automatic scanning, automatic VIN recognition, control module programming and coding, ECU setting, instrument coding, tire pressure monitoring system, maintenance light reset, CO adjustment, idle speed adjustment, A/F value reset, ABS control unit setting, EOL mode, transmission memory reset, clear computer memory etc.
Motorcycle/snowmobile/ATV/UTV support series
For DUCATI Motorcycles
Motorcycle key programming support series
For DUCATI
Main Functions of OBDSTAR iScan for DUCATI
1) Main Page/ Brand Supported