OBD2 OBDII ELM327 V1.5 USB Diagnostic Scanner PC Engine Scan Tool Code Reader
customers are viewing this product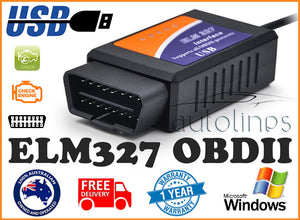 Vgate® iCar 3 ELM327 WiFi V3.0

PRODUCT HIGHLIGHTS
Read and diagnose trouble code, clear fault codes, both generic and manufacturer-specific, and display their meaning (over 3000 generic code definitions in the database).
Analyze data in real time
Read and erase diagnostic trouble codes (DTCs) and turn off the check engine light
Compatible with your Windows, Mac or Linux computer with the available software
View real-time vehicle data, graphs and performance parameters
Find and fix problems before they happen
Connects via a high-speed USB cable
Compatible with all OBDII compliant vehicles
Genuine ELM327 processor V1.5
Compatible with SAE J1850 PWM and SAE J1850 VPW protocols found on many Ford and GM vehicles (these protocols are NOT supported on cheaper scanners)
The ELM327 USB OBDII scanner is an engine performance and diagnostics tool for both automotive enthusiasts and professionals. Paired with a computer and OBD2 software, the ELM327 USB allows you to easily scan and clear engine codes, view and record real-time engine and performance data and much more.
Product Description:
Read diagnostic trouble codes, both generic and manufacturer-specific, and display code descriptions with over 3000 universal code definitions in the database
Clear diagnostic trouble codes and turn off check engine lights
Display and record real-time sensor data, including:
Engine RPM
Coolant Temperature
Momentum
Engine Load
Oil Pressure
Throttle Position
Calculated Load Value
Fuel System Status
Vehicle Speed
Short and Long Term Fuel Trim
Intake Manifold Pressure
Timing Advance
Intake Air Temperature
Air Flow Rate
Absolute Throttle Position
Oxygen Sensor Voltages/Associated Short Term Fuel Trims
Fuel System Status
Fuel Pressure
+ More
Compatibility
Windows:
FREE
ScanTool.net 1.21 - ScanTool.net, LLC
wOBD v1.5 - Werner Digital Technology, Inc
EasyOBDII (Free Version)
ScanMaster-ELM DEMO - WGSoft.de
OBD 2007 PidReader - GLM Software
OBD Auto Doctor (Limited) - Creosys Ltd.
EOBD-Facile (Registered/Free) - Outils OBD Facile
PAID / LICENSE REQUIRED
ScanXL™ Standard - Palmer Performance Engineering, Inc.
ScanXL™ Professional - Palmer Performance Engineering, Inc.
DashCommand™ - Palmer Performance Engineering, Inc.
PCMSCAN™ - Palmer Performance Engineering, Inc.
ScanMaster-ELM - WGSoft.de
EasyOBDII
ProScan - myscantool.com
OBD Auto Doctor - Creosys Ltd.
TouchScan Software Download
EOBD-Facile (Full Version) - Outils OBD Facile
TOAD® (Total OBD & ECU Auto Diagnostics) Software
Package
Mac OS X
OBD Auto Doctor - Creosys Ltd.
EOBD-Facile(Free & Full Versions) - Outils OBD Facile
Linux
OBD Auto Doctor-Creosys Ltd.
Vehicle Coverage / Compatible Protocols:
ELM327 WIFI detects and interprets these protocols automatically. It also provides support for high speed communications and a low power sleep mode. There are plenty of compatible software packages available that offer useful features such as real-time engine parameters and Engine check light reading and clearing.

Note: Our scanner is suitable to all car brands, but not all car models. Before you make order, please check whether your car model has one of the following protocols.


ISO 9141-2 (5 baud init, 10.4 kbaud)
ISO 14230-4 KWP (5 baud init, 10.4 kbaud)
ISO 14230-4 KWP (fast init, 10.4 kbaud)
ISO 15765-4 CAN (11 bit ID, 500 kbaud)
ISO 15765-4 CAN (29 bit ID, 500 kbaud)
ISO 15765-4 CAN (11 bit ID, 250 kbaud)
ISO 15765-4 CAN (29 bit ID, 250 kbaud)
SAE J1850 PWM (Found on many Ford vehicles)
SAE J1850 VPW (Found on many GM vehicles)
SAE J1939 CAN(29bit ID,250*Kbaud)
USER1 CAN(11*bit ID,125*Kbaud)
USER2 CAN(11*bit ID,50*kbaud)
PACKAGE CONTENT:
1 x ELM 327 USB OBD2 V1.5 Auto Diagnostic Scanner Tool
1 x CD driver