Mini Cat GPS Tracker V47 Dog GPS Pet GSM Tracking Device Waterproof IP67 SOS
customers are viewing this product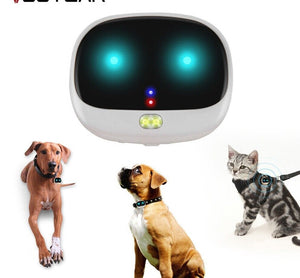 Mini Cat GPS Tracker V47 Dog GPS Pet GSM Tracking Device Waterproof IP67 SOS
1. 2G GSM networks 
2. Waterproof IP67
3. LED rolling lights based on light sensor automatically
4. GPS positioning, with accuracy of 5m outdoor
5. Web platform/ Phone App/ SMS for positions check
6. Historical route
7.SOS button for help
8. Geofence: GPS fence
9. Step counting
10. Voice monitor
11. Low battery alarm
12. Ringtone to find your pet
13. 2-way voice communicatio
GPS locating time:60sec with cold boot (open sky)
               29sec with warm boot (open sky)
               5sec with hot boot (open sky)
GPS positioning accuracy:5-15m (open sky)
WIFI positioning accuracy:15-100m(Under WIFI range)
Working temperature:-20 to +45 Degrees
Working humidity:5% - 95% RH
Host size: 52(L)*42(W)*15(H)mm
1* USB magnet charging cable
How to Use our V47 Personal GPS Tracker:
Step 1: 

Get a new SIM card:
1). Get a new Nano SIM card.
Choose Nano SIM card as below instruction.
2). Activate the SIM card's Cellular data plan and Caller ID display function. (Tracking needs consume data, making phone calls also needs charges.)
Step 2: Learn your Tracker device details:
Step 3:

 SIM card installation and power on
1). Please make sure the tracker is powered off before inserting SIM card;
2). Open the Sim slot with screw driver and insert SIM card into the slot according to the direction in diagram below. When in correct way, the SIM card will give an elastic feel. If not, please stop and check SIM direction. (Warning: Wrong SIM card direction will cause damage to SIM base for normal use.) 
3). To ensure waterproof, please install the SIM slot cover with screws as diagram shows on right.
4). Please use the magnet charger to recharge the device.
5). Press 5 to 7 seconds of the power button to turn on it. (The front blue and red indicator lights on for 2 seconds and release the button.)