Mini 4G GPS WIFI LBS Tracker Waterproof IP68 SOS Pendant GPS Locator
customers are viewing this product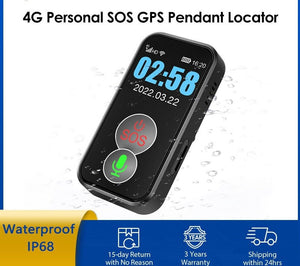 Mini 4G GPS WIFI LBS Tracker Waterproof IP68 SOS Pendant GPS Locator
Main Features:
1.Real-time GPS, WIFI & LBS location
2.Three months' historical route playback
3.Geo-fence:Automatic alarm when in/out of range
4.Call function:Two way talk/SOS calling
5.Health reminder function;Fall Alarm
6.Power manage:Ultra-low power consumption management, intelligent dormancy
12.Small size,easy to carry
13. Free web / app tracking license, administator account to manage multiple devices at the same time.
Global 4G / 3G / 2G Network:
EMEA Version (Europe / Middle East / Africa / Asia):
FDD: Band 1/2/3/5/7/8/20;
TDD: Band38/39/40/41(100M);
WCDMA: Band 1/2/5/8;
GSM: Band 2/3/5/8
SA Version (South America / North America / Australia / New Zealand):
FDD: B1 B2 B4 B5 B7 B12(17)B28A;
WCDMA: Band 1/2/5/8 ;
GSM: Band 2/3/5/8




Product Applications:



With safety material and small size is easy to carry, so it is suitable for Student,Elderly,Children,Luggage ,etc.



More Details:
Product Specifications:
Size:67*34*13.8mm
Weight:37g
Screen:1.0 inch TFT 128X96 resolution
Battery :1000mAh
Button:Double button(Power button/SOS button )+ Voice button
CPU:ASR3603S
Europe version of the frequency band:
FDD: Band 1\2\3\5\7\8 \20 ; TDD:Band38\39\40\41(100M);
WCDMA: Band 1\2\5\8 ;
GSM: Band 2\3\5\8;
USA/Australia version of the frequency band:
FDD: B1 B2 B4 B5 B7 B12(17)B28A
WCDMA: Band 1\2\5\8
GSM: Band 2\3\5\8;
GPS signal :L1,1575.42MHz C/A
GPS sensitivity:Tracking sensitivity:-165dBm,Capture sensitivity:-148dBm
Location accuracy:GPS(5-15m),LBS(100-1000m),WIFI indoor(20-100m)
Working temperature:-10~60℃
Working humidity:5% to 95% non-congealable
Operate system:Support 2.3 and above Android system, IOS 5.0 and above
Package Accessories
1* GPS anti-lost host
1* USB magnet charging cable
1* User manual.
1* Screw driver
1* Original retail box