Lufi XF OBD2 HUD Gauge Total Mileage Multi-Function Smart Digital Diagnosed Tool
customers are viewing this product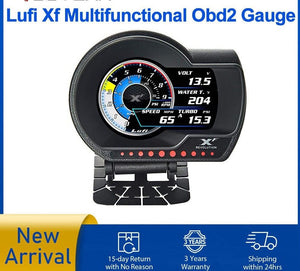 Lufi XF OBD2 HUD Gauge Total Mileage Multi-Function Smart Digital Diagnosed Tool
Product Highlights:
1. Editable Odometer: the OBD2 HUD Gauge contains odometer function, which is convenient for odometer demanded cars;
2. Two installation methods:1) stand on dashboard, 2) upside down on windshield;
3. Speed Unit KM/H & MPH Switch freely;
4. Turbine pressure: PSI and KPA switch freely;
5. Fuel consumption units: KM/L and L/100km;
6. 100km Acceleration Test, Brake Test...
7. Fast data update rate, low latency and fast response to real time information.
8. Automatic adjustment of brightness during day and night.
9. Different interfaces, you can choose any display interface you prefer.
10.Display information: Speed, RPM, Coolant Temperature, Oil Temperature, Oil Pressure, Voltage, Fuel Consumption, Single Mileage, Total Odometer, Clock, Intake pressure, Turbo Boost Pressure, Engine Load, Read Data Stream, Read and Clear Faulty Codes...
11.Multiple Alarms:Overs-peed alarm, RPM Alarm, High water temperature alarm, Low voltage alarm, Engine Faulty alarm; Optional alarm lamp is available...
12.Data adjustment: can be used to modify speed, RPM, Turbo/Instake pressure and voltage values on different car models;
13. Supports life-time free update and upgrade software .
14. 2-YEAR WARRANTY: For any damage caused by non-human factors, we offer 2-year warranty.
15. Accept OEM & ODM Orders: Add Start-up Screen with your logo; Customize Package; Add new functions and display interfaces...