Launch X431V+4.0 Wifi/Bluetooth 10.1inch Tablet Global Version 2Years FreeUpdate
customers are viewing this product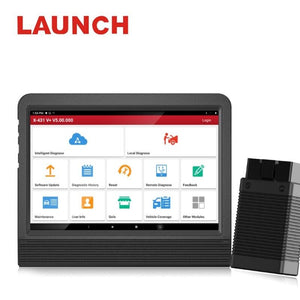 Launch X431 V+ 4.0 Wifi/Bluetooth Global Version Full System Scanner
Launch X431 V+ V4.0 is a high cost-effective automotive diagnostic device developed based on Android 9.0 System. It adopts Android 9.0 System, 8-core 1.8GHz processor, which runs faster and more stable. It is equipped with DBSCar IV connector as standard, which can be directly inserted into the slot of the host connector, easy to use and not easy to be lost. X-431 V+ V4.0 can cover more than 98% of the car models in the market, realize the fault diagnosis of the whole system, and has many advantages such as strong diagnosis function and accurate test data.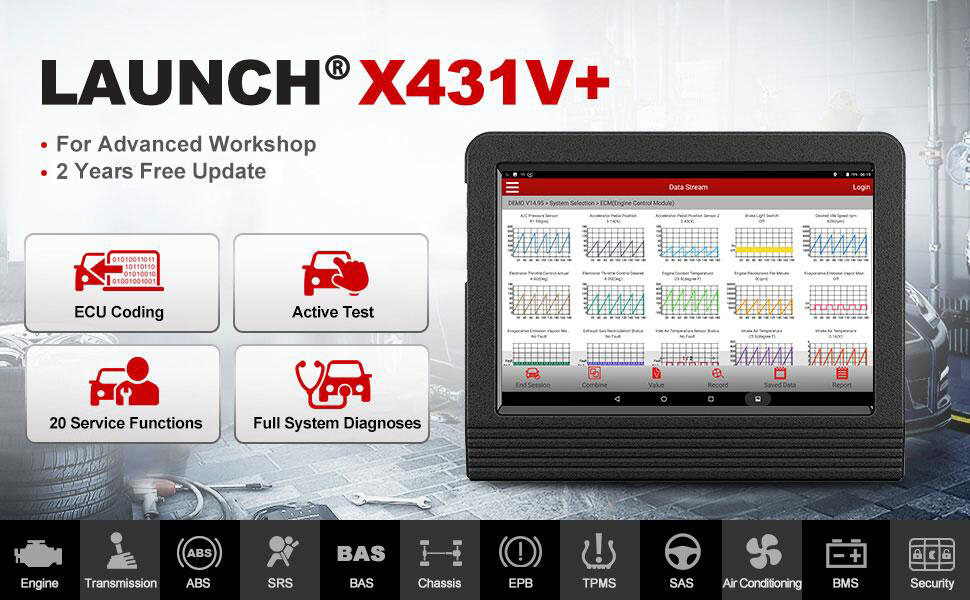 Launch X431 V+ V4.0 Highlights:
1. Extensive vehicle coverage, powerful diagnostic functions, and precise test result.
2. Equipped with DBSCar IV connector as standard, which can be directly inserted into the slot of the host connector, easy to use and not easy to be lost.
3. Adopts Android 9.0 System, 8-core 1.8GHz processor, which runs faster and more stable.
4. One-Click Update via Wi-Fi, 2 Years Free Update Online
5. Supports remote diagnosis.
6. Supports frequently 20 used special function.
7. No Software download IP limitation: Oversea download and update available
8. Supports expansion module: endoscope, immobolizer programmer and Wi-Fi printer. (purchased separately)
9. Supported Multi-Languages:
English, Spanish, Portuguese, Arabic, French, Korean, Japanese, German, Russian
Notice:
 For 2017 and later FCA Vehicles with Secure Gateway Module (SGW): Register with AutoAuth to enable your LAUNCH V+ scan tool to communicate with the 
FCA SGW Authentication System and bypass the SGM, so as to perform diagnostics and bi-directional without using a bypass cable.
Launch X431 V+ Function List:
Full-System Diagnoses
The diagnostic scanner X431 V+ enables you to scan full control units for a number of cars such as Engine, ABS, SAS, Transmission, Fuel system, Emission system, Body, and so on. Therefore, there is no need to buy other tools for diagnosing systems, saving you much time and money from the long term.Automatically identify VIN upon connection to the vehicle for intelligent diagnosis.Read all OTC types for full system, view, graph and record data PIDs, support bi-directional controls, actuation test and all other diagnostic functions.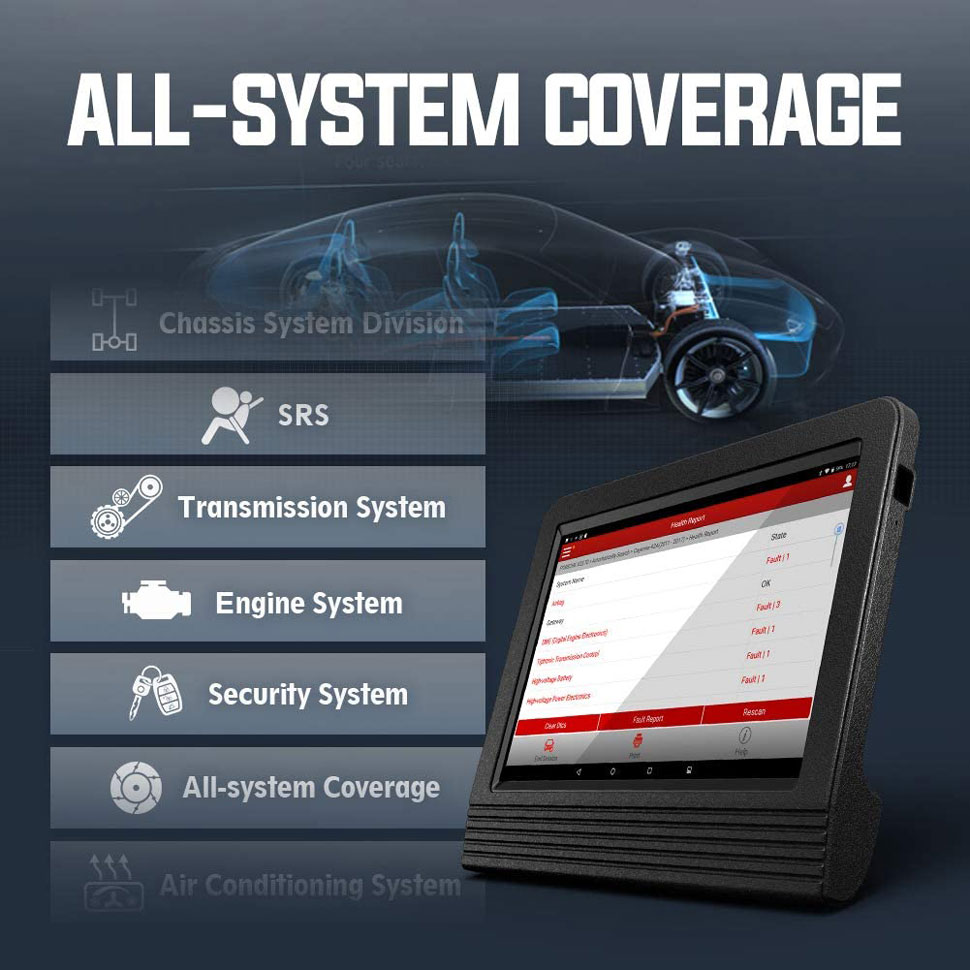 Active Test & ECU Coding
Active Test
This diagnostic tool LAUNCH X431 V+ supports active test (Bi-directional control) to request information or command a module to perform specific tests and functions. For instance, in the case of OBD II generic information Mode 1, you can initiate a request for information from the powertrain control module, and the PCM responds by sending the information back to the scan tool for display. This LAUNCH X431 V+ also have the ability to actuate relays, injectors, coils, or perform system tests, etc.
ECU Coding
Because every automobile actuator has a record code in ECU, which is the basis for automobile computer to mobilize their work. LAUNCH X431 V+ is equipped with advanced ECU coding function for addressing the following issues:
1. After you change the bad actuators or certain parts, you need to use this function to make a new code and recognize the new actuators.
2. By changing the code with the ECU coding, it's easy to improve vehicle performance or stimulate high-end functions for the car.
3. ECU coding enables multiple car systems to recognize each other and then the actuators can start to work.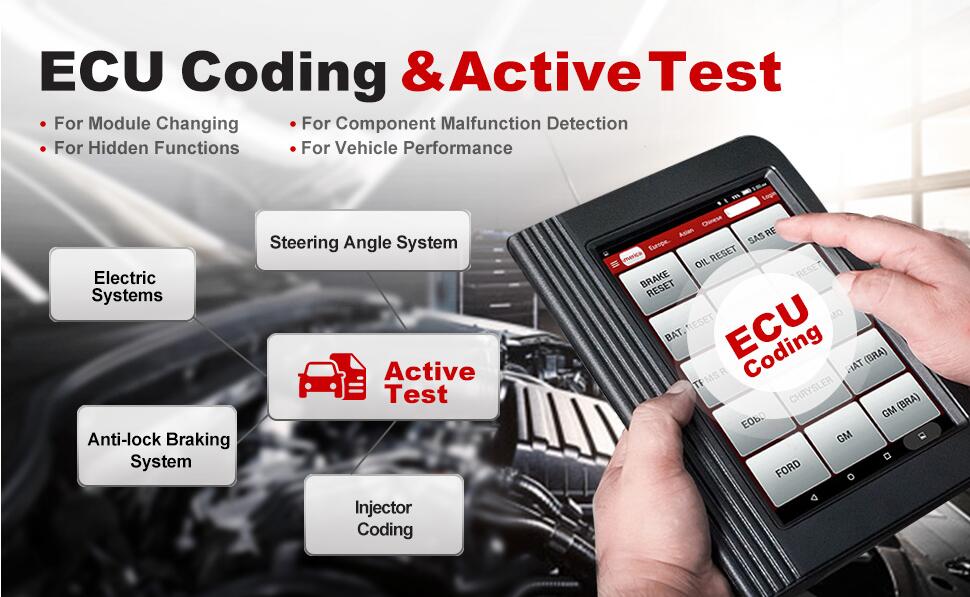 20 Commonly-Used Service Functions
OIL RESET
– Reset the oil life systems every time the oil and oil filter are changed;
INJECTOR
– Code new injector numbers to replace the previous one when fitting the new injectors or after the replacement is completed;
BRAKE RESET
– Deactivate and activate the brake control system, assist with brake fluid control, open and close brake pads, etc.;
SAS RESET
– Perform steering angle sensor calibration and clear records;
BAT.RESET
– Evaluate the battery charge state, monitor the closed-circuit current, register the battery replacement, etc.;
BLEEDING
– When the ABS contains air, the ABS bleeding function must be performed to bleed the brake system to restore ABS brake sensitivity;
ELEC.THROTTLE RLRN
– Initialize the throttle actuators so that the "learned" values stored on ECU are returned to the default state;
TPMS RESET
– Tire pressure resetting is required to be performed after maintenance is performed;
DPF REG
– Clear PM (Particulate Matter) from the DPF filter through continuous combustion oxidation mode to stabilize the filter performance;
GEAR LEARN
 – Perform gear learning for the car when the engine ECU, the crankshaft position sensor, or the crankshaft flywheel is replaced;
KEY PROGRAMMING
 – Help ECU to recognize the new keys when you need to add new keys.
ABS / SRS / Transmission / Engine Reset
AFS / EGR / GEARBOX / SUSPENSION / SUNROOF Reset
Launch X431 V+ Vehicle Coverage:
Launch X431 V+ scan tool can diagnose electronic control system of prevailing vehicle models covering Asian, European, American, China, up to 108+ car brands, up to 10000+ car models.