Launch X431 PAD5 PAD V with Smart Box 3.0 Automotive Programming Diagnostic Tool
customers are viewing this product
New Arrival LAUNCH X431 PAD V 10.1 inch & 5G Wi-Fi Professional diagnostic tools online programming tools, auto full system code reader scanner with 26+ special (reset) function ,TPMS,ADAS system calibration, 4GB RAM+ 64GB ROM(can extend up to 128GB)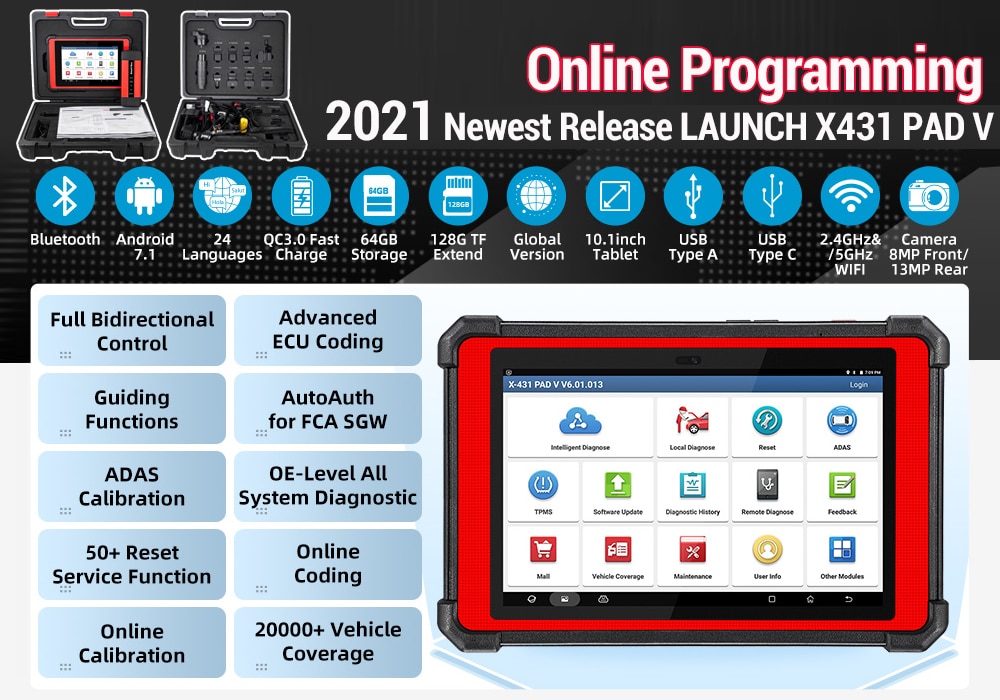 Highly recommended by auto repair shops and mechanics!!!
1.High-endonline programmingcapabilities 2.5G Wi-Fi diagnosis, It is far superior to Bluetooth in terms of transmission rate, diagnostic distance, anti-interference, etc. 3.Intelligent diagnosis, support for automatic vehicle identification through VIN, quick access to vehicle system, support for history Diagnosis record query 4.Support J2534/RP1210/D-PDUdiagnostic standard, can be used alone with part of the original diagnostic software 5.Support Online Programming Till Year 2021: BMW, Mercedes, VW, Audi, Seat, Skoda, Porsche, Nissan, Infiniti, Subaru. (Can't perform in United States, Canada and Spain) 6.IP65 case. supports use in high temperature and strong light conditions,10.1 inch fully laminated IPS screen (Gorilla Glass), scratch-resistant, resolution 1920*1200 7. Docking & charging station included with QC3.0 Quick Charge technology 8. Read all DTC types for full system, view, graph and record data PIDs, support bi-directional controls, actuation test and all other diagnostic functions 9.Guided functionfor Volkswagen and Audi 10.Supporting 26+ Service Reset Functions, Supports a wide range of models, covering medium-sized models in Europe, America, Japan, South Korea 11.support Topological Graph 12. Support USB Type C & Type A 13.Remote diagnosis allowing you to work on a vehicle from your tool without being on-site 14. One-Click Upgrade and silent install for software 15. Diagnostic records and reports can be stored in the cloud without any concern of data missing 16. Integrated database with comprehensive vehicle service and repair information 17.Support mall expansion, Module expansion, commercial vehicle expansion function, TPMS , ect and more ............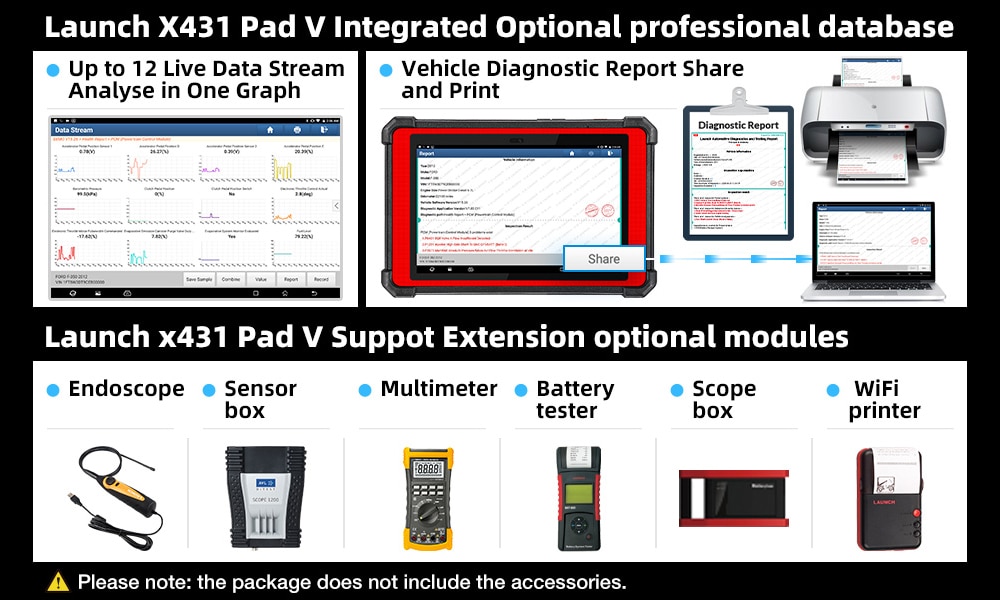 Full System diagnosis , 5G wifi Diagnostic fast than via Bluetooth
VIN scan quick testandmanual diagnosisare available.support all system diagnosis of passenger car Diagnosis functions include: Read DTCs, Clear DTCs, Read Data Stream, Special Functions, actuation test , ecu online coding etc.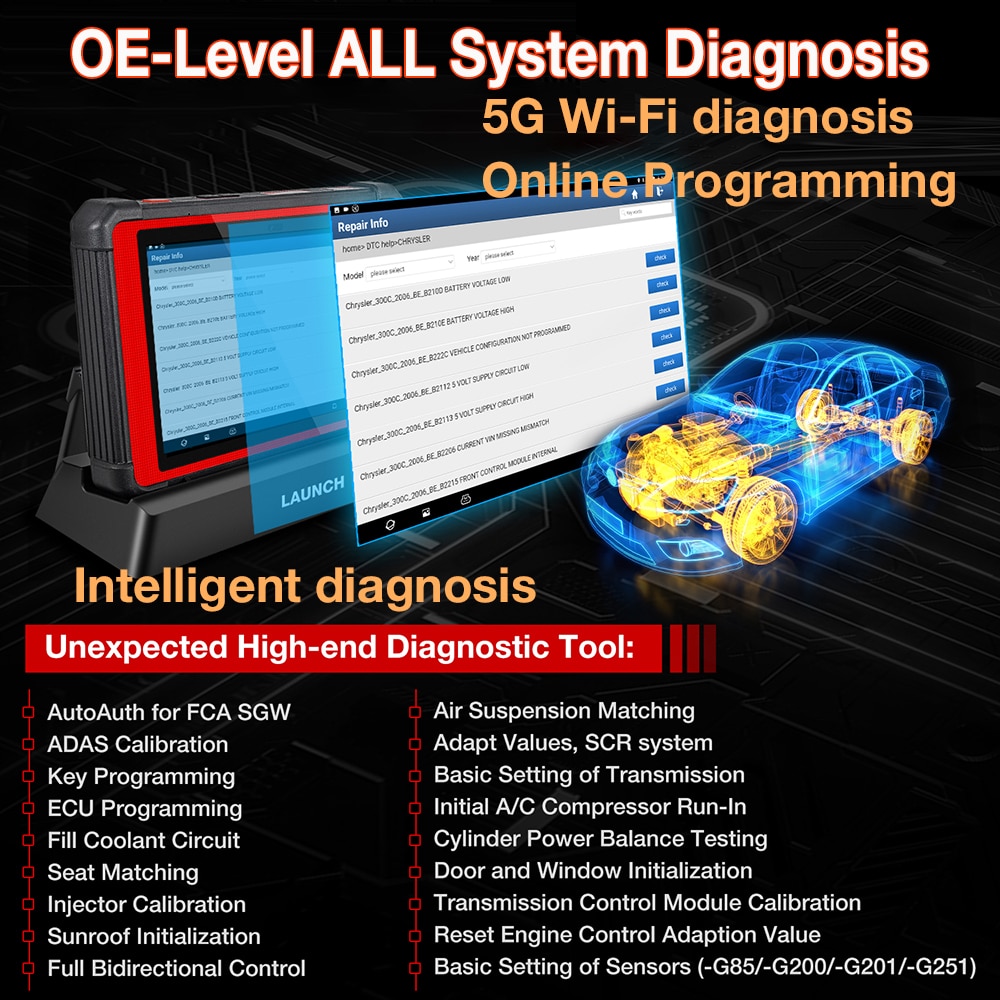 Online Programming
1.more safty during programming , even though you failed during programming , x431 pad v can allow you program again , will not break the ECU 2.X431 PAD V supports programming and coding, which is to write the relevant control information of the software into the automotive computer's programmable EPROM or FLASH by making use of the electronic communication transmission technology. 3.X431 PAD V Support intelligent recognition of programming files, convenient and quick operation.Support for Mercedes-Benz, for Benz New Energy, for BMW, for BMW New Energy, for GM, General New Energy, for Ford,Ford New Energy, for Volkswagen, for Volkswagen New Energy, for Audi, for Audi New Energy, for Land Rover, for Nissan,Skoda, for Seat, for Mazda and other models Programming function.
Active Test (Bi-directional Control)
Actuate solenoids and actuators for active testing, send commands to systems/components to test their working status, without using the vehicle controls.
ECU Coding (Online Coding)
Match, learn, or code the newly replaced ECU; Customize your car, unfold the hidden features, or disable the annoying functions; Reprograms the adaptive data for certain components after repairs or replacements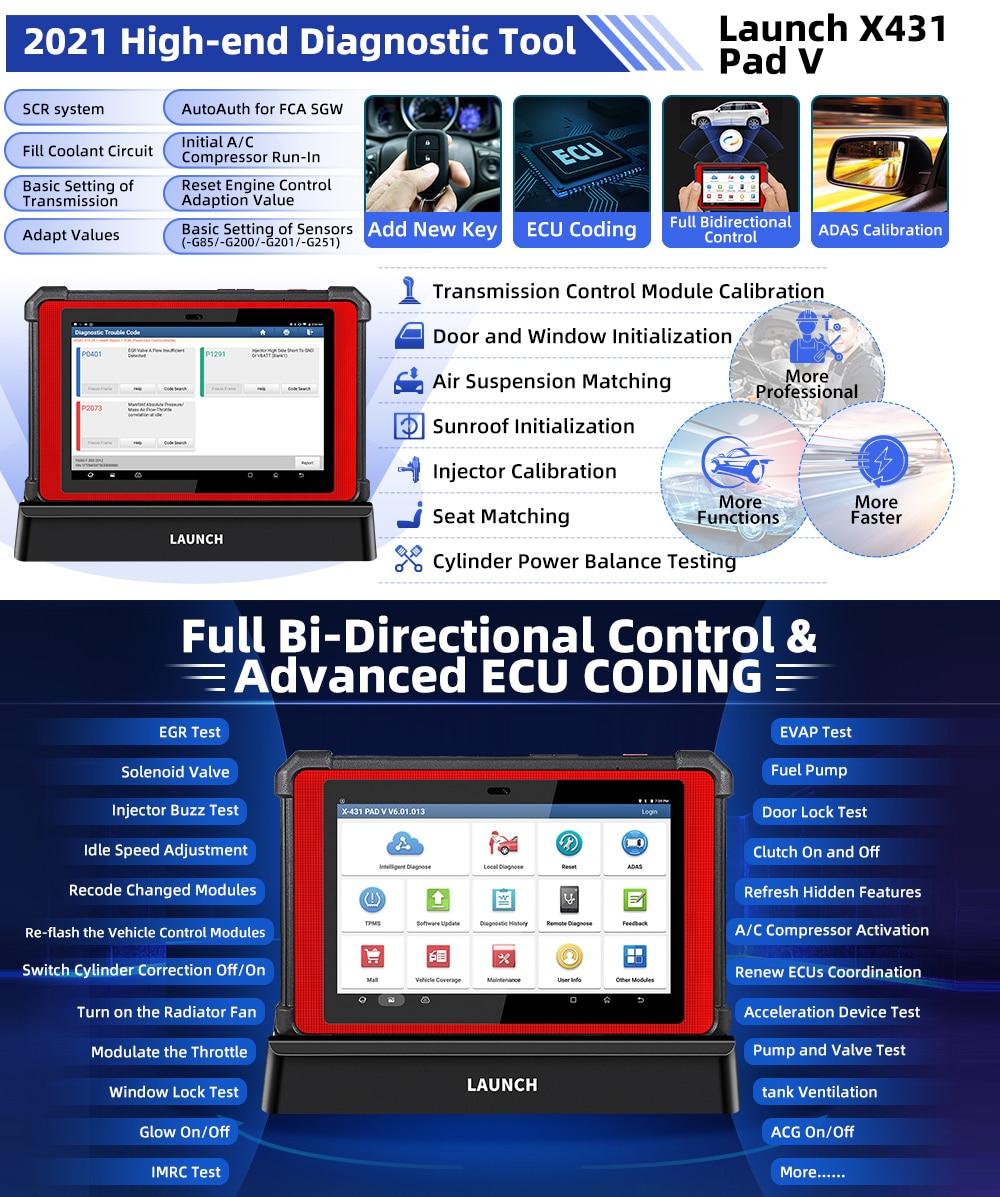 Key Programming
Add a new programmed key. PIN code is required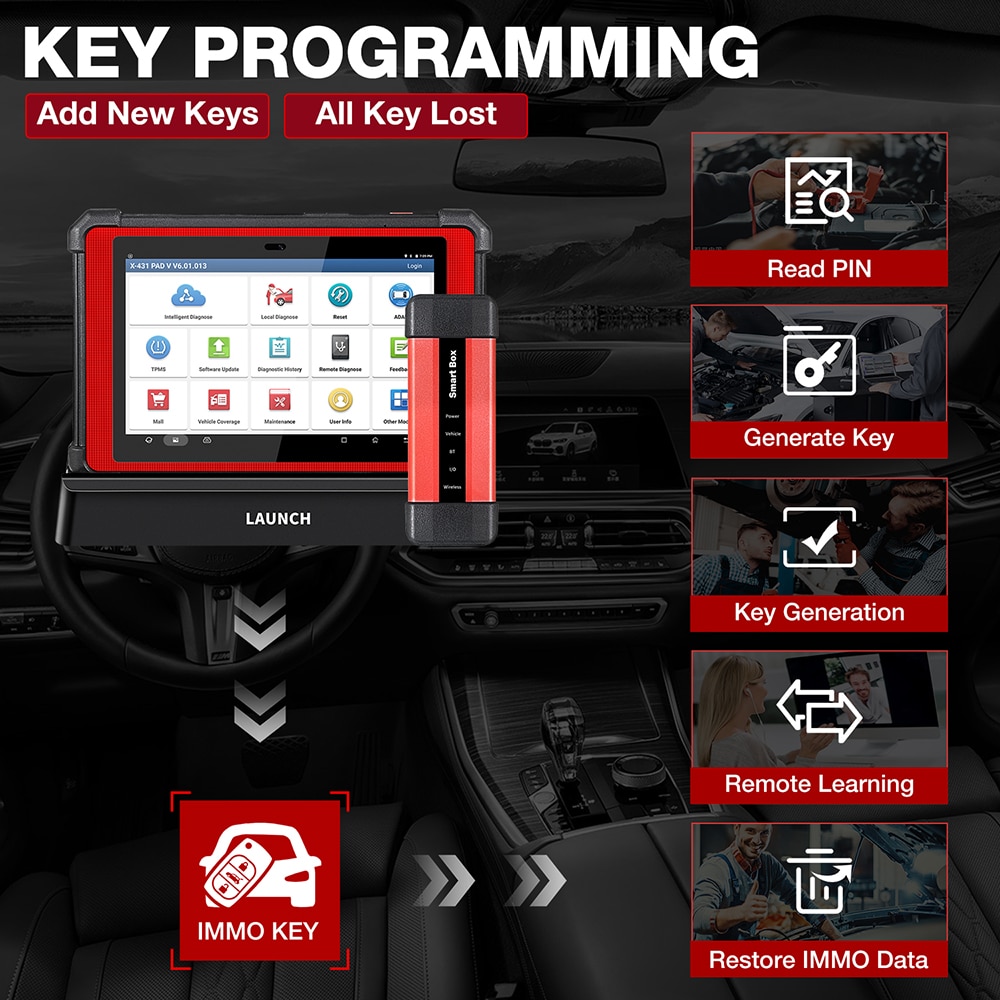 Support J2534/RP1210/D-PDUdiagnostic standard, can be used alone with part of the original diagnostic software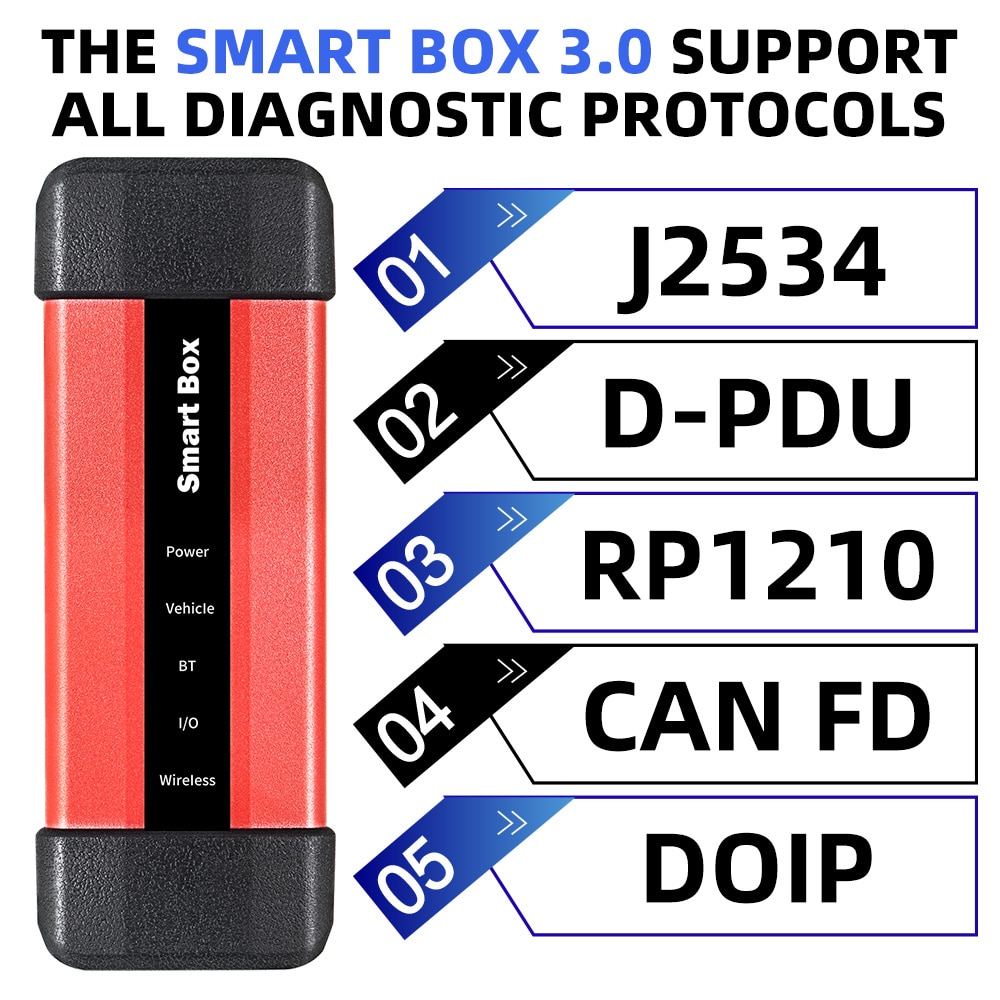 TPMS Diagnostic Function
LAUNCH X431 PAD V can work with wireless tire pressure diagnostic tootoachieve the features of TPMS activation, programming and learning.((NOTE: Need to be purchased separately)) a)Activation:to activate the sensor's IlD, wheel pressure, sensor frequency, tire temperature and battery status. b)Programming:to program sensor data to a blank Thinkcar sensor, so as to replace a sensor that is in low battery and does not function properly. There are three sensor programming methods available:automatic, manual, and via activation replication. c) Learning:to write the sensor ID into the vehicle ECU for sensor identificatio
Accurate ADAS Calibration functions
Advanced Driver Assistance System (ADAS) is an electronic component in a vehicle, including various safety functions of the vehicle, such as automatic emergency braking (AEB), lane departure warning (LDW),lane keeping assist, blind spot elimination, night vision camera and Adaptive lighting. (NOTE: Need to be purchased separately)
30+ Special Functions
•Oil Reset Service •Electronic Parking Brake Reset •Steering Angle Calibration •ABS Bleeding •Tire Pressure Monitor System Reset •Gear Learning •IMMO Service •Injector Coding •Battery Maintenance System Reset •Diesel Particulate Filter (DPF) Regeneration •Electronic Throttle Position Reset •Gearbox Matching •AFS (Adaptive Front-lighting System) Reset •Sunroof Initialization •Suspension Calibration •EGR Adaption •Windows Calibration •Seats Calibration •Tyre Reset •Language Change •A/F Reset •Coolant Bleed •Transport Mode •AdBlue Reset (Diesel Engine Exhaust Gas Filter) •NOx Sensor Reset •Stop/Start Reset and more...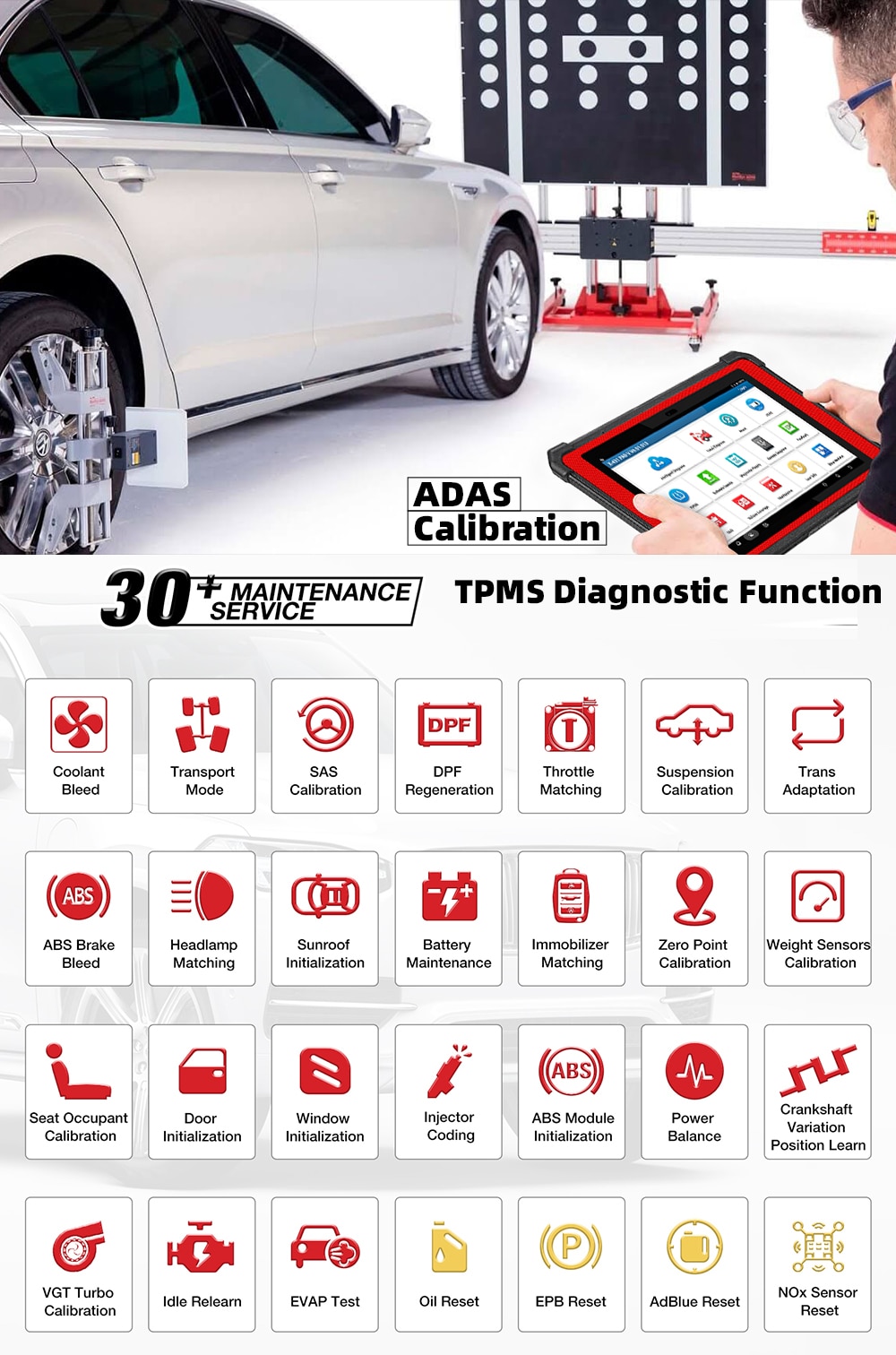 Remote Diagnose
help repair shops or technicians launch instant messaging and remote diagnosis, making the repair job getting fixed faster.could access remotely and quickly via mobile phone, tablet and computer, with low bandwidth and system resource occupancy. It also can "Add friend " , can add the one who also use launch product , then you can comunicate with them in X431 Pro3s , if you have problem to car repair , you can talk with them online , they can help you !!!
Online Database
is fully filled with abundant repair cases and automotive technology handbook for your easier retrieval and reference.
With topological diagram Function
it can shows All car system in the Diagram , better to let you know the car clearly and simple !
Diagnostic history and diagnostic feedback
Generally once a vehicle diagnosis is performed, the tool will record the every details of diagnostic process. The History function provides direct access to the previously tested vehicles and users can resume from the last operation, without the necessity of starting from scratch. for any problem found during the diagnoss, submit the vehicle issue to us for analysis and troubleshooting.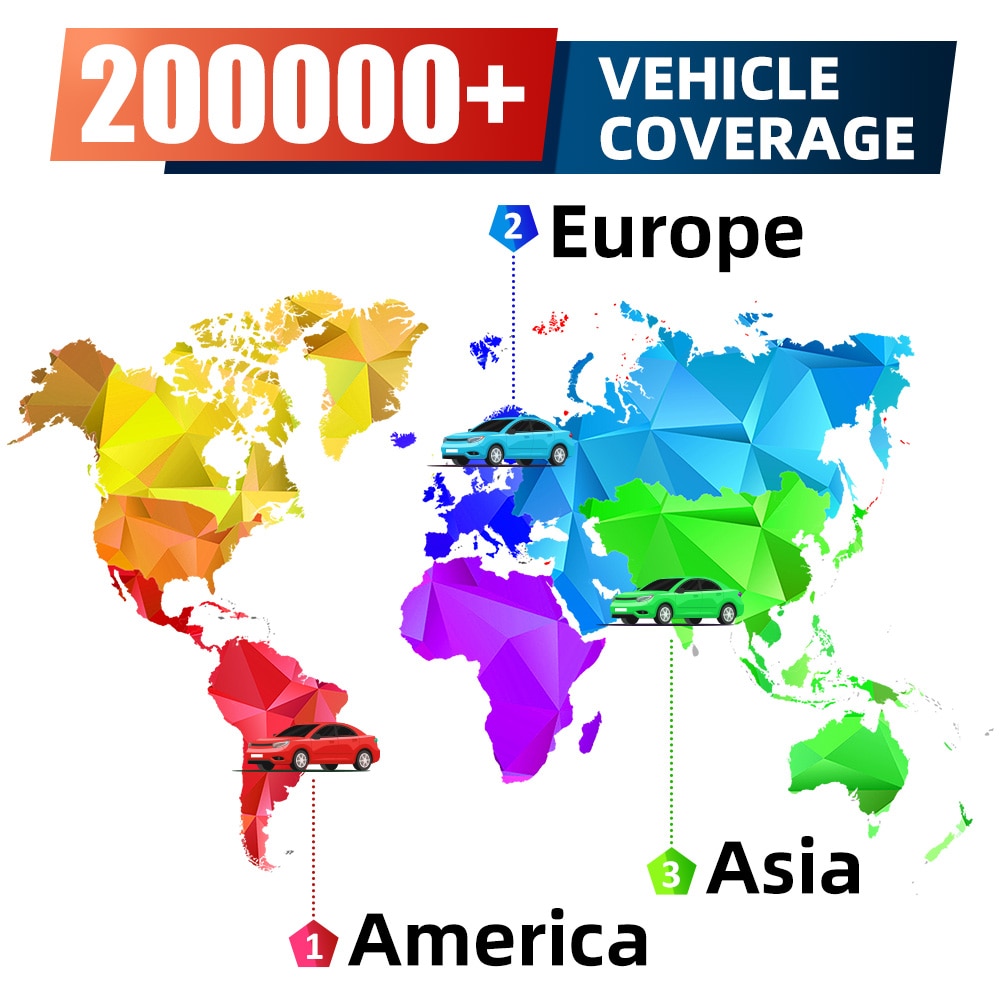 Chinese cars: Beijing Automobile, BAIC Magic Speed, Dongfeng Fengshen, GAC Trumpchi, GAC Mitsubishi, Haima, Mustang, China GM, Beijing Jeep, Beijing Hyundai, BYD, Changan Suzuki, Dandong Shuguang, Dongfeng Fengxing, Hainan Mazda, Geely, JAC , Jiangnan Alto, Lifan Motors, Nanjing Iveco, Chery, Qingling, Shanghai Volkswagen, FAW-Volkswagen, Zhengzhou Nissan, Zhidou, Zotye, ZTE, etc. Asian cars:Honda, Acura, Toyota, Lexus, Mazda, Nissan, Infiniti, Hyundai, Kia, Ssangyong, Daewoo, Isuzu, Daihatsu, Suzuki, Mitsubishi, Subaru, Tata, Mahindra, Perodua, Maruti, etc.
American cars: Chrysler, Dodge, Jeep, American Ford, Lincoln, GM, Buick, Cadillac, Chevrolet, etc. European cars:Aston Martin, BMW, Rolls Royce, Mercedes-Benz, Maybach, Peugeot, Volkswagen, Bentley, Bugatti, Ferrari, Fiat, Abbas, Lancia, Romeo, Renault, Maserati, Lamborghini, Citroen, Audi , Porsche, Volvo, Land Rover, Jaguar, Rover, Opel, Skoda, SEAT, Mini, Saab, etc.
2. Heavy Duty Vehicles Supported:

Software Coverage:
Nissan (Diesel), Mitsubishi (Diesel), USA Ford Diesel, Kenworth Astra, Benz Heavy Duty, Bosch Diesel, China Heavy Duty, Cummins Heavy Duty, DAF, Delphi Diesel, Denso Diesel, FAW Liberation, Foton Auman, FUSO, Hino, Hyundai Heavy Duty, Isuzu Heavy Duty, Iveco Heavy Duty, JAC Heavy Duty, Mack, MAN, OBD Heavy Duty, Scania, Shangchai Diesel, Volvo Heavy Duty, WP Diesel, Airbus, Allison Transmission Box, Ashok Rejlander, Bendix ABS, Caterpillar Heavy Duty, Chai Heavy Vehicle, Chaoyang Diesel, Construction Machinery, CREDO Heavy Vechicle, Detroit Engine, Dongfeng Commercial Vehicle, Dongfeng Yufeng, Doosan Engine, Freightliner Heavy Duty Truck, Full Diesel Diagnosis Software, Haldex ABS Heavy Duty, HD_ABS System, HD_GoldenDragon, HD_International
HD_Kinglong, HD_Maxxforce, HD_Tata, HD_Western_Star, Heavy Truck Presentation Software, IRISBUS HD, IRIZAR HD, NEOPLAN HD, Peter HD, Renault HD, SETRA HD, Stannic Bavin, Sterling HD, Sunlong Bus, Sunwin Bus, UD Trucks 2F Nissan Diesel, WABCO ABS, Yang Chai Engine

High configuration LAUNCH X431 PAD V
Operating system: Android 7.1 CPU: Qualcomm MSM8953 2.0GHz eight-core Memory: 4GB Storage: 64GB (up to 128GB expansion) Display screen: 10.1 inches, fully fit, sunlight readable screen Resolution: 1920x1200 Camera: the first 8 million pixels, the rear 13 million pixels Wi-Fi: Support 2.4GHz&/5GHz dual frequency x2 Size: 320mm*211mm*46mm Sensor : Gravity Accelerometer , 3-Axis Acceleration Sensor Working temperature: 0℃~50℃ Operating Temp: 0℃ ~ 50℃ Storage Temp: -20℃ ~ 70℃
VCI (Vehicle Communication Interface)
CPU: Dual processor Cortex-A7+Cortex-M7 Operating System: Linux Working voltage: DC 9V ~ 36V Memory: 256M Storage: 8GB USB: Type B x 1 Wi-Fi: 2.4GHz&5GHz dual frequency Working temperature: 0℃ ~ 50℃ Size: 200mm*75mm*40mm