LAUNCH X431 CRP919X Diagnostic Tools Obd2 Scanner Automotive Scanner Tools
customers are viewing this product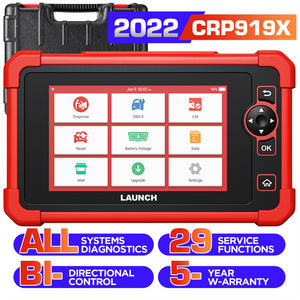 LAUNCH CRP919X Scan Tool, 2022 OBD2 Scanner Upgrade of CRP123X/CRP129X/CRP909X, 29+ Service Functions, All System Diagnostics, IMMO, CAN FD/DoIP, 100+ Brands, Fitting for Techs & Repair Shops
[2022 New Upgrade]: Specially designed for professionals. Based on the LAUNCH CRP909X, LAUNCH CRP919X diagnostic scanner upgrades all the configurations and makes everything new: 29 Repair Functions; Newly added Bi-directional control, makes problems nowhere to hide; Advanced Hardware loads powerful Android 10.0 OS, 3+32 GB extended memory, and lasting 6100mAh battery; New Protocols DoIP&CAN FD, accelerates vehicle communication and covers 2022 models.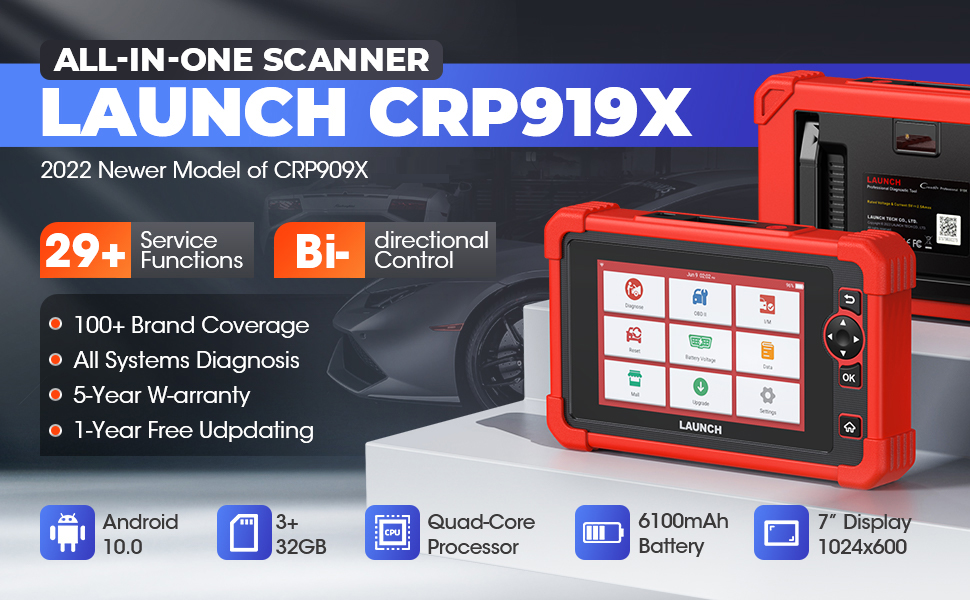 2022 New LAUNCH CRP919X With 29 Functions
As the new model of LAUNCH CRP909X, LAUNCH scanner CRP919X has updated service functions from 26 to 29 and more vehicle data. Including Oil, SAS, EPB, BMS, DPF, ABS, Injector Coding & Power Balance, EGR Reset, and High Voltage Battery Diagnostics, which are enough to solve daily repair business for repair shops. And functions of CRP919X OBD2 scanner vary by model, you'd better check the compatibility first.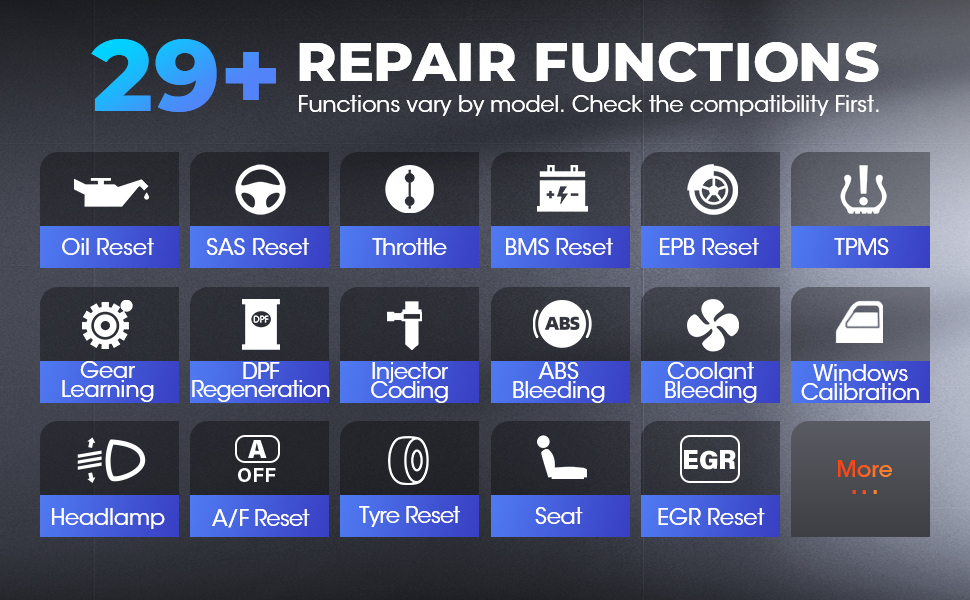 Essential All System Diagnostic Tool
Superior to LAUNCH CRP123X/CRP129X, this LAUNCH CRP919X automotive scanner enables to run an all-system diagnostics and goes offering a complete scanning of engine, AT, ABS, TPMS, Fuel, BCM diagnostic data, so that you can quickly catch all the fault codes and repair them to optimized performance. And the Auto VIN could automatically identify vehicle information for some models and enhance diagnostic correctness and efficiency.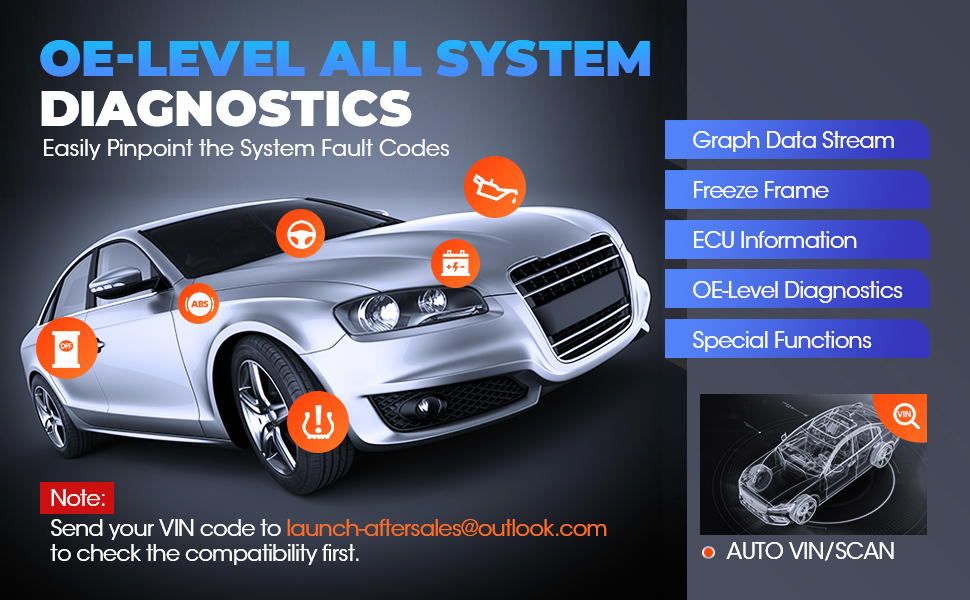 Bi-directional Control
Good news! The bi-directional control is finally released on CRP919X car scanner! You don't have to struggle to take apart the dashboard or the door just to find the window malfunction. You can utilize this active test to locate all the possible vehicle problems in a short time and repair them. Not only for windows but could be also widely applied to injectors/doors/wipers/radiator fans/headlamps/etc. Note: updating software to get it.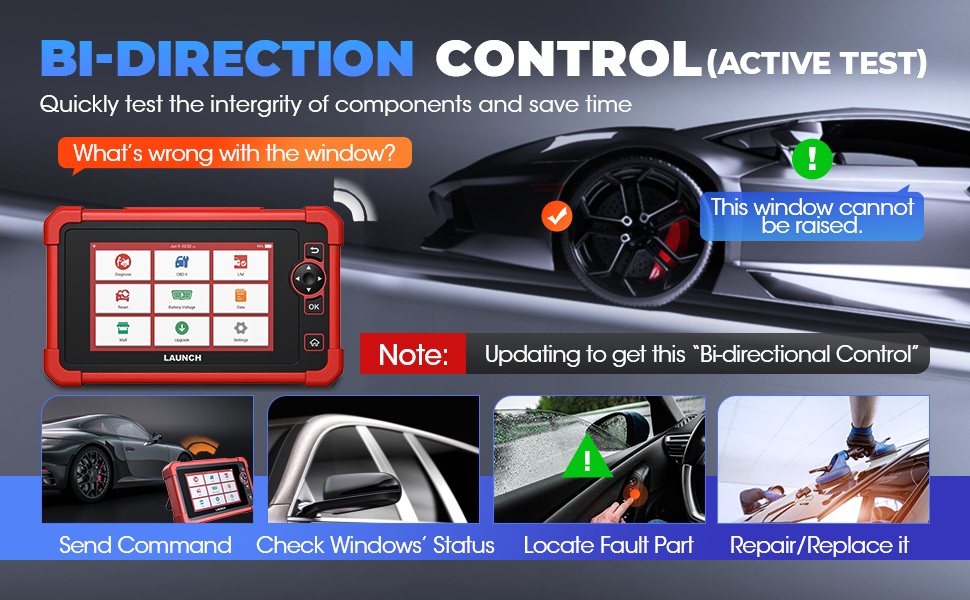 Highly Compatible OBD2 Scan Tool
To break function limitations and language barriers, the newly released LAUNCH CRP919X car scanner covers 100+ mainstream brands (including 2022 models) and 10 worldwide languages (EN, FR, ES, DE, IT, RU, PT, JP, KR, POL) for you to repair correctly. The application of new protocols DoIP/CAN FD boosts 2x faster vehicle communication between modules. Technicians would never wait for too long to get diagnostic results.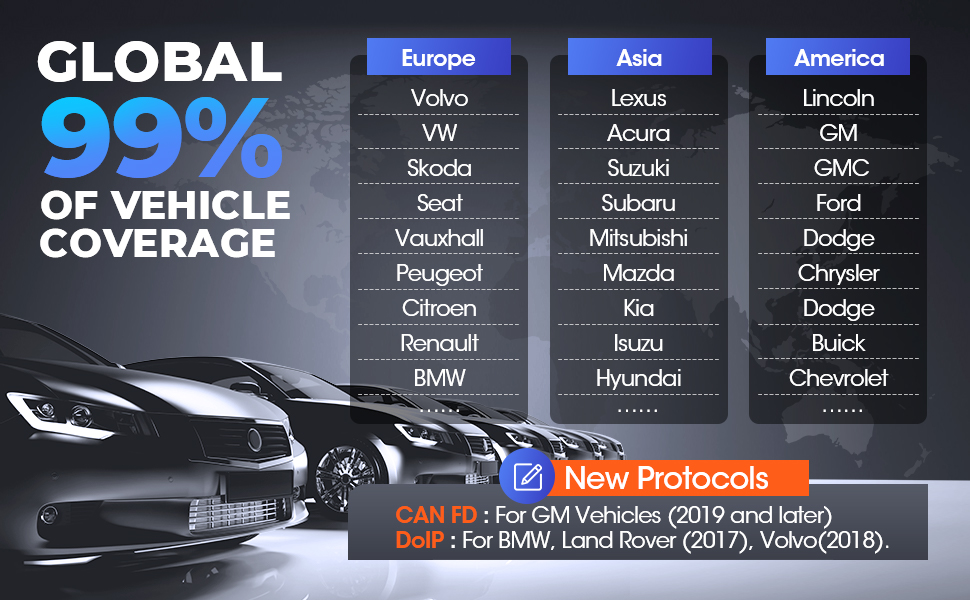 Perfect Post-sale Package
Choosing LAUNCH CRP919X equals choosing no-risk online shopping. LAUNCH Original Diagnostic Scan Tool, 5-Year Quality Undertaking, 60-Day Return & Replace, 12-Month Updating (No charge), and 24/7 Post-sales, available for all needs. One-tap WiFi updating is also easy to use. . Our professional tech instruction team is ready for you for a lifetime.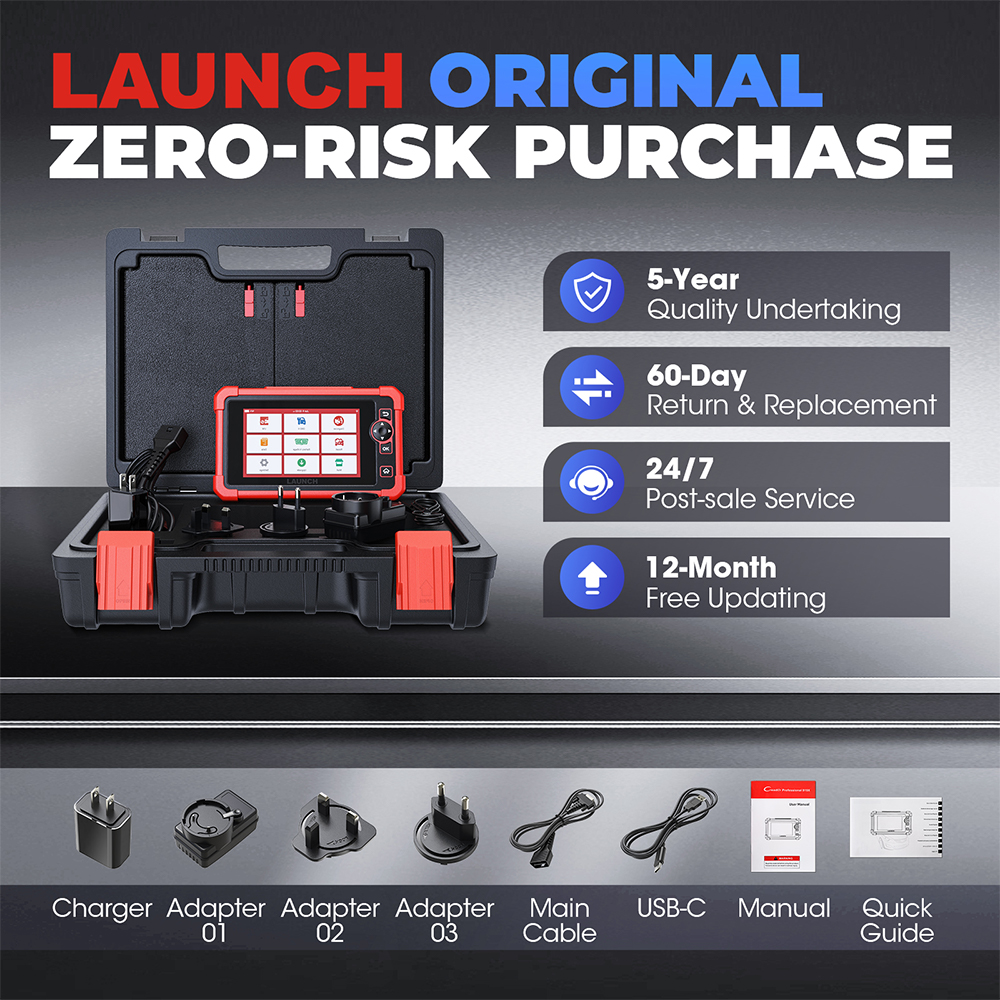 Designed for All People
Trust LAUNCH! Saving your money & time! Greatly fitting for technicians, advanced DIYs, garages, car dealers, auto repair shops, auto engineers, etc. Featured with a smart kickstand, this CRP919X scanner for car can be adjusted to any angle to get a comfortable operating experience.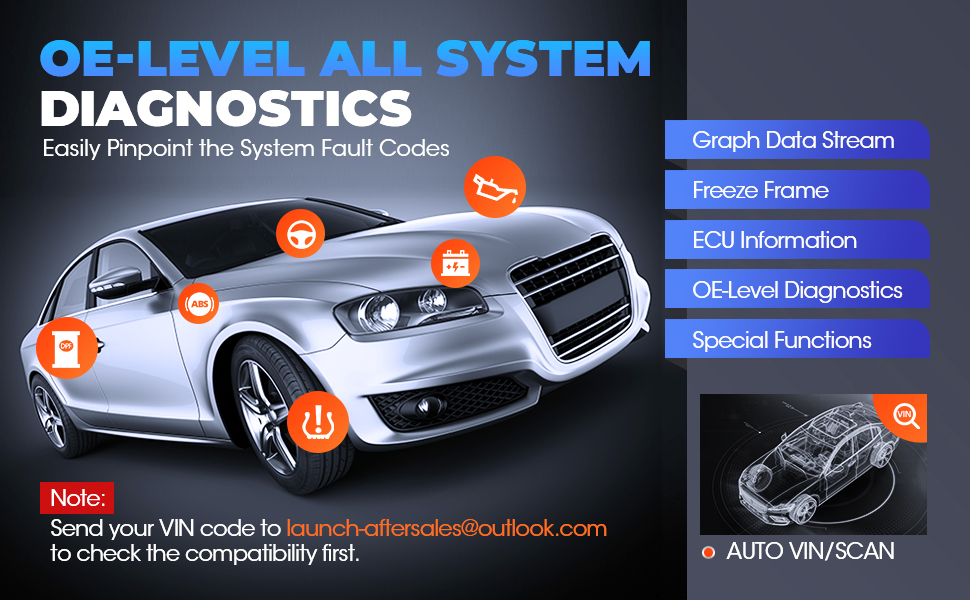 LAUNCH CRP919X Diagnostic Scan Tool Be Your Ideal Choice
LAUNCH CRP919X Diagnostic Scan Tool Be Your Ideal Choice
To acquire more profitable businesses is to construct a higher-level diagnostic scanner with wider vehicle compatibility & quicker diagnostics for all users or customers. Now the LAUNCH scan tool CRP919X could do it. It loads super Android10.0 OS & 3+32GB memory, which can run faster vehicle diagnostics than ever.
Optimized combination of LAUNCH Creader VII/ CRP123/ CRP123X/ CRP129/ CRP129X/ CRP129E/ CRP Touch pro elite/ CRP909E/ CR909X, LAUNCH CRP919X builds on their strengths and acts on its unique features: added repair functions, bi-directional control, 1996-2022 worldwide models, new protocols, etc., making all disadvantages perish and achieving itself an essential entry-level diagnostic tablet for beginners, technicians, repair workshops, and advanced DIYers.
LAUNCH CRP919X Diagnostic Scan Tool Be Your Ideal Choice
26+3 Repair Functions
1996-2022 Vehicle Coverage
Bi-directional Control (Active Test)
DoIP & CAN FD Compatible
Updated Hardware Configuration
All System Diagnostics
Auto VIN Scan
One-click WiFi Updating
Full 10 OBD Modes
Abundant Online Repair Database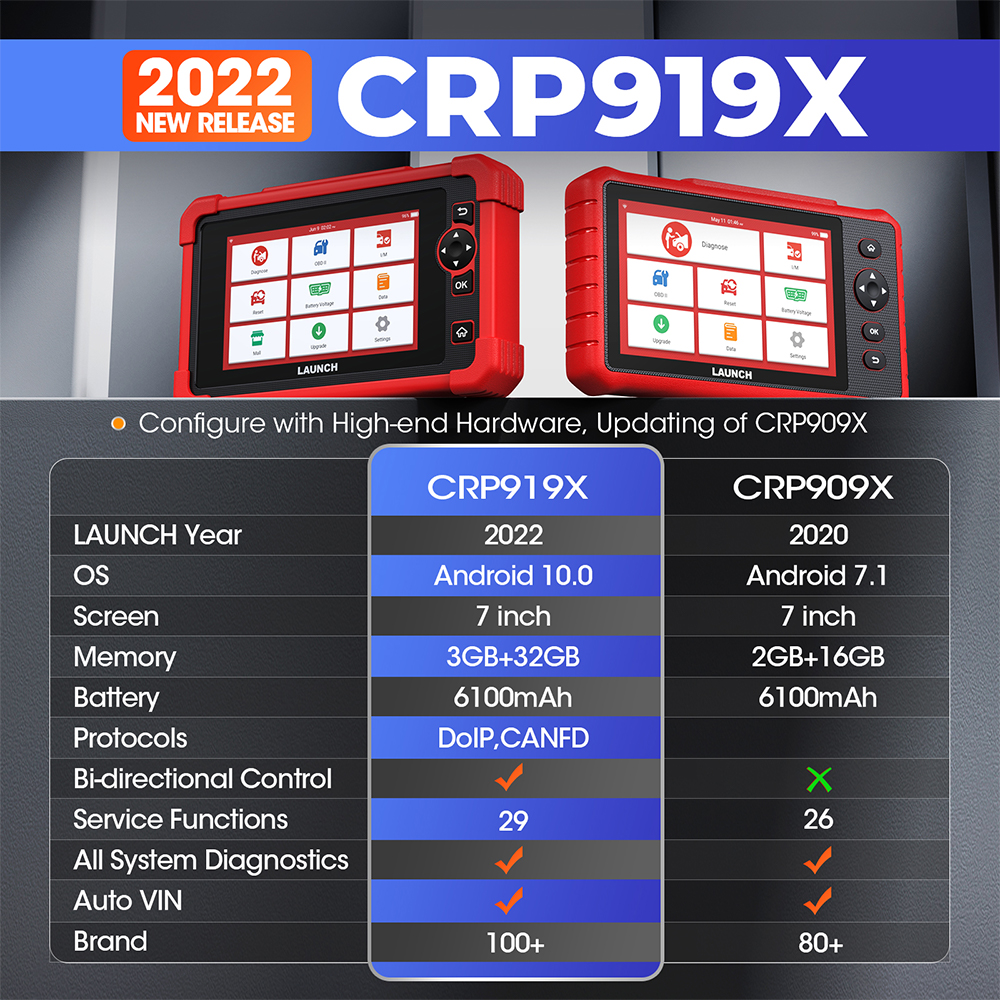 2022 New Features of LAUNCH CRP919X:
[Superior Hardware Configuration]: Upgrade of CRP909X, the CRP919X auto scanner improves its memory [3+32GB] and OS [Android 10.0] to enhance multi-diagnostic speed.
[New Protocols DoIP & CAN FD]: Accelerate vehicle communication between modules and run 2x faster diagnostics.
[29 Repair Functions]: 2022 ver. CRP919X scanner for car newly adds 3 functions to solve more problems.
29+ Reset Functions for 99% of Common Repair and Maintenance
Have you ever been bothered by these troubles?
1.The reset functions of your diagnostic scanners are not enough.
2.Limited vehicle compatibility of your automotive scan tools cannot recruit more business.

Don't feel bad! Good news is coming. LAUNCH CRP919X OBD2 scanner can drive your trouble away. This entry-level diagnostic tablet provides 29+ maintenance functions for worldwide 1996-2022 vehicles (over 100 brands compatible), which can perfectly solve common repair needs in your workshops. And the CRP909X car scanner will also bring more compatible vehicle brands and features via constant updating later.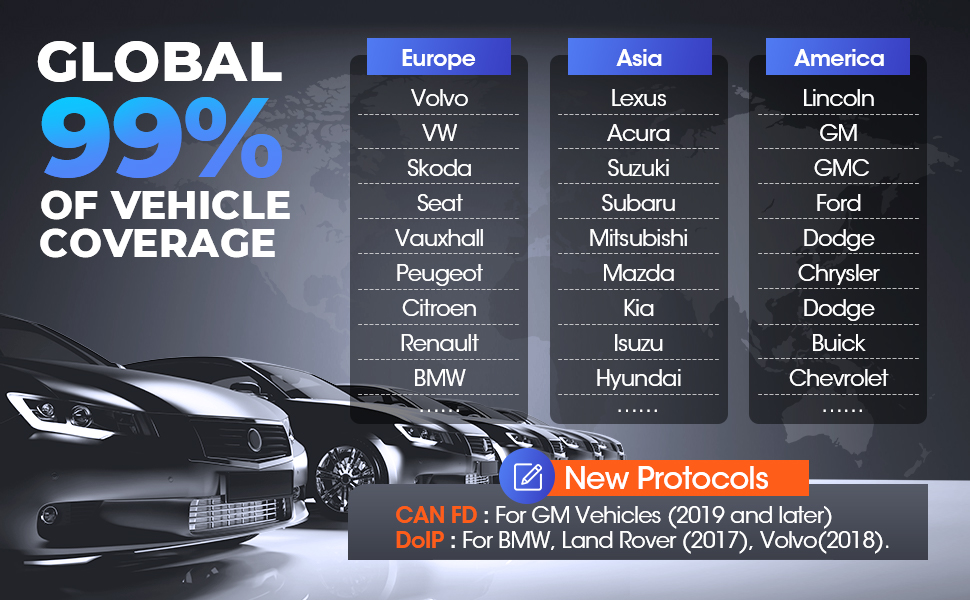 3 Newly Added Functions: EGR Reset / Power Balance / High Voltage Battery Diagnostic
5 Hot Repair Functions:
Oil Reset (for 53 brands): Reset the oil life system and turn off the oil light to start a new cycle.
TPMS Reset (for 36 brands): Reset tire pressure and turn off the TPMS light after replacement.
EPB Reset (for 41 brands): Maintain the electronic braking system safely and effectively by deactivating and activating the brake control system, setting brakes after disc or pad replacement, etc.
BMS Reset (for 31 brands): Re-match the battery control module and motoring sensor.
Throttle Matching (for 37 brands): Cycle the motorized throttle body through various states (idle, part throttle, WOT) to relearn their positions.
More Maintenance Functions:
SAS Reset, Gearbox Reset, DPF Regeneration, Gear Learning, IMMO, Injector Coding, Suspension, Sunroof, Headlamp, A/F Reset, AC System Relearn, AdBlue Reset, Coolant Bleeding, Lang Change, NOx Sensor Reset, Seat, Stop/Start Reset, Transport Mode, Tyre Reset, Windows Calibration, etc.
CAN FD & DoIP New Communication Protocols: Same as the X431 Series
2022 LAUNCH CRP919X car scanner introduces new protocols CAN FD & DoIP into vehicle communication and diagnostics, which optimizes the communication with the vehicles of today and of the future. The LAUNCH CRP919X OBD scan tool with a large number of model data could alone handle almost 90% of mainstream model maintenance (1996-2022).
CAN FD
CAN with flexible data rate (CAN FD) overcomes the limitations of the classical CAN bus in terms of data transfer rate. In practice, the data throughput of CAN FD is 6x higher than classical CAN, depending on the network topology. Compatible with GM models (2021 and later).
DoIP
With Diagnostics over DoIP, diagnostics introduced over UDS are used over TCP/IP and Ethernet. This enables much higher data rates than with CAN. That makes LAUNCH CRP909X save both in terms of time and expenses in the case of complex diagnostic tasks and flash applications. Compatible with BMW (F&G chassis), Volvo models (2018 later), Land Rover & Jaguar models (2017 later).
Global Languages
English, French, Spanish, German, Italian, Russian, Portuguese, Japanese, Korean, and Polish.
English, French, Spanish, German, Italian, Russian, Portuguese, Japanese, Korean, and Polish.
Work on 100+ brands and 10000+ models.
[America]: Compatible with Chevrolet, Buick, Cadillac, Chrysler, Dodge, Ford, GMC, etc.
[Asia]: Compatible with Infiniti, Acura, Kia, Lexus, Hyundai, Subaru, Daewoo, Daihatsu, Mitsubishi, Honda, Mazda, Suzuki, Toyota, etc.
[Europe]: Compatible with BMW, Benz, Audi, Porsche, Abarth, Alfa Romeo, Bugatti, Citroen, Dacia, Volvo, VW, Land Rover, Opel, Peugeot, Renault, Fiat, Jaguar, Lancia, Mini, Saab, Seat, Skoda, Smart, Sprinter, Vauxhall, etc.
Tips: You can send your VIN code to us to check the compatibility first.