LAUNCH X431 CRP123E OBD2 Code Reader Scanner ENG ABS Airbag SRS Transmission
customers are viewing this product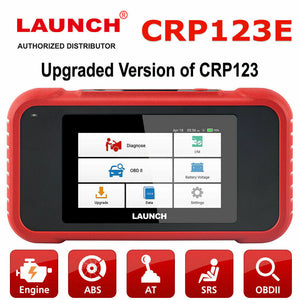 LAUNCH X431 CRP123E OBD2 Code Reader Scanner ENG ABS Airbag SRS Transmission
LAUNCH OBD2 Scanner CRP123E Engine ABS SRS Transmission Code Reader 5"Touchscreen, Android 7.0, Wi-fi Free Update Scan Tool, Battery Test, Auto VIN,Upgraded CRP123 [2020 Elite Ver.]
record and save Live Data. Recorded Live Data can serve as valuable information to help you in troubleshooting and diagnosing vehicle 
problems.
Measures the current voltage of the vehicle's battery
provides a quick access to the tested vehicles and users can choose to view the test report or resume from the last operation, without the necessity of starting from scratch
Allows you to retrieve the definition of the diagnostic trouble code from the abundant DTC database.
Engine ABS SRS Transmission System Diagnosis
The diagnostic tool can help detect the engine ignition, fuel injection, air and fuel ratio, and exhaust emission conditions in Engine system to enhance vehicle performance, save energy and reduce exhaust emission.
It makes great sense in the safe driving when your car is slipping or difficult to shift. This diagnostic scanner can figure the problems out via reading codes in the Transmission system, or check the health status via live data viewing.
Diagnosing an ABS problem should always start with a visual inspection of all brake components, next you will need to retrieve ABS codes to tell you where the problem is, and this is what this scanner does for you.
SRS, safety restraint system, is made up of impact sensors, a control module, and the airbags themselves, and this diagnostic device can detect every electronic parameter to check its health status.
Free Software+ Free Update , One-Key Update via WIFI
you can update diagnostic software and APK online,
read VIN information when you connect Car
CRP123E support  one click diagnotic record , diagnostic report , you can share it via email ,  one-click feedback your problem , Use this option to submit the vehicle issue to us for analysis and troubleshooting
supports 3 display modes: Value, Graph and Merged
Share Diagnostic Report 
1. If your car owner, you can ask for help by sharing the health report to your technicians and friends; 
2. If you are a technician, you can make a diagnosis report before and after the car repair, and then Share with your customers as proof of their repairs.