Launch X431 BST360 Bluetooth Battery Tester Used with X-431 PRO GT, X-431PAD VII
customers are viewing this product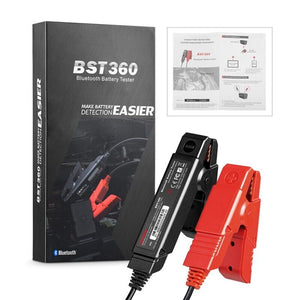 LAUNCH X431 BST360 Battery test Clip Analyzer 6V-16V 2000CCA Voltage Battery Test Car Battery Tester Charging Cricut Load Tools
LAUNCH BST360, suitable for technicians and on the go consumers, is safe to use with its anti-heat characteristics and prevention against backfire electrical sparks that can occur during electrical system diagnosis.

1. Battery Health Test
2. Start system test
3. Charging Health Test
4. Test Report
5. Bluetooth-compatible
6. Suitable for Android/IOS smart phones, X431 series products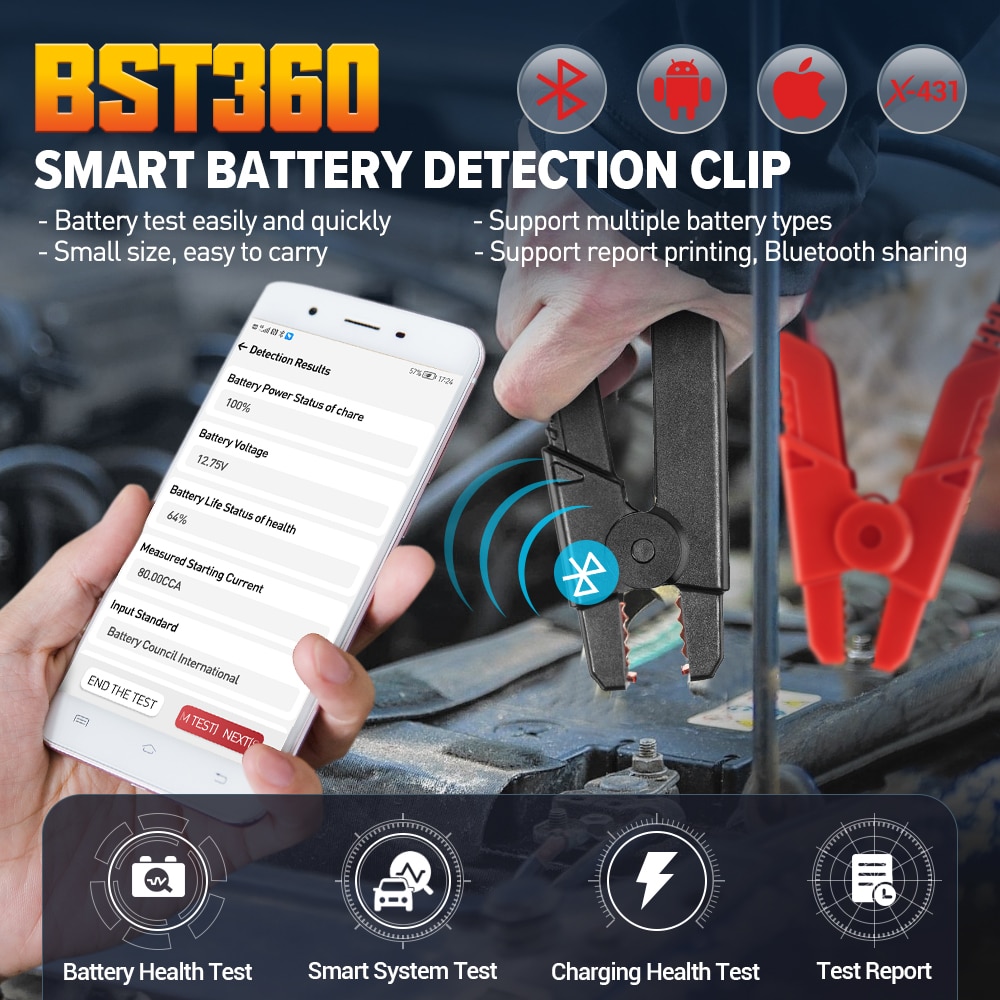 LAUNCH X431 BST360 Functions
1.Identify battery status Good or Replace ,
2.Check Battery Capacity - Cold Cranking Amps (CCA), DIN, EN and IEC information relative to battery rating.
3.Check Internal resistance value (Ohm)
3.Display battery life in percentage (%)
4.Battery Cranking Test, load test
5.Battery Charging Test, Ripple Test ,Battery Test,Electric Current Test,Starter Test,Charging System Test,Voltage Test
6.Support battery ripple test and review test data
LAUNCH BST360 Battery Tester Features
1. Support Bluetooth wireless automatic connection
2. Support X431 series and mobile phone multi-terminal device support
3. Small size, easy to carry
4. Immediately use, no heat, no sparks, no operational risks
5. Support common battery standards, such as CCA、BCI、CA、MCA、JIS、DIN、IEC、EN、SAE、GB
6. Support common battery types, such as ordinary battery (Regular Flooded), AMG start-stop battery (AGM Plate), GEL start-stop battery (GEL), EFP start-stop battery (EFP)
7. Support report printing, Bluetooth sharing
8. Support Chinese, English, German, French, Russian, Italian, Japanese, Spanish, Portuguese and other languages
9. It has the function of reverse polarity protection, and the reverse connection of the clip will not damage the tester, nor will it have any adverse effects on the car and the battery.
10. You can directly test the battery that is losing power without having to fully charge it before testing.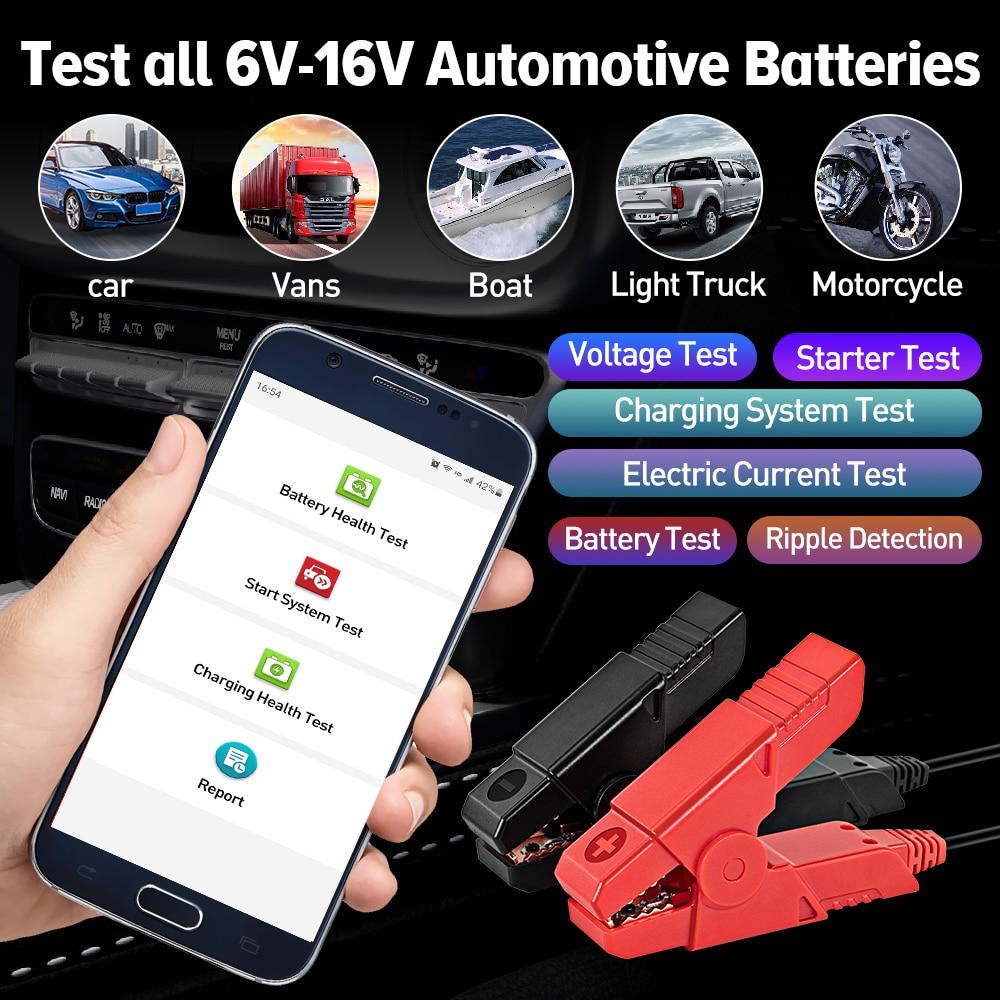 Battery Health Test
It mainly analyzes the health status of the car battery, calculates the actual cold start capacity of the battery, and judges the aging degree of the battery, so as to provide a reliable analysis basis for the inspection and maintenance of the car battery.
Smart System Test
It is mainly to detect and analyze the starter motor of the car, and detect the actual starting current and starting voltage of the starter motor, so that it can be judged whether the starter motor is normal.
Charging Health Test
Let you know the output voltage of the generator ,the rectifier diode and charging current.Moreover, it analyze the state of the charging system and battery through the above data, provide you with an accuraye charing system test
work for Android/IOS smart phone and X431 Serial
X431 Serial include: X431 V , X431 V+ , X431 PRO3S+ ,X431 PRO GT, X431 PRO V4.0, X431 PRO3 , X431 PRO5, X431 PAD III , X431 PAD V,ect ) and mobile phone multi-terminal device support
Easy to Connect
IOS System : Download on App Store
Android System :Download on Google Play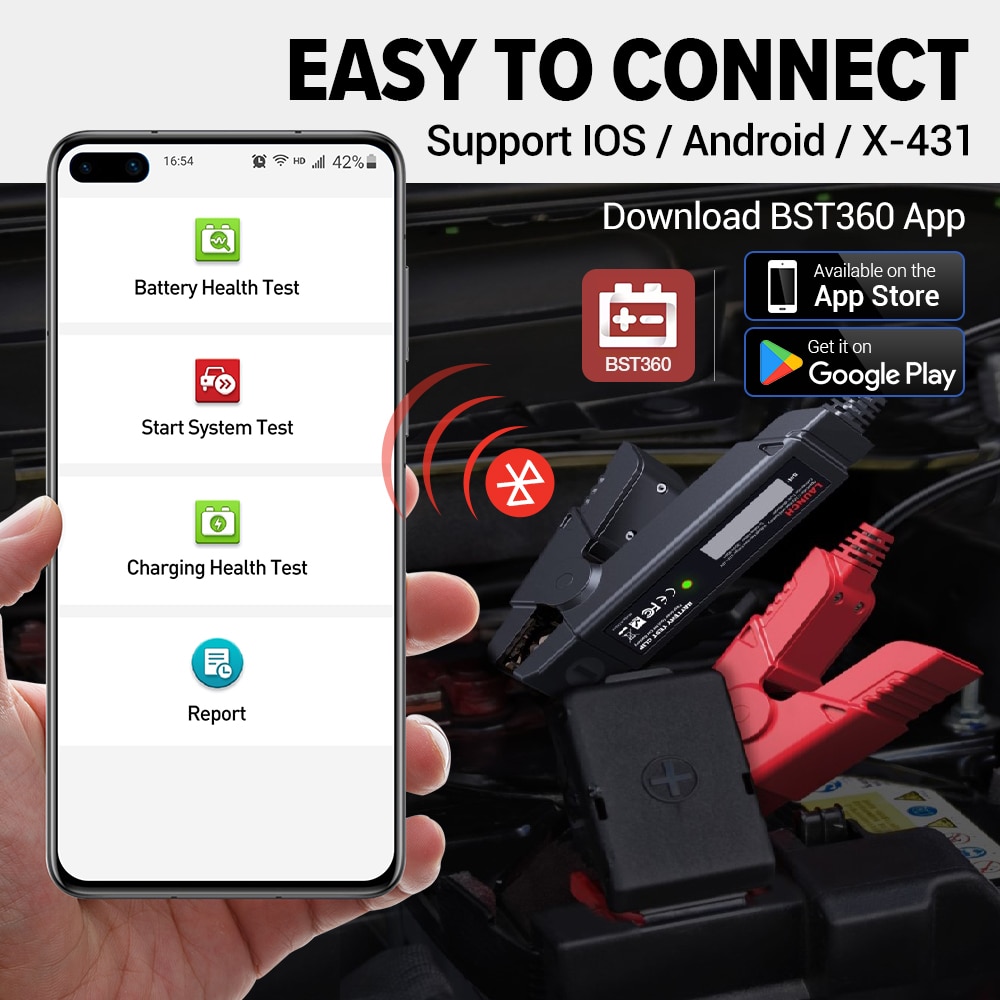 Multi-Language Supported
Work on Smart Phone : Chinese, English, German, French, Russian, Italian, Japanese, Spanish, Portuguese ,ect

Work on LAUNCH X431 Serial Product : Language support depends on the languages supported by X431 V series products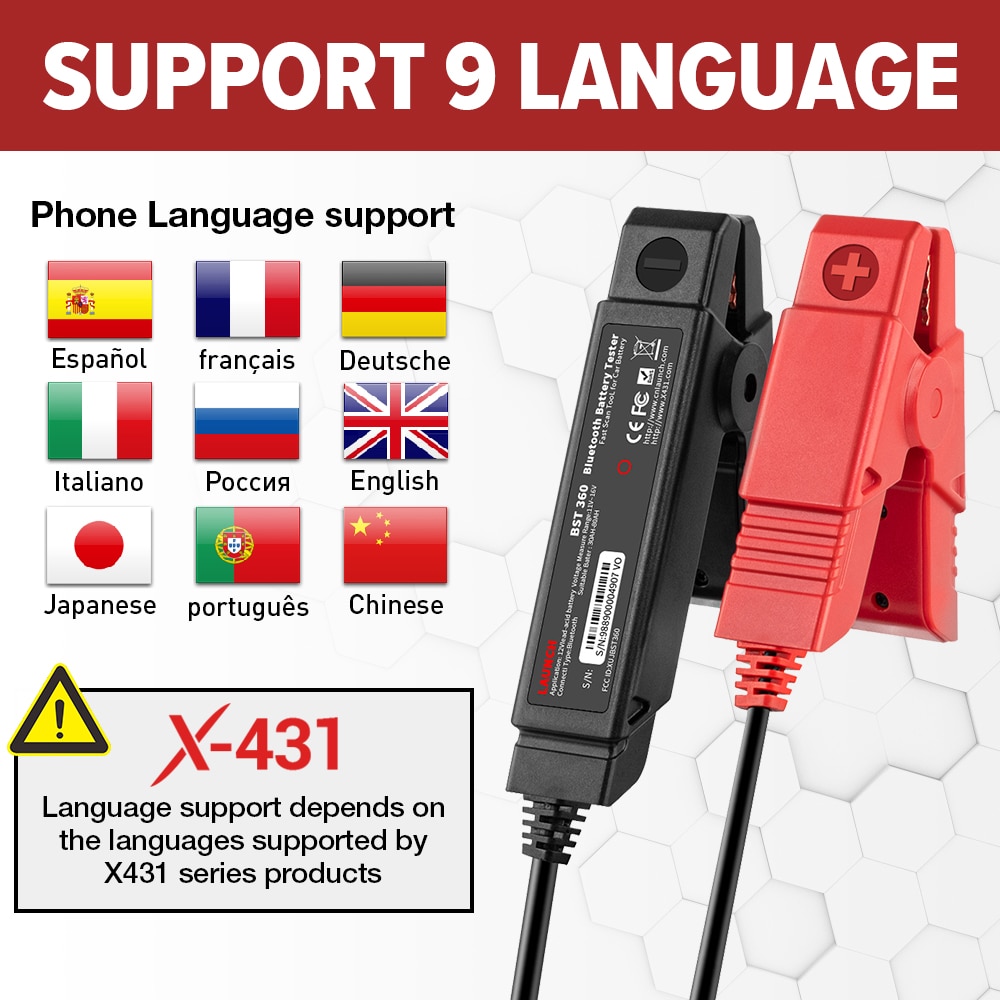 Applicable battery types
CCA、BCI、CA、MCA、JIS、DIN、IEC、EN、SAE、GB
Support common battery types
6V, 12V (Lead-acid battery, GEL battery and AGM battery)

Support common battery types, such as ordinary battery (Regular Flooded), AMG start-stop battery (AGM Plate), GEL start-stop battery (GEL), EFP start-stop battery (EFP)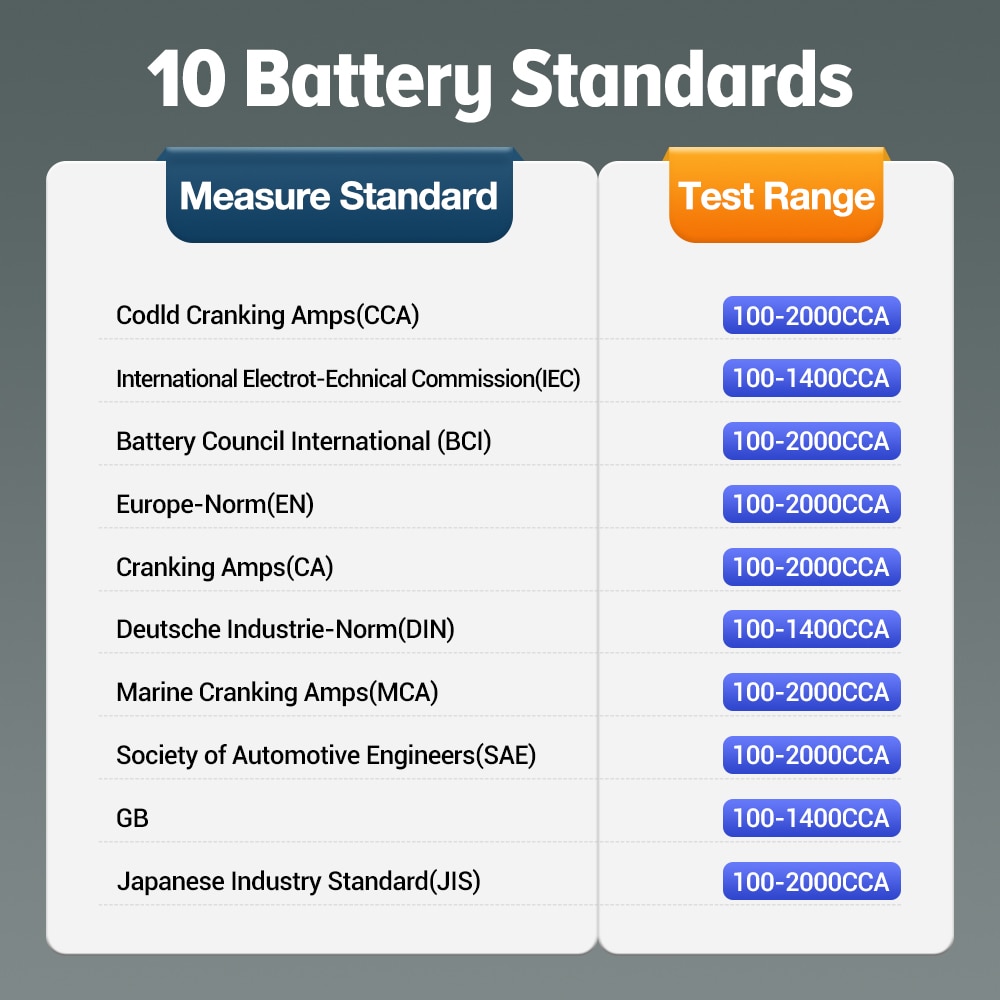 Battery Health test process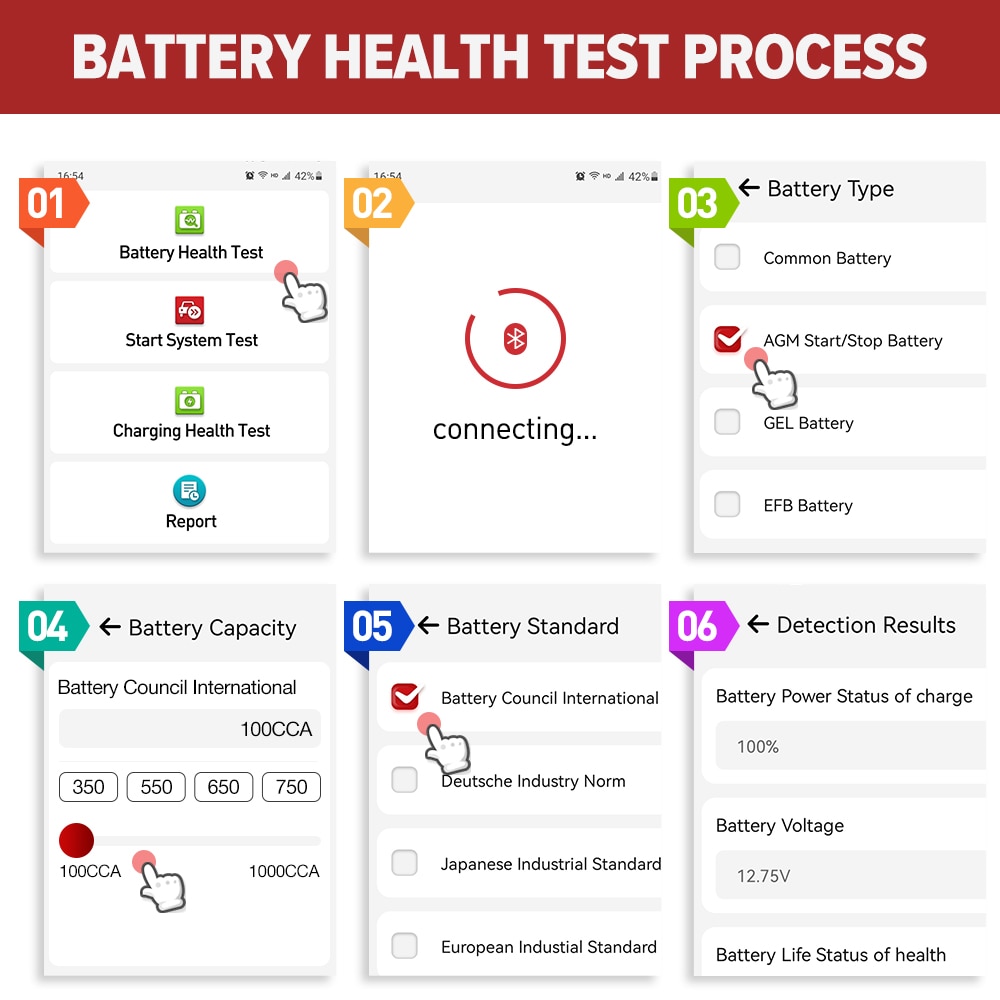 Test Report
including Battery Health test , Smart System Test and Charging Health Test report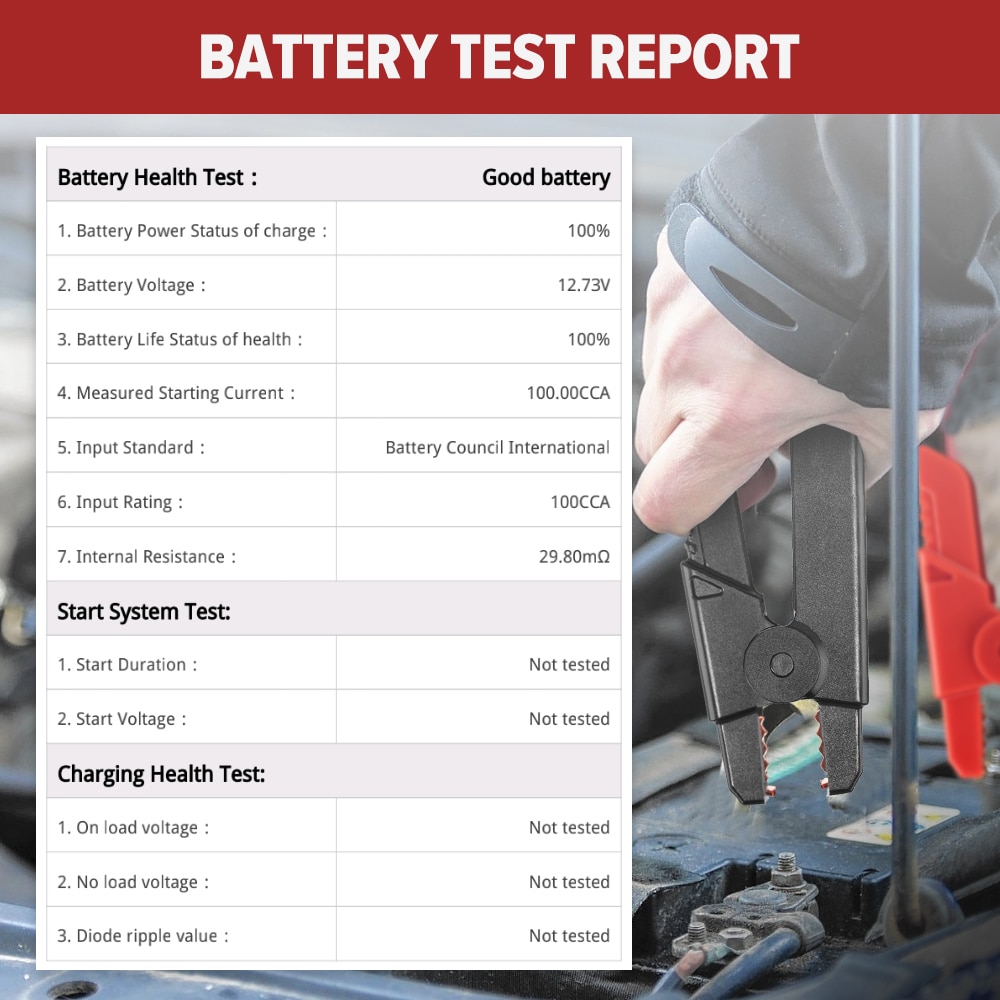 LAUNCH BST360 parameters
Connection method: Bluetooth connection
Test voltage range: 11~16V
Measuring capacity range: 30AH-80AH
Working temperature: -10~50℃
Storage temperature: -20~60℃
Cable length: about 56cm
Packing list