Launch Creader VII+ OBD2 Car Diagnostic Scanner Engine SRS ABS Transmission
customers are viewing this product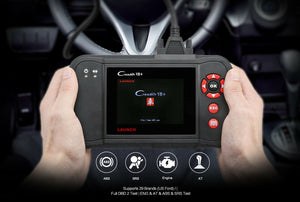 Launch Creader VII+ OBD2 Car Diagnostic Scanner Engine SRS ABS Transmission

MAIN FEATURES:
3.5 inch TFT color display, Higher resolution, sharper colors    
 Works on ALL 1996 and newer vehicles (OBDII& CAN)    
 Retrieves generic (P0, P2,P3 and U0), manufacturer specific (P1, P3 and U1) codes, and pending codes    
 Easily determindes the cause of Check Engine Light    
 Turns off MIL, clears codes and resets monitors    
 Displays DTS definitions on the 320*480 TFT corlor screen    
Views freeze frame data  
 Displays monitor and I/M rediness status    
 Reads live PCM data stream    
 Displays live O2 sensor test data    
 Performs modules present test    
Enhanced OBD II Mode 6  
 Graphs Display, Data Record& Replay and DTCs tips guide users to the root cause of trouble code faster,
saving diagnosing and repari time  
 Retrieves vehicle information (VIN, CIN and CVN )    
 Support large extension memory card    
 Multilingual menus, DTC definitions- English, Spanish and French, etc    
 Extremely easy to use and highly reliable    
 Internet upgradeable    
Prints data via PC
Original Launch Auto Code Reader Creader VII+ free Oline Update  

    Launch CReader Professional Creader VII+ is a new generation of core diagnostic product for professional and individual users released by LAUNCH, a DIY diagnostic product whose development is based on DPU platform composed of chip DP431 and JV700 as core components which are independently developed and designed by LAUNCH. The main functions do not only include OBD / EOBD standard protocol diagnosis, but also cover professional diagnostic software for multiple models which can perform comprehensive diagnosis on four main ECU's (ENG\ABS\SRS\AT) of vehicle.  

Language supported:  English / French / German / Japanese / Portuguese / Russian / Spanish
 
Note:
Creader VII+  has 2 main functions:
1. OBDII ENG diagnostic:
  This function works for cars with OBDII protocol, reads and clears error codes.    
How can you check that if your car works with OBDII protocol?
1) OBDII cars includes:
    USA cars after 1996; Europe cars after 2002; Aisa cars after 2008, Japan cars after 2005;
    2)If you were not sure if you car is included or not, please leave us the information of your car, we will check for you.    
Leave as this:
car brand,  model, year.  
2. ENG/AT/ABS/SRS testing
    When we say "car supported list", we mean the car testing list for 4 system(ENG/AT/ABS/SRS). You will see the car supported list below, please remember that , that just for ENG/AT/ABS/SRS testing.
    And for ENG/AT/ABS/SRS testing, it just supports the cars after 2005.