iCarsoft i903 Fits NISSAN/SUBARU OBD2 Diagnostic Fault Code Reader Scanner Tool
customers are viewing this product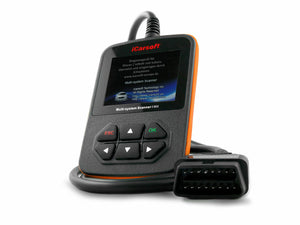 iCarsoft i903 Fits NISSAN/SUBARU OBD2 Diagnostic Fault Code Reader Scanner Tool
Features:
Comprehensive OBD2 Functions:

Read and erase diagnostic trouble codes (DTCs) for all OBD2-compliant vehicles, including Nissan and Subaru models.

Full System Diagnostics:

Perform comprehensive system diagnostics for various vehicle systems,

including engine,

transmission,

ABS,

SRS,

and more.

Live Data Streaming:

View real-time live data streams for various engine parameters,

allowing you to monitor vehicle performance and identify potential issues.

Freeze Frame Data:

Access and record freeze frame data,

which captures vehicle conditions at the time a DTC was set,

providing valuable diagnostic insights.

Active Tests:

Perform active tests to control and test various vehicle components,

such as actuators,

solenoids,

and relays.

Oil Service Reset: Perform oil service resets to clear the oil service reminder light after an oil change.

Easy to Use:

User-friendly interface and multilingual support for easy operation and navigation.
Specifications:
Communication Protocol: OBD2 CAN, ISO9141, KWP2000, J1850
Display: 2.8-inch TFT LCD color screen

Operating Voltage: 12V DC

Operating Temperature: 0°C to 50°C

Storage Temperature: -20°C to 60°C

Dimensions: 12.

5cm x 8.

8cm x 5.

5cm

Weight: 0.

3kg
Description:
The iCarsoft i903 is a powerful and versatile OBD2 diagnostic fault code reader scanner tool designed specifically for Nissan and Subaru vehicles. With its comprehensive OBD2 functions, full system diagnostics, live data streaming, freeze frame data, active tests, and oil service reset capability, the iCarsoft i903 is an essential tool for mechanics, DIY enthusiasts, and anyone who wants to maintain and troubleshoot their Nissan or Subaru vehicle.
Additional Benefits:
Saves money on diagnostic costs: By enabling you to perform many diagnostic tasks yourself, the iCarsoft i903 can save you money on costly mechanic visits.
Empowers you to take control of your vehicle's maintenance: The iCarsoft i903 provides you with the tools and knowledge to stay informed about your vehicle's condition and proactively address potential issues.
Enhances your peace of mind: Knowing that you have the ability to diagnose and troubleshoot minor vehicle problems can give you peace of mind and reduce anxiety on the road.
If you own a Nissan or Subaru vehicle and want to take charge of your vehicle's maintenance and troubleshooting, the iCarsoft i903 is an invaluable tool that can empower you to keep your vehicle running smoothly and safely.