Foxwell NT809 OBD2 Diagnostic Scanner Full System
customers are viewing this product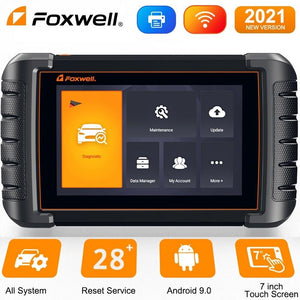 Foxwell NT809 OBD2 Diagnostic Scanner Full System Automotive Scanner ABS TPMS

**Features:**

* Bidirectional control: Sends commands to the vehicle's ECU to perform component tests, such as lock/unlock doors, turn A/C on/off, roll windows up/down, and shut off injectors.
* Full system diagnosis: Scans and retrieves diagnostic trouble codes (DTCs) for all available control modules (ABS, SRS, Engine, Transmission, Brake, Suspension, Fuel, Light system, etc.)
* 30+ resets: Includes a variety of reset services, such as ABS Bleeding, Oil Light Reset, Battery Registration, SAS Calibration, EPB Reset, TPMS Reset, and more.
* 3-year free updates: Receive free firmware updates for 3 years to ensure that your NT809 is always up-to-date with the latest vehicle coverage and diagnostic features.
* Compatible with most vehicles: Supports more than 100 vehicle makes and models from 1996 to present.
* Easy to use: The NT809 has a user-friendly interface with clear instructions and a large color touchscreen display.

**Specifications:**

* Operating system: Android 9.0
* Processor: Quad-core 1.8 GHz Cortex-A53
* RAM: 2 GB
* ROM: 32 GB
* Display: 10.1" IPS touchscreen display
* Battery: 9000 mAh
* Dimensions: 10.2 x 7.4 x 2.2 inches
* Weight: 2.2 pounds

**Description:**

The Foxwell NT809 is a powerful diagnostic scanner that offers a wide range of features and functionality. It is a great choice for DIYers, mechanics, and technicians who need a reliable and easy-to-use tool for diagnosing and repairing vehicles. The NT809 features bidirectional control, full system diagnosis, 30+ resets, 3-year free updates, and compatibility with most vehicles. It is a comprehensive tool that can help you save time and money on vehicle repairs.

Here are some of the benefits of using the Foxwell NT800:

* Save time and money: The NT809 can help you diagnose and repair problems quickly and easily, which can save you time and money on vehicle repairs.
* Get the job done right: The NT809 is a powerful diagnostic tool that can help you identify and fix problems correctly, which can help you extend the life of your vehicle.
* Peace of mind: Knowing that you have a reliable diagnostic tool can give you peace of mind and confidence when you are working on your vehicle.

If you are looking for a powerful and reliable diagnostic scanner, the Foxwell NT809 is a great option. It is a comprehensive tool that can help you save time, money, and hassle on vehicle repairs.
Need More Details Click Here