Foxwell NT726 OBD2 Automotive Scanner Professional All System Oil EPB DPF ABS Injector
customers are viewing this product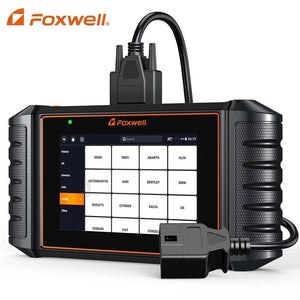 ●Full Systems Diagnosis--Foxwell NT726 Automotive Diagnostic Tablet Can Access And Scan All Available Systems On 90+ Us, European, Asian Makes and Models to Read And Clear Codes, View Live Data And Ecu Information. I

●Foxwell Scanner Tablet, NT726 Can Perform Basic Service/Hot Functions Like Oil Reset, Epb Reset, Sas Reset, Dpf, Abs Bleed, Injector,Tps, Tpms, All Free, Needn't Pay Extra Fee.

●Auto Vin + Auto Scan--Foxwell NT726 Automotive Diagnostic Scanner Features Latest Vin-Based Auto Vin Technology That Can Identify Vehicle Make, Model And Year Information To Shorten Vehicle Navigation Process.

●Lifetime Free Update & Technical Support: 5.5Inchs Touch Screen, One Click Update Via Wifi, Get Newest Software Anytime.

1. Oil Reset menu allows you to reset the service lamps on the instrument cluster. The Service Indicator System is designed to alert the driver when the vehicle is due for a service

2. Electronic Parking Brake (EPB) Service:
EPB Service menu allows you to perform the service and maintenance of brake systems, including deactivation and activation of the brake control system, bleeding brake fluid, opening and closing brake pads, and setting brakes after disc or pad replacement, on multiple brands of vehicles where electronic brake systems are fitted

3. Diesel Particulate Filter (DPF) Regeneration:
DPF Regeneration menu lets you perform the DPF cleaning to clear the blockage through continuous burning of the particulates captured in the DPF filter. When a DPF regeneration cycle is completed, the DPF light automatically goes off

4. Throttle Body Alignment (TPS/TBA):
It's very common to see a customer pull into the shop with a Foe Volkswagen or For Audi that just will not idle correctly. One of the possible causes is that the throttle position is not known. When the motion range is not known, the ECU simply has no idea where to set the throttle. The ECU must know the full range of motion of the throttle in order for it to properly control the engine.50 NT7X6 Series User's Manual V1.2 Using the throttle position sensors in the throttle body, the ECU learns the full open and full closed positions through various states (idle, part throttle, WOT) known as a Throttle Body Alignment (TBA)

5. Steering Angle Sensor (SAS) Calibration:
SAS Calibration menu lets you perform calibration of the Steering Angle Sensor, which permanently stores the current steering wheel position as straight-ahead in the sensor EEPROM. On successful calibration of the sensor, its fault memory is automatically cleared

6. Tire Pressure Monitoring System Service:
TPMS Service menu allows you to check the tire sensor IDs from the vehicle ECU and to perform TPMS programming and reset after tires and/or TPM sensors are replaced and/or tires are rotated

7. Injector Coding:
Write injector actual code or rewrite code in the ECU to the injector code of the corresponding cylinder so as to more accurately control or correct cylinder injection quantity. After the ECU or injector is replaced, injector code of each cylinder must be confirmed or re-coded so that the cylinder can better identify injectors to accurately control fuel injection

8. ABS Bleeding:
Anytime the brake system is opened to replace components such as calipers, wheel cylinders, the master cylinder, or brake lines or hoses, air gets inside. The air has to be removed by bleeding the brakes if you want a firm brake pedal. Air trapped in the lines, calipers or wheel cylinders will make the pedal feel soft and spongy. Air is compressible, so when the brakes are applied any air bubbles in the system must first be compressed before the hydraulic fluid will transmit pressure to apply the brakes
Reset Service Support Brand List
NOTE: These special function NOT for all car models, if you are confused, you can send your car brand, model and release year, I will check for you.
Please refer to the support list first.
Access to All Modules for Complete Diagnostic
Unlike other obd2 scanners on the market which can't catch all engine problems, this pro-level diagnostic tablet NT726 can read trouble codes from all electronic modules, and give you a complete picture of the vehicle's health, which is ideal for advanced DIYers, and necessary for professionals:

●Retrieve ECU information of the tested control units including unit type, version numbers, and other specifications, etc.
●Read & erase DTCs to locate problem areas and clear the codes.
●View Live Data of each parameter item.
●With it, you can work on all parts of the vehicle systems to enhance the performance, save energy, reduce emissions, etc., and save you the hassle of diagnosing any un-identified car errors you'd ever met.

The systems covered may include:
>> Engines | Auto Transmission | Airbags | Immobilizer | Key Coding | ABS | Cruise Control | Instruments | Self Leveling Suspension systems | Seats | Doors | Gateway | Steering Angle | Air Suspension | Body Systems | Electronic Power Steering & Motor Assisted | Power Steering | Tyre Pressure | Rain Sensors | 4WD System ... <<
Full OBD2 Check, Turn Off Engine Light!
1.Reading Codes: Show the detailed description of the Diagnostic Trouble Code (DTCs)

2.Erasing Codes & Reset: Turns off Check Engine Light (MIL), clears codes and resets monitors.

3.Data Stream: Reads and displays live ECU/PCM data stream, plotting functions graphically and stores freeze frame data.

4.I/M Readiness Status: Shows whether the various emissions-related systems on the vehicle are operating properly and are ready for inspection and maintenance testing.

5.Read Live Data Stream: Show the information of continuous data stream from a vehicle in live graphic (waveform) display.

6.View Freeze Frame Data: Check the certain vehicle conditions which are recorded by the on-board computer at the time the emission-related fault occurs.

7.O2 Sensor Test: Allows retrieval and viewing of O2 sensor monitor test results for the most recently performed tests from the vehicle's on-board computer.

8.On-Board Monitor Test: Retrieves and displays test results for emission-related powertrain components and systems.

9.Read Vehicle Information:Display the information such as VIN (Vehicle Identification Number), CID (Calibration ID) and CVN (Calibration verification number), etc.

10.Component Test: Certain vehicle components can be actuated by commands sent from the scanner to test their operability
AutoVin & AutoScan
Identifies Cars quickly and easily with one-key VIN reading!
Support Languages
The device only can install 2 languages , one is English , the other one you can choose from the following :

Korea, Spanish, Portuguese, French,Swedish, English, Dutch, Japanese, Italian, German,Russian, Hungarian, Slovak, Greek
Note:
English is Default Language, if you need other language, please send me the SN Number when you receive it (please register account and activation the sn number first), I will help you change it.
Note:Full System Support Brand List, Over 90 Makes, Include Latest 2020/2021 Models
American Coverage:
For Chrysler,For Dodge,For Jeep,For Ford,For GM,For GMbrazil(For Brazilian Market Only)

Asian Coverage:
For Acura,For Daewoo,For Daihatsu,For Fordau,For Fuso,For Hino,For Holden,For Honda,For Hyundai,For Hyundaicv,For Infiniti,For Isuzu,For Isuzu Truck,For Kia,For Lexus,For Maruti,For Mazda,For Mitsubishi,For Nissan,For Perodua,For Proton,For Scion,For Ssangyong,For Subaru,For Suzuki,For Toyota,For GTR,For Ford AU, For Holden(For Australia Market Only),For Mahindra, For Tata(For India Market Only)

European Coverage:
For Abarth,For Alfa,For Astonmartin,For Audi,For Bentley,For Benz,For Bmw,For Bugatti,For Citroen,For Dacia,For Ferrari,For Fiat,For Fordeu,For Jaguar,For Lamborghini,For Lancia,For Landrover,For Maserati,For Maybach,For Mini,For Opel,For Peugeot,For Porsche,For Renault,For Rolls-Royce,For Saab,For Samsung,For Seat,For Skoda,For Smart,For Sprinter,For Vauxhall,For Volvo,For Vw,For Vw_Cv
One Touch Update Via WiFi, Lifetime Free Update
More Newly models and functions will be added via update!
needn't pay extra fee for software.
Advanced Hardware & Specification
Screen: 5.5" daylight readable color screen
System: Android 9.0
Memory & Hard Drive: 1GB+32GB
Communication Interface: WiFi
Built-in Battery: 4000mAh
Support Protocols: ISO9141-2, IOS14230-2,ISO15765-4, K/L lines, Double K line SAE- J1850 VPW, SAE-J1850PWM, CAN ISO 11898, High-speed, Middle speed, Lows-peed and Single wire CAN, KW81, KW82, GM UART Echo Byte Protocol, Honda Diag-H protocol, TP2.0, TP1.6, SAE J1939, SAE J1708, Fault-Tolerant CAN
Dimensions: 236*124*38mm (L*W*H)
Product Size:
Package List:
NT726 main unit *1
Diagnostic Cable *1
Quick Start Guide *1
USB Type C Cable *1
User's Gide *1
Pastic Box *1