Foxwell NT604 Elite Automotive 4 System Diagnostic Tools OBD2 Code Reader ABS
customers are viewing this product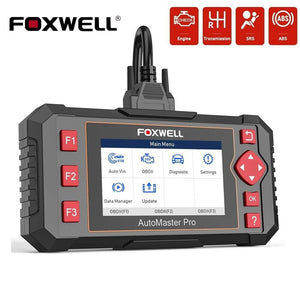 Foxwell NT604 Elite Automotive 4 System Diagnostic Tools OBD2 Code Reader Engine Airbag ABS Transmission Diagnosis Scanner ODB2
1. NT604 Elite offers techinicians and enthusiasts an easy and affordable solution to pinpoint troubles of engine, transmission, ABS and airbags on major American, Asian and European makes.

2. Support Car Engine Transmission ABS Airbag system Diagnosis and full OBD2 10 modes.

3. Support Multiple Languages: Korea, Spanish, Portuguese, French,Swedish, English, Dutch, Japanese, Italian, German,Russian, Thai, Hungarian.

4. FOXWELL NT604 Elite supports over 60+ car brands

5. Support Lifetime Free Update, No Extra Software Fee-Get it.

6. It supports data printing

7.Easy to operate and easy to carry
FOXWELL NT604 Elite-Enhanced 4 system Diagnostic Scanner and OBDII Code Reader
Diagnosis for abs system
ABS is one of the most important systems from chassis control modules, the indicator warning light of which will remind you that there is something wrong with the ABS system. NT604 Elite obd2 scanner abs will figure out the cause for you after performing a comprehensive diagnosis of your vehicle.The abs warning light will stay on after you fix the issue. Then get NT604 Elite abs code reader to help you turn it off.

Diagnosis for srs/airbag system
Air bag/SRS system is located at the body control module, which plays an important role to ensure the driving safety.There are many possibilities if the air bag warning light stays on, including the trouble of airbag, air spring , collision sensor, airbag plug loosening, line open circuit and etc.Therefore, NT604 Elite srs scanner allows you to have a deep analysis and detection for your vehicle via read fault codes. But sometimes the permanent fault codes in this system will still appear and the warning light flashes after the airbag replacement. Then you will need this srs scan tool again to turn the light off.

Diagnosis for check engine system
Many car owners are always confused with the flashing check engine light, which will appear because of various problems, for example, the engine injector should be cleared or engine combustion is not good. If the problem is not solved in time,it will affect the quality of vehicle exhaust and pollute the environment. This check engine scanner diagnostic tool will do you a favour to locate the cause and turn off the check engine light with the problem resolved.

Diagnosis for transmission system
The transmission system is one of the powertrain control modules,but some issues like unworking electronic accessories and broken transmission computer will keep your transmission light flashing. It's hard to locate the accurate error within limited time. Fortunately, this transmission scanner will assist you to have a fast scanning of your vehicle and read the fault code easily, shutting down the waring light within minutes when you finish the repair.
Foxwell NT604 Elite Can Also be an OBDII Code Reader
Besides diagnosis for abs/srs/engine/transmission systems, NT604 Elite diagnostic scan tool also includes all what a popular OBDII scanner has. To own NT604 Elite diagnostic scanner, to save an OBDII code reader for you.

Reading Codes: Present some diagnostic trouble codes after scanning the vehicle.
Reseting Codes: Clear the fault codes after doing the repair according to the prompt of the scanner.
Live Data Stream: Show the information of continuous data stream from a vehicle in live graphic (waveform) display.
I/M Readiness Shows whether the various emissions-related systems on the vehicle are operating properly and are ready for inspection and maintenance testing.
Freeze Frame: Reads and displays live ECU/PCM data stream, plotting functions graphically and stores freeze frame data.
On-Board Monitor Test: Check the certain vehicle conditions which are recorded by the on-board computer at the time the emission-related fault occurs.
O2 Sensor Test: Allows retrieval and viewing of O2 sensor monitor test results for the most recently performed tests from the vehicle's on-board computer. (Note:If the vehicle uses a controller area network (CAN) protocol to communicate, this function is not supported by vehicle)
On-Board Monitor Test: Retrieves and displays test results for emission-related powertrain components and systems.
Read Vehicle Information:Display the information such as VIN (Vehicle Identification Number), CID (Calibration ID) and CVN (Calibration verification number), etc.
Component Test: Certain vehicle components can be actuated by commands sent from the scanner to test their operability.1.BRT, Battery Replacement
Foxwell NT604 Elite Support Read ECU Info & Autovin Scan
Foxwell NT604 Elite OBD2 Diagnostic Tool Support Languages:
The device only can install 2 languages , one is English , the other one you can choose from the following :
English, Spanish, Portuguese, French, Swedish, Korea, Dutch, Japanese, Italian, German, Russian, Thai, Hungarian
Foxwell NT604 Elite Four System Diagnostic Support Vehicle Coverage:
Foxwell NT604 Elite Support Lifetime Free Update & Technical & Printing Diagnostic Report
How to access to diagnostic menu with this universal NT604?
Take 2019 Chryster Ram 3500 As an example
Easy To Use
Best NT604 Elite, for Best You!
Package List
1 pc x Foxwell NT604
1 pc x User's Guide
1 pc x Memory Card
1 pc x USB Cable
1 pc x Diagnostic Cable
1 pc x Carton Box