FOXWELL GT75TS OBD2 Bluetooth Automotive Scanner Tools Programing TPMS Sensor
customers are viewing this product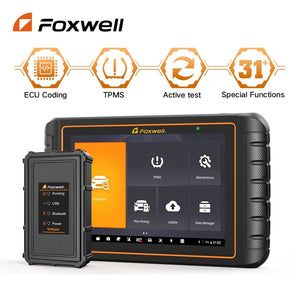 NEWEST Foxwell GT75TS is coming !!!
The latest tablet device GT75TS stands for Foxwell new generation of intelligent diagnosis revolution in automotive aftermarkets. The device not only continues powerful OE-level diagnosis strength of Foxwell premier diagnostic platform series, but also initially integrates with TPMS service function, including TPMS health check, sensor activation & programming and TPMS relearn. It brings great convenience and efficiency for global workshops and technicians.
Growing Powerful OE-Level Functions of Foxwell GT75TS Car Diagnostic Tool
●Complete TPMS Functions: Designed with complete TPMS functions, GT75TS diagnoses TPMS system's health status by reading the TPMS trouble code, activate all known TPMS sensors on the market, view TPMS sensor data directly, program the MX-sensors to replace the bad ones, and relearn the TPMS sensor to the vehicle's ECU, GT75TS provides you with superior special functions for TPMS services with ease.

●Full Systems Diagnoses In All Vehicle Systems on the ECUs: read / erase codes, view live data, retrieve ECU version information, do active test and service functions for all systems including ECM, TCM, ABS, SRS, BCM, IMMO, BMS, TPMS, SAS, Fuel System, Light System and A/C system etc. with the coverage of up to 20000 of car models across the global.

●ECU CODING: ECU Coding function is used to re-flash the vehicle control modules, it allows you to reprogram adaptive data for certain components after making repairs or replacements, providing ways for the issues of Drivability, Fuel Efficiency, Power Loss, Fault Codes, Durability of Mechanical Parts

●BI-DIRECTIONAL CONTROL(ACTUATION TEST): requests a module to perform a specific test and function.(Turn on and off actuators to determine whether there are problems with sensors and actuators).This function can be use in ENGINE SYSTEM / STEERING ANGLE SYSTEM / DASHBOARD SYSTEM / EMISSION SYSTEM...etc.(depends on the specific car models, not for all cars)

●31+ SERVICE FUNCTIONS: GT75TS has been updated to 30+ service functions, mainly including Oil Reset, EPB service, ABS Auto Bleed, SAS Calibration, DPF Regeneration and etc. NOTE: Supported services functions vary from vehicle to vehicle.

●EXTENSIVE VEHICLE COVERAGE: More than 80 US, Asian and European vehicle makes. 5 Years warranty and free updating via Wi-Fi. One-stop multitasking designed for ideal management of workshop operations to keep all data files, customer info, and vehicle records well organized.
Complete TPMS Functions
●TPMS Diagnostics: read and erase TPMS DTCs, receive live TPMS data, locate TPMS problems and turn off the TPMS light.
●Sensor Activating: GT75TS allows mechanics to activate the TPMS sensor to view sensor data like sensor ID, tire pressure, tire temperature, battery condition, and sensor position.
●Sensor Programming: GT75TS TPMS tool can program the original sensor ID data to the MX-Sensors to replace existing sensors with low battery life and ones that are no longer functioning. This GT75TS programming tool offers 4 methods for programming MX-Sensor: Copy by Activation, Copy by OBD, Copy by Input, and Auto Create 1-16 Sensors.
●TPMS Relearning: This function is used to write sensor IDs into the vehicle ECU for sensor recognition. GT75TS relearn tool provides 3 ways to match/relearn sensors: OBD Relearn, Automatic Relearn, Stationary Relearn.
●TPMS Retrofitting: Retrofit the TPMS modules for some vehicles and display the related TPMS data(tire pressure, temperature, sensor) on the dashboard to facilitate timely diagnosis and resolution for TPMS problems to ensure the safety of drivers.
Comprehensive Foxwell GT75TS Diagnostic Tool
●ECU Coding: ECU coding works as an upper-level function
✔Tuning the ignition time, tuning the oil injection, adjusting the air intake, tuning the auto gearbox shift point.
✔Allows vehicles to stop being bound by OE settings.
✔Restore the vehicle functional status after replacing the on-board modules.
●Active Test: Before disassembling the vehicle into parts, conducting an active test would be wise. GT75TS acts as a commander to send commands to the ECU, determine the functionality of on-board parts, and pinpoint the vehicle problems hidden in individual components such as windows & doors, headlamps, airbags, windows wipers, etc.
✔Turn on the radiator fan
✔Open/close windows
✔Operate mirrors
✔Injector buzz test
✔Test door lock actuators ...
All Systems Diagnostics:
All systems diagnostic function comes with great convenience for you because it will give your vehicle a thorough inspection as an OE-level device does. GT75TS scan tool goes deep into all available ECUs, reads & clears codes, views data stream and vehicle information to find out the problems hidden below the hood. GT75TS scanner for car covers Engine, Transmission, ABS, Air Suspension, Air Conditioning, Body, SAS, Seats, TPMS, IC, BCM, and so on
31+ Maintenance Functions
GT75TS automotive scanner collects more than 30 maintenance functions and allows you to easily solve thousands of vehicle problems, which frees you from the dilemma of seeking repair solutions around, greatly improves your work efficiency, and helps you serve more customers.

1.ABS Bleeding
ABS brake bleeding to get a firm brake pad after air exhaustion.

2.BRT
This allow for a replacement battery to be coded to the batteyr management system

3.A/F Adjust
This utility allows for the learnt Air Fuel Ratio to be re-initialized

4.Cluth Adaption
This function is to relearn the cutch engagement point in a (DTC) Dual Cluth Transmission.

5.CVT
This function is reset the adaptive shift

6.DPF Regeneration
This function is used to regularly clear Particulate Matter from the trap in combustion oxidation mode to stabilize trap performance.

7.EPB
allows you to perform the service and maintenance of brake systems

8.EVAP Test/Smog Test
The EVAP system monitor checks for fuel vapor leaks by performing either a pressure or vacuum test on the fuel system.

9.Gear learning
Crankshaft position sensor adaptive learning.

10.Headlamp
Allowing for adaptive headlights to be relearnt.

11.Injector
Allows an injector trim code to be read and coded to the ECM.

12.Language Change
This routine is to change langauge displayed in the instrucment display.

13.Oil Reset
Oil Light reset/oil waer index reset command, this function varies greatly between OEM and models.

14.Prime Fuel Pump
This command allows a pump to be run to bleed or prime a system during service or repair.

15.Replace Airbag Ecu Module

16.SAS
This function allows a steering angle reset to be performed.

17.Seat Match
This utility performs the re-initilization of the power seat adaptive memory

18.Tcmoil
This routine is used to clear the oil degradation and downgrade counter.

19.TPMS
This utility performs tyre pressure Management system service to be performed.

20.TPS
This fuction allow for an idle relearn to be performed.

21.Transmission Adaption
This command allows the adaptive shift points to be relearnt.

22.Turbo
The routine is required if the secondary turbo charger is repleased. This will learn the pffset values for the turbine shut-off value.

23.Windowsdoor
When replacing door glass and after battery replacement on certain year, make, model vehicles special steps need to be take in order to properly replace and reprogram the vehicle so the electric windows work properly , the door window glass position can be learned by executing this routine, which enables pinch protection and one touch up function.

Many more
Support Model:
It comes with unmatched vehicle coverage of 80+ makes of American, European and Asian vehicles with 11 Non-Standard OBD adapters included.
TPMS Service Support Model:
Support Language:
Korea, Spanish, Portuguese, French,Swedish, English, Dutch, Japanese, Italian, German,Russian,Hungarian, Slovak, Greek, Chinese, Traditional Chinese
Outstanding Design and Configuration!
10.1" touch screen
Android 9.0 OS
octa-core processor 2.3GHz
8000mAH lithium polymer battery
2G (Memory)+64G(Hard drive)
What Else You Can Get ?
Diagnostic Report Print
Remote Technical Support
5 Years Warranty
Data Manager
Feedback Online
Packing List:
1* GT75TS main unit
1* VCI dongle
4* T10 Sensor
1* Magent
1* USB cable for VCI
1* USB type C cable
1* USB charging adpater
1* OBD Adapter set
1* User maunal
1* Clipper Cable
2* Light Fuse