Fits Ford 3 Button 433MHz Complete Remote Key Territory XR6 XR8 BA BF FPV SX SY
customers are viewing this product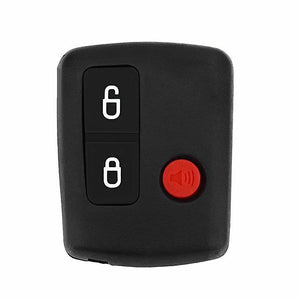 Suitable For FORD au-ba FALCON
Complete Transponder Key
Product highlights
BRAND NEW
HIGH QUALITY
1 YEAR WARRANTY
MADE BY TOP AFTER-MARKET MANUFACTURE
QUALITY GUARANTEED
FEATURES:
For: Suitable For Ford
Blade:
Transponder Circuit / Chip: 433MHz Complete Transponder Key
Battery Included: Yes
Model List:

Following models between 2002 and 2010:
Suitable For BA FALCON
Suitable For BA FAIRMONT
Suitable For BA FAIRLANE
Suitable For BF FALCON
Suitable For BF FAIRMONT
BF FAIRLANE
Suitable For SX TERRITORY
Suitable For XR6 MODELS
Suitable For XR8 MODELS
Suitable For FPV MODELS
Suitable For UTES & WAGONS
Suitable For BA BF Falcon Ute SX SY Territory Wagon
NOTE: THIS IS A COMPLETE REMOTE KEY WHICH INCLUDES TRANSPONDER AND BATTERY. KEY WILL NEED TO BE CUT AND PROGRAMMED.
PROGRAMMING INSTRUCTIONS:
Sit in the car with the doors closed
Turn the ignition to the ACC postition and within 5 seconds press the rear demist button 3 times (Note this bit must be done all within 5 seconds from when key turn)
You then press a button on the first remote to be trained , the door locks will cycle.
Then press a button on the 2nd to be trained and the door locks will cycle again.
Repeat this step for the the rest of the remotes to be trained to the car.
The first keypad trained will result in one door lock cycle, the second will result in 2 door lock cycles, and so on.
There is a limit of 8 remotes per car.
Turn the ignition to the OFF position to exit the learning mode.
Your remotes are now programmed to your car.
Now if doesnt still work try same procedure again though this time lock doors before starting