FD II Brand New iCarsoft Car Diagnostic Code Scanner For Ford Holden OBD II
customers are viewing this product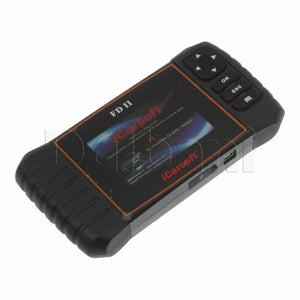 iCarsoft FD II
FOR FORD(USA/EU/AUS) / HOLDEN

FD II is mainly for Ford(USA/EU/AUS).  The software of Holden is free of charge as value-added services for customers.  We are also keeping developing more
functions to add into the software and offer them free of charge to customers. Customers can obtain these value-added services via free online update. 
 

FD II is a professional and powerful vehicle fault diagnosis tool developed by iCarsoft Technology Inc. With a 4" TFT LCD and unique diagnostic software, it features full ECU diagnosis of single vehicle brand and test modes mainly includes: CANBUS, ISO9141, KWP2000, J1850 etc.
It enables technicians to accurately diagnose complex problems. 


 
① OBD--Connects the iCarsoft Serial products/ CR Plus to the
      vehicle's Data Link Connector(DLC) via the diagnostic cable.
②  
 Button--Move cursor up and down for selection.
 Button--Move cursor right or left for selection.Or turn
     page up and down when more than one page is displayed.
③ OK Button--Confirms a selection(or action)from a menu list.
④ ESC Button--Exit the current program or return to the
     previous screen.
⑤ 
 Button--To retrieve the DTCs in tthe database.
⑥ USB Port--To connect on PC to upload data or print
     test results.
⑦ LCD Display--Indicates test results.
⑧ TF card slot--Insert the TF card into it to update your tool.
PRODUCT FEATURES
1. iCarsoft FD II can do it all-reads and clears trouble codes on most of the systems such as
    engine, transmission, ABS and airbag etc.
2. Support OBDII/EOBD Ten Modes of Operation
3. Read Live Data
4. Full ECU Diagnosis
5. Applies to the single Brand of most of the Models which equipped with OBDII-16 DLC
6. Easy To Use With Silicone Keys
7. Oil Light/Service Reset: Support service lamp reset.
8. Electronic Parking Brake (EPB) system maintenance deactivates and reactivates the EPB
    system for replacement and initialization.
9. Diesel Particulate Filter (DPF) regeneration control system, requests the DPF regeneration
    process while DPF blockage and turn off the DPF indicator.
10. Electronic Throttle Control system (ETC) relearns the throttle valve control value while
     clear or replaces the throttle valve.
11. SAS: Steering Angle Sensor (SAS) calibration, calibrates the steering wheel to straight
      ahead, or recalibrates SAS while steering part replacement.
12. Upgrade Via PC
TWELVE
SUPER ADVANTAGES
•  Read & Clear DTCs
•  Read Data Stream
•  Full ECU Diagnosis
•  Diagnose Single-brand Models Equipped With OBDII-16 DLC
•  Easy To Use With Metal Dome Keys
•  Oil Light/Service Reset 
•  EPB 
•  ETC
•  SAS
•  4.0" TFT LCD With 480 * 320 Pixels
•  Upgrade Via TF Card
•  Support Multi-language
    And for more, refer to User's Manual.
OBDII FUNCTION1. Read Codes
2. Erase Codes
3. I/M Readiness -- I/M Readiness indicate whether or not the various emissions-related systems on the vehicle are operating properly and are ready for Inspection and Maintenance testing.
4. Data Stream

5. Freeze Frame -- When an emission-related fault occurs, certain vehicle conditions are recorded by the on-board computer. This information is referred to as freeze frame data. Freeze Data is a snapshot of the operating conditions at the time of an emission-related fault.
6. O2 Sensor Test -- This option allows retrieval and viewing of O2 sensor test results for most recently performed tests from the vehicle's on-board computer.
7. On-Board Monitoring -- This function can be utilized to read the results of on-board diagnostic monitoring tests for specific components/systems.
8. Evap System Test -- The EVAP test function lets you initiate a leak test for the vehicle's EVAP system. Before using the system test function, refer to the vehicle's service repair manual to determine the procedures necessary to stop the test.
9. Vehicle Information -- The option displays the vehicle identification number (VIN), the calibration verification number (CVN), and other information of the test vehicle.

SPECIFICATIONS
•  Display: 4.0" TFT LCD , with 480 * 320 Pixels
•  Operation Temperature: 0 ℃ -- 50 ℃
•  Storage Temperature: -20 ℃ -- 70 ℃
•  Power: 9V -- 18V
•  Operating current:150mA@12V(Typical)
•  Power consumption:1.8W(Typical)
•  Dimension:205mm*110mm*31mm(LxWxH)
•  Weight:350g
Support Multi-Language:
Below languages are now available: 
• English
• German
• Spanish
• French
• Portuguese
• Russian
• Dutch
• Italian
CONTE