FCAR F506 Car Diagnostic Tools Full System Code Reader Truck OBD Diesel Car OBD2
customers are viewing this product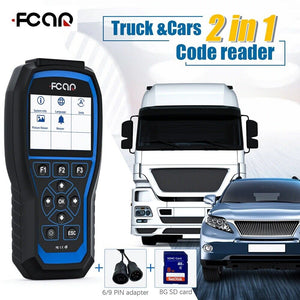 FCAR F506 Car Diagnostic Tools Full System Code Reader Truck OBD Diesel Car OBD2 Automotive Scanner Professional Free Update
The F506 HD code reader Pro is the ideal scan tools for truck repair, fleet management / maintenance staff, truck owner, truck driver, truck sale/lease/auction professional to have quick and easy access to vehicle electronic control units and sensors. It can easily read/remove fault codes, analyze live sensor data, and save or export into excel sheet. It covers all major truck's engine, transmission, ABS(break) and chasis or body control. It has additional OEM level coverage for Isuzu, UD, Hino, Fuso and OBD II for all passenger vehicles.
Works on most truck with J1708 and J1939 plus OBD2 automotive coverage, and covers Hino, Mishubishi Fuso, Isuzu and Nissan UD commercial vehicles. since 1992
Supports SAE J1850PWM, SAE J1850 VPW, IS0 14230-4, IS0 9141-2,IS0 15765-4, SAE J1708, SAE J1939, OBDII
Scan and diagnose fault codes with code defination in the engine, transmission, ABS brake and instrument cluster or body control
Read and clear diagnostic trouble codes
Display all sensor real time live data stream with chart.
It comes with OBD 16, Deutsch 6/9 pin Y type 2 connector.
Bilingual interface:English
SD memory card for extra storage
Quick response time and offers access to all major truck computer information.
Reads code with definition and analyzes sensor data.
The F506 offers OEM-level coverage for Hino, Mitsubishi Fuso, Isuzu and Nissan UD commercial vehicle models years 1992 to current.
This tool can be used to screen for truck problems, avoiding towing fees and helping save time on diagnostic work.
FCAR F506 Truck Car Diagnostic Tools Applications:
-Passenger cars, SUV's Pickup Trucks, Vans -Tow trucks, recreational vehicles, cement trucks, dump trucks, garbage trucks, buses, step vans, municipal vehicles, refrigerated trucks, and conventional trucks. -Heavy-Duty Standard compliant construction, marine, agriculture, and other industrial machinery and equipment. -Diesel engines -Transmission, ABS, Cabin Chassis SAE J1850PWM, SAE J1850 VPW, IS0 14230-4, IS0 9141-2,IS0 15765-4, SAE J1708, SAE J1939, OBDII
F506 OBD2 Scanner Coverages:
Truck(Support to scan full system, likeEngine, Transmission, Instrument Panel, Drivetrain, Braking System, Suspension, ABS, ESP, EPS, Fuel sytem,Immobilizer, SRS Airbag, Headlamp Auto-leveling,BCM, etc)
Supported list of truck: For Freightliner, for Mack, for Peterbilt, for Sterling, for Western Star (J1939, J2012 protocol)
For Fuso, for Hino, for International, for Isuzu, for Iveco, for Mercedes Truck, for Man, for Scania, for Renault, for ERF, for DAF, for Nissian UD, for Paccar (J1939 protocol)
Volvo, GMC truck, Mack (J1708 protocol)
Off road equipment For BobCat, for Case, for Caterpillar, for Komatsu, for Terex (J1939, J1708 protocol)
For John Deere (J1939 protocol) For Volvo (J1708 protocol)
Car (Domestic): forBuick, forCadillac, forChevrolet, forChrysler, forDodge, forFord, forGM, forGMC, forLincoln, forJaguar,for Jeep, forPontiac, forSaturn
Car (Europe): forAudi, forBentley, forBMW, forFiat, forJaguar, forLand Rover, forMercedes Benz, forMini, forPorsche,  forSAAB, for Smart, forSprinter, forVolvo, forVW Car (Asia): forAcura, forDaewood, forHonda, forHyundai, forInfiniti, forIsuzu, forKia, forLexus, forMazda, forMitshubishi, forNissan, forScion, forSubaru, forSuzuki, forToyota; Pickup (or Van): forSilverado, forCorolado, forFord (F150-750), forFord E-series, forDodge RM 1500-5500, forGMC, forNissan Frontier, forToyota
How to upgrade F506?
(1) Visit the official English website www.fcar.com (2) Find Download in the horizontal bar of the website, click FcarUpdateUtlility (download tool), download and install it on your computer. (3) Take out the SD card of F506 and insert it into the computer with a USB card reader. Note: Most notebooks do not need a card reader, and the SD card can be recognized successfully by inserting it directly. (4) Open the installed FcarUpdateUtlility on the computer, enter the user name and password to log in. If you have not registered a new machine, selectNewUserRegistration on the right is registered first. (5) Click the Update menu, a prompt will pop up, DoyouwanttoformattheSDcardbeforeupdate? (Do you want to formatConvert SD card? ) It is recommended to format the SD card before upgrading and download the main program and model software again. (6) During the upgrade, if the SD card path is not selected when logging in, there will be a prompt to select the SD card path. The factory default name of SD card is SOHCCard. Just find the corresponding disk. (7) Select the software to be upgraded for upgrade.
FCAR F506 Truck Car Diagnostic Tools Parcel Includes:(100% Original)
1 Year Warranty HD Reader Pro Unit Main DB15 cable 6-9 Y Pin J1939 type 2 connector OBD 16 Cable USer Manual Soft Nylon Carrying Case