D Car HUD Head Up Display MPH/KM/h RPM Temp Speed Limit Alarm Digital Projector
customers are viewing this product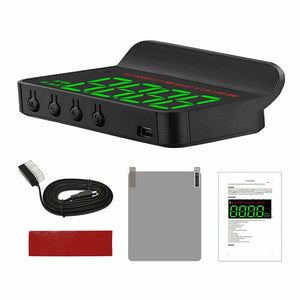 Product Review:
This is a classic OBDii Head-up Display(HUD) with 5.5" large screen. Displays driving data on the front windshield such as speed, RPM, water temperature, voltage, single mileage etc. HUD avoids the danger of drivers looking down at the dashboard, it ensures the safety of drivers because of watching the data on the car front window glass, and helps drivers to keep the best state on the way, keep you in a safe driving mode. Besides, a variety of operating interfaces and colors can be switched freely, It will bring more fun to your car life.
Smart Product + Safe Driving + Fun For You!
Display Data: vehicle driving speed, water temperature, voltage, fuel consumption, RPM, single mileage, total cumulative mileage, travel time, system time, intake pressure, acceleration test, brake test &reminder...
Alarms: overspeed alarm, High water temperature alarm, Low voltage alarm, Shift Reminder, Engine fault alarm, Clear fault code, Free switching between kilometer and miles, KM/h & MPH Switch freely, °C & ℉  switch freely, Fatigue driving reminder...
Product Highlights:
1. Plug and play: EUOBD & OBD cable - full 16 pins.
2. Large Screen: 5.5 inch screen for better sight view.
3.12 main functions & Shift Reminder
4. Speed Unit: KM/H & MPH.
5. Turbine pressure: PSI and KPA.
6. Fuel consumption unit: L/100km (instantaneous fuel & average fuel).
7. Bright sensor: adjust the brightness automatically.
8. Modern design: classic blue and white design, alarm icon in red and flash.
9. Interface: custom interface pre-set before start travel.
10. OEM & ODM custom orders are welcome: small MOQ, pls contact with us.
Package List:
There are two options of the package, one is of normal packing, the other has optional bracket, please choose one you prefer.
5.5" big screen X 12 main functions X Shift Remind
It's the only "head up display" with Shift Remind on the market:
Reason 1 - 5.5" large screen:
It's the only " hud " with Shift Remind on the market:
The default maximum gear of the HUD V41 is 5, but if needed, you can go to setting menu No.16 to adjust the maximum gear up to 9 according to the car's real gear.