Car GPS Tracker 4G LTE CAT M1 Real Time Cut Oil SOS Fleet Tracking Waterproof
customers are viewing this product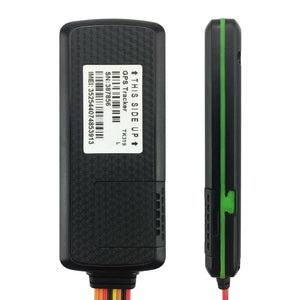 Car GPS Tracker 4G LTE CAT M1 Real Time Cut Oil SOS Fleet Tracking Waterproof
4G GPS Tracker Car TK319-L NB IOT cat M1 LTE 9-72V Alarm GPS Car Tracker Cut Engine Built-in Battery ACC Geo-fence Alert
Product Application: Used widely for vehicle and other moving objects tracking.
​​
1. Vehicle rental / Fleet management etc
2.Container/cargo/asset tracking
Notice Before Order: 
1.Our TK319 (4G) can work with support NB IOT cat M1  network. 
2. If you need the function of cut-off engine remotely, please choose the package with Relay.
3. This TK319 can work in all over the world 
The TK319 (Cat M1 or Cat NB1 can be switched by software setting in manufacturer before delivery) Tracker is a self-contained, integrated commercial grade vehicle tracking device that uses GPS (embedded AGPS algorithm) satellite location in combination with a complete, performance optimized, multi-mode and multi-band LTE Cat M1/NB1 and EGPRS moduleto report that location. This module provides efficient and cost-effective high-speed mobile connectivity.
Overview
TK319 acts like a LTE modem and responds to AT commands issued to it from either a physical UART port connection or to AT commands issued to it through an SMS, TCP/IP or UDP/IP connection. With regard to text messages, TK319 LTE "reads" all of its own text messages and tries to interpret each message as an AT command. SMS text may be sent to a TK319 LTE through any CSD SMS connection.
Supports GSM/LTE, include 19 bands,universal in the world. (Note:4G LTE Cat M1)
2G: GSM/GPRS: Support GSM 850/900/1800/1900Mhz
Main Function:
Supports GSM/LTE, include 19 bands,universal in the world. (Note:4G LTE Cat M1)
Super Wide Input Voltage:7-72V DC.
GPS precise positioning, SupportA-GPS,uploaded by LTE/GPRS regularly, real-time tracking 
and history track playback.
ACC status detection
Support Temperature senor (Optional), SOS(Optional)
GPI/O port , can be extended to Serial port (Customization).
Built-in battery, Power disconnect alarm &Low battery alarm.
Built-in G-sensor ,Vibration, collision and falling alarm.
Geo-fence alarm, speed & shift alarm.
Relay to cut engine,Auto cut engine whenover speed and recover when normal speed.
Support EELINK protocol 2.0, Firmware OTAupgrade
Waterproof level IP65 and dustproof performance
External Battery(Optional)
Multiple certificates for module: PTCRB,GCF,AT&T,CCC,IC, Anatel, FCC
Backup Battery: Embedded 150mAh battery for emergency alarm when removing main power.
Specification
Antenna :LTE Antenna Internal, GPS Antenna Internal
GPS Positioning Accuracy :5m-15m (Depending on GPS Signal)
LBS Positioning Accuracy  : ~200m (Depending on density of base stations)
GPS Frequency :L1, 1575.42MHz C/A code
Network :LTE/FDD, WCDMA,GSM, SMS
GSM Frequency :850/900/1800/1900MHz
GPRS :Class 12, TCP/IP
LED Indicator :GPS-Blue; GSM-Red
Hot/Warm/Cold Start :<3x, <15s, <60s
Main PCB   : LTE Module
Built-in Battery:Embedded 3.7V/140mAh battery for emergency alarm when removing main power
Optional Accessories : Temperature Sensor ,SOS, External Battery.
Work Current :<30 mA
Standby Current :<15 uA
IP Waterproof Level :IP65
Dimensions (mm) :89mm x 37mm x 12mm
Operating Voltage :9-72V DC
Environment Temperature :-20○C - 65○C
Environment Humidity :20% ~ 80% RH
mobile APP:scan the QR code in the image and download the mobile app,log in with the device's id (above device sticker) number and password; (the original password is 123456. You can modify it).