Car GPS Tracker 4G GPS Locator TKSTAR TK915 7800mAh Magnetic Fall Alarm Free APP
customers are viewing this product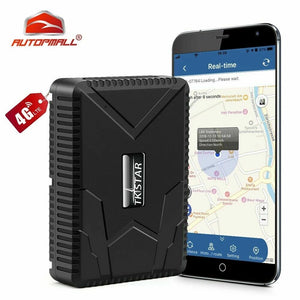 Product Applications
L atest 4G LTE Network
Europe/Middle East/Africa/Korea/Southeast Asia/India Version band : LTE-FDD: B1/B3/B7/B8/B20/B28; LTE-TDD: B38/B40/B41; WCDMA:B1/B8; GSM:B3/B8 Australia/New Zealand/Taiwan/Latin America Version band: LTE-FDD: B1/B2/B3/B4/B5/B7/B8/B28 LTE-TDD:B40 WCDMA:B1/B2/B5/B8 GSM:B2/B3/B5/B8 North America Version band: LTE-FDD:B2/B4/B12 WCDMA:B2/B4/B5; Japan Version band : LTE-FDD: B1/B3/B8/B18/B19/B26 LTE-TDD: B41 WCDMA:B1/B6/B8/B19 *****Please note: after purchasing, we will send the right version to you according to your address different country.*****
Realtime Tracking On Google Maps
You will can realtime track your target on google maps via mobile phone, tablet and computer, and the minumum upload interval is 10 seconds
Long Standby and Working Time
IP65 Dust and Waterproof
Our 4G TK915 asset GPS tracker has super water resistant to ensure stable operation in tough environment. It is not only effectively prevent dust from entering. but also don't worry about being splashed by water.
Strong Magnetic Mounting
It has 6pcs built-in magnets, with super strong powerful magnetic, can be installed very easily. no need professional installation
Fall Off Alarm
This tracker has built-in light sensor, after installed it., this fall off alarm function will be enabled automatically, then once someone take it away or the device dropped the device will send alarm message out
Historical Route Playback
We can view the history route of our device up to 6 months when we playback. Help us change our lifestyle about driving habits,fule saving,environment friendly. Easily grasp where the vehicle has been there.