Car Diagnosis Autel MaxiCOM MK906 Pro-TS Complete TPMS Auto Diagnostic Scanner
customers are viewing this product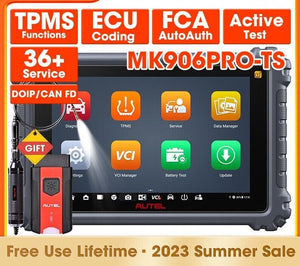 Car Diagnosis Autel MaxiCOM MK906 Pro-TS Complete TPMS Auto Diagnostic Scanner
As a high-end professional tool, Autel scan tool MK906 Pro TS integrates all the strengths of Autel 906 series and added complete TPMS function based on MK906 Pro.
1. Exceptional OE-Level functionality from comprehensive OBDII diagnostics & services to advanced E~CU coding and adaption

2. Integrated TPMS antenna module for performing comprehensive TPMS Function

3. OE-level all system diagnostics & Full Bi-Directional Control / Active Test; Smart function: Auto VIN Scan / Auto Scan / Scan License / Pre&Post Scan

4. 36+ Maintenance Functions, 21 Languages support, 99% Vehicle Coverage, 10000+ Models, DoIP/CAN FD latest protocols supported for high-speed CAN cover new vehicle models, No-IP Restriction

5. 2022 Technological breakthrough: Access''Auto Auth'' gateway for 2018 and newer FCA vehicles(Chrysler/JEEP/Dodge/Fiat) in the US, Canada,and Mexico

6. 2022 More Extended Functions back diagnostics up to 200% efficiency: VAG Guide Functions for step-by-step guided repair; Compatible with BT506 Battery Tester to perform professional cranking / charging system tests and In-Vehicle & Out-of Vehicle Battery Test; Work with Free MV108: allow you to check wear situation on unseen parts to avoid further damage or avoid potential dangerous driving; User-oriented Remote Desk: builds an assist platform where you can ask Autel's support center, colleagues, or friends to help you solve complicated problems remotely via the TeamViewer software; Wi-Fi Printing: allow you to any printer via WiFi and get the report right away without needing to connect to a PC, different from old version! Powerful Cloud-based Reports and Data Management: you can upload diagnostic reports to Autel Cloud and share reports with your customers through QR Code/email/text message easily, and they can view the reports anytime. Like other cloud space, it is a back garden for your diagnostic reports to help you enhance data centralization, share simply and quickly, reduce memory burden and improve work efficiency.
Pro-TPMS Tool to Fix 99% TPMS Problems
Overall by TPMS function: MK906PRO-TS > MS906TS > TS608 > MP808TS > MK808TS
Activate 99% TPMS sensors and read sensor status; Diagnose E/C/U for complete TPMS health check; Program MX-Sensors in 4 ways; On-tool 3000+ relearn procedure and wide OBD relearn coverage, Access to retrofitted-TPMS system …

Overall by function: MS906 Pro-TS = MK908 = MS908 = MS908S Pro > Elite = MS906TS > MS906 > MP808TS > MK808TS
Essential TPMS Service Tool in Your Toolbox
Equivalent to car tool MS906PRO +tire monitoring system diag TS601, the Autel MK906PRO-TS is a great combination of an ultra-level automotive scanner + TPMS service tool. If you are after a car computer that can also be a professional TPMS expert to activate OE & OEM sensors with built-in relearn procedures, program Autel MX-sensors, turn off TPMS light, and retrieves the sensors' OEM part No … then this scan tool will do just that.

equipped vehicle coverage: well-suited to mechanics in auto repair shops working on a wide range of cars.
Powerful TPMS Activation Tool: activate all kinds of OEM & universal 315MHz + 433MHz sensors on the market.
Effective TPMS Relearn Tool: easy automatic, stationary or OBDII relearn with 3000+ built-in TPMS relearn guidance.
Autel MX-Sensor TPMS pro-gramm-ing Tool: get access to, copy old sensor ID, and write data into MX-Sensors;
4 pro-gramm-ing ways: Copy by Activation; Copy by Manual Input; Auto Create 1-16 in batch; Copy by OBD.
At-A-Glance TPMS Status Screen: display all sensors' pressure, temperature, battery life, and sensor/E/C/U data to quickly identify the TPMS error.
Complete TPMS Diagnostics: read/clear TPMS codes with on-screen DTC description, retrieve TPMS live data stream.
TPMS Module Retrofitting, Build Everything from Scratch!

TPMS module retrofitting, a function that the other special tool can only dream of! For vehicles that do not have OEM tire pressure module, the tpms diagnostic service tool MK906pro-TS can retrofit your car with an OEM tire pressure module, and also program and relearn the sensors.
Advanced E/C/U Co-ding Online & Offline Easy to Operate
What separates the pro-gramm-ing tool MK906PRO-TS as a high-end diagnostic scanner from most standard OBD2 scan tools & car code readers is its advanced E/C/U Co-ding . It allows you to connect to the car's E/C/U system, set up new car modules, or adjust performance metrics, which could be super time-consuming yet Autel has developed the Online & Offline Co-ding solution that can be used by any technician or shop, regardless of experience.

Online Co-ding - the Autel online servers will calculate and send you the E/C/U Co-ding values automatically for a quick and precise Co-ding process.
Offline Co-ding - you can manually input the Co-ding values and access the Co-ding menu when you are skilled enough for more customized car builds.
What Can E/C/U Co-ding Do For You?

Setup New E/C/U Modules
so the newly-installed E/C/U modules will work in harmony with the rest of the car system after repair or replacement.

Upgrade Car Performancefine-tune E/C/U mainframe to make the moving pointer perform self check, display the amount of fuel consumption, activate beep sound, one press to close all windows, flash all brake lights during emergency braking, make turn signal light & rear fog light alternatively flash, activate & deactivate daytime running lights …
Fix Complex E/C/U-controlled Issues low fuel efficiency, mysterious power loss, unknown fault in mechanical parts …
Shield Annoying or Unneeded Car Functions like automatic start/stop.


We recommend connecting an external battery charger to the vehicle to ensure a successful operation.
Same OE-Level All Systems Diagnostics as MK908pro, MK908, MS908SP, Elite
With mechanic tool mk906prots, you can access in-depth onboard systems, read & clear DTCs, active tests, and reset all kinds of dashboard lights related to every individual control module in the car, including more recent developments like tire-pressure monitors in newer vehicles, not just basic universal systems like the engine:

For Engine System: Detect common issues such as Poor lubrication, Failing oil pump, Oil deposits and debris, Inadequate fuel and air compression, Leaking engine coolant, Blocked engine radiators, Prolonged engine detonation, Damaged oxygen sensors, Aged spark plugs, etc.
For SRS System: Troubleshooting a Bad seat belt, a Corroded crash sensor, or some Water intrusion in a connector, etc.
For ABS System: Diagnose Blown sensor fuse, Low brake fluids, and Faulty sensor, etc.
For Transmission System: Avoid Grinding or shaking sensation in gear, Whining, humming, or clunking noises, Burning smells, Gears slipping, Low or leaking transmission fluid, etc.
For TPMS System: Verify problems of Low tire pressure, Faulty tire pressure monitor control module, Unknown tire sensor, Failure to identify tire sensor, etc.
All-around Bidirectional Control / Active Test
Auto diagnostic scan tool MK906 PRO TS performs active test for 99% vehicles on the market. To further shortening the troubleshooting time without tearing the vehicle apart, it can:

rolling up / down a window
turning the fuel pump on and off
cycling the a/c clutch on and off
By directly monitoring their operations, you can quickly locate the problems and solve them.
36+ Service Functions: a Breakthrough in Car Routine Maintenance
What are car owners in America delaying the most?

11 million cars require an oil change.
7 million unchanged tires.
5 million delayed brake jobs.
What a shocking number! Performing car routine maintenance work is no longer a recommendation or best practice for car drivers. It's essential. Lucky you can repair most vehicles on the road with greater ease and efficiency, thanks to the 36+ multi-use service functions ALL housed in this mk906pro ts escaner automotriz professional:

Oil Reset: the car scanner will help read and reset the oil light.
SAS: reset the steering angle to zero to keep the car running straight.
Injector Co-ding : write the adaptive injector code into car system to achieve the optimum in providing smooth running.
EPB: help replace and reset the brake pad.
BMS Reset: register the battery after replacement.
DPF: help remove the particulate matter to keep the trap stable.
ABS Bleeding: help exhaust the air in ABS in an easy way.
TPMS Reset: reset the tire pressure.
Throttle Adaptation: initialize the throttle actuators to the default state.
And A/F Reset, ADBLUE, Coolant Bleed, EGR Reset, Language Set, NOX Reset, Seat Calibration, Transport Mode, Tire Setting, Stop/Start, Power Balance, AC System Relearn/Initialization, Windows Calibration … The Autel regular upgrades ensure above 36+ services will be compatible with more newly-launched vehicles to help you double the business.

Note: funtions are not universal to all cars, pls send your car's VIN# to us to check compatibility before order it.
Auto VIN
Just one click can facilitate the vehicle diagnostic process. MK906PRO scanner tool incorporates the latest Auto VIN technology that allows technicians or repairmen to easily identify vehicle information such as manufacturer, model, year and place of manufacture, etc.
Key Fob Programming
With IMMO Keys function, automotive diagnostic scanner MK906PRO can disable or clear info of the lost vehicle keys, add new keys, program the replacement key fob for most Asian and American vehicles. Note: Not available for BMW, Benz, Audi, etc.
Language
English, Simplified Chinese, Traditional Chinese, Spanish, French, German, Polish, Italian, Japanese, Korean, Dutch, Portuguese, Swedish, Russian

After you get the product, please tell us your SN of machine to activate the language you need .