Autel XP400 Pro Programmer IMKPA Kit Expanded IMMO Programming Accessories Work
customers are viewing this product
 Pro Functions:
(1) Read transponder data (including Mercedes Benz infrared smart
IMMO), and generate exclusive IMMO.
(2) Read/write on-board EEPROM chip data, and read/write
MCU/ECU chip data.
(3) Read/write remote control transponder data and detect IMMO
frequency.
(4) Compatible with the IMMO programming diagnostic tablet or a computer with installed IMMO programming software, the XP400 Pro can read/write transponder data quickly and accurately.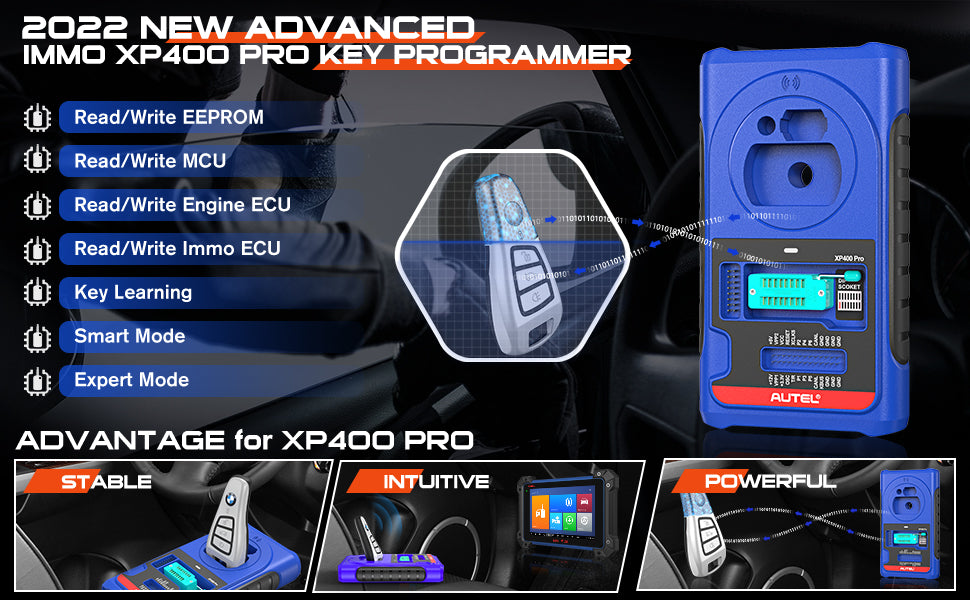 XP400 Pro Programmer Features:
Advanced all-in-one IMMO Programmer;
Expanded EEPROM functions for more component access;
170+ Types Odometer component reading functions;
180+ Immobilizer ECU component types;
40+ Engine ECU component types;
2000+ MCU component types;
440+ EEPROM component types;
Compatible with IM508 and IM608;
Includes 1-Year Warranty / Free Software Update for Life of Tool
MaxiIM IMKPA
IMKPA is a IMMO Programming Adapter Kit, compatible with the XP400Pro IMMO & Chip Programmer. Includes 12 adapters for the XP400 Pro that enable to Read / Write / Erase for Mercedes Benz ESL_W209 / W906 Data, Mercedes Benz NEC IMMO Learning, BMW EWS3 IMMO Learning and Volkswagen / AUDI / BMW / Benz IMMO Unlock. Compatible with the IM608 and IM508 with XP400 Pro.
IMKPA Kit
Expanded IMMO Programming Accessories
Supports over 10 IMMO unlock types
BMW EWS3 IMMO learning
Benz NEC IMMO leering
Benz ESL_W209 read/write/erase
Compatible with IM508 and IM608 (XP400 Pro required)
XP400 Pro Specifications:
Operating Temperature: -10℃ ~ 70℃ (14℉ ~ 158℉)
Storage Temperature: -20℃ ~ 85℃ (-4℉ ~ 185℉)
Port Type: B-USB, DB26, DC12
Input Voltage: 5 VDC, 12VDC
Operating Current: < 500 mA
Maximum Consumption: 2.5 W
Device Dimensions: (L*W*H) 168 mm*98 mm*30 mm
Net Weight: 520g
XP400 Pro Package List
1 x XP400 Pro Main Unite
1 x APB129 – EEPROM Adapter
1 x APA002 – EEPROM Socket
1 x APB125 – Mercedes Infrared Collector
1 x APB103 – MCU_PLCC52 Adapter
1 x APB104 – MCU_FQFP64 Adapter
1 x APB105 – MCU_FQFP80 Adapter
1 x APB106 – MCU_FQFP112 Adapter
1 x APB107 – MCU_FQFP144 Adapter
1 x APB108 – MCU_FQFP176 Adapter
1 x APB109 – MCU_FQFP32 Adapter
1 x APB110 – MCU_FQFP48 Adapter
1 x APB111 – MCU_SO28 Adapter
1 x APA101 – Spare Signal Cable
1 x APC101 – USB Cable (Standard USB –Type B USB)
1 x APA103 – EEPROM Clamp
1 x Dupont Line
1 x APA107 – ECU Cable
1 x APA108 – MCU Cable
1 x APA109 – MC9S12 Cable
IMKPA Kit Package List:
1 x APB113
1 x APB114
1 x APB115
1 x APB118
1 x APB119
1 x APB120
1 x APB121
1 x APB122
1 x APB123
1 x APB126
1 x APB127
1 x APB128
1 x Storage Case