Autel OTOFIX BT1 Car Battery Tester w/ Printer 6V/12V/24V Battery Load Analyzer
customers are viewing this product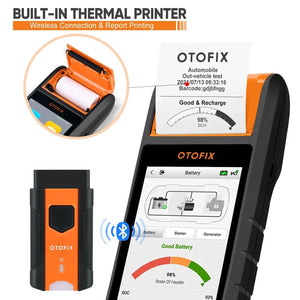 BT1 Car Battery Tester
OTOFIX BT1 is a touchscreen Battery & Electrical System analyzer that applies Adaptive Conductance, an advanced battery analysis method that produces a more accurate examination of the battery's cold cranking ability and reserve capacity, vital to determining a battery's true health.
The BT1 car battery tester can display a quick health status of the existing battery, register a new battery and perform advanced battery and electrical system diagnostics. The BT608's VINscan function enables quick identification of the vehicle and battery specifications. Read/Clear codes on all available vehicles systems. Print or share customized reports via Wi-Fi or print test reports via the built-in thermal printer.
BT1 Key Features:
Support in-vehicle and out-of-vehicle testing of passenger vehicle batteries
Test 6- and 12-volt batteries: 100 - 3000 CCA
Test 12- and 24-volt cranking/charging systems
Test Flooded, AGM, AGM Spiral, EFB and GEL batteries
Compatible with CCA, CA, SAE, EN, IEC, DIN, JIS and MCA
Battery load tester, car cranking, and charging system analysis
New battery registration to ECU
Quick display of battery specifications through battery barcode scan, Auto and manual VIN entry
Illustration instruction guides for battery positioning and testing
Print test reports via built-in thermal printer
Read and erase codes of all available systems
OTOFIX BT1
A Professional Accurate Car Battery Tester and Electrical System analyzer
Accurate Diagnostics
BT1 battery load tester applies an advanced Adaptive Conductance test technology provides more accurate test results of the battery's cold-cranking ability and reserve capacity
Reduce Battery Misdiagnosis and retest
Diagnose low-capacity batteries
Reduce the need to charge and retest
Battery Registration/ BMS Reset
BT1 battery load tester enables technicians to do battery registration (after battery replacement), BMS reset, Electric appliance reset, Special function and Battery usage history.
All-in-one 53 systems battery registration and diagnostics, reduce the investment
One-touch battery registration and step-by-step procedures about Electrical System reset
Smart System Detection
OTOFIX BT1 smart battery analyzer can automatically identify battery parameters and displays vehicle-specific battery locations by VIN
AutoVIN: 

Support AutoVIN and Scan VIN to Identify Battery Parameters, no need to manually select
Guided Battery Replacement Procedure with Prompted Memory Reset, easy to use
Graphic Instruction for battery positioning and testing helps to locate the battery and perform the test quickly
OTOFIX BT1
The FIRST Smart Touchscreen Automotive Battery Analyzer with All System Diagnostics!
All System Diagnostics
More than a battery tester, the BT1 also is a car diagnostic tool that offers technicians the ability to read and clear diagnostic trouble codes in all available systems as well as check ECU information, live data and freeze frame data.
Expansive vehicle coverage
BT1 Automotive diagnostic tool covers 98% of the US, European, and Asian vehicle makes in the market.
Auto VIN/ Scan
BT1 auto diagnostic scan tool comes with the latest VIN-based Auto VIN and Auto Scan features to perform a comprehensive scan of all the ECUs in the vehicle to detect faults and retrieve DTCs.
BT1 Car Battery Tester with Printer
OTOFIX BT1 battery tester has a data review function that enables technicians to review the data recorded and print out the diagnostic report instantly with the built-in thermal printer for further analysis, also sharing reports by email is supported.
BT1 Perfect Match with Multimeter
Connect the multimeter to the OTOFIX BT1 battery tester and access its application directly from the home screen to perform AC/DC voltage, AC/DC current, and resistance measurements, and diode, and connectivity tests. The test results will be displayed in numbers or graphs.
More Advantages than traditional battery testers
Improve service effectiveness with its 5.5-inch color LCD screen
Offers simple navigation
Life-Time Free Update & Remote Desk
BT1 Supported Battery Types
Battery Ratings:
CCA, CA, MCA, JIS, DIN, SAE, IEC, EN, EN2, BCI, GB
Battery Types:
Test Flooded, AGM, AGM_Spiral, EFB and GEL Batteries
Test 6- and 12-volt Batteries: 100 - 3000 CCA
Test 12- and 24-volt Cranking/Charging Systems
BT1 Battery Tester Specs:
Dimensions (WxHxD):

 7.91 x 3.54 x 1.18
Operating System:

 Android 9
Screen Display:

 5.5" LCD Touch Screen w/ 720*1280 Resolution
Storage:

 32GB
Connectivity:

 Wi-Fi (802.1.1 a/b/g/n/ac) / USB 2.0 Type-C / BT5.0+EDR
Camera:

 8MP
Input Voltage:

 5V DC
Working Current:

 < 450 mA at 7.7 V DC
Internal Battery:

 7.7V, 3000 mAh
CCA Range:

 100 to 3000 A
Voltage Range:

 1.5 to 36 V
Working Temperature:

 32°-122° F
Storage Temperature:

 14°-140° F
Weight:

 1.12 lb