AUTEL ML619 ABS AIRBAG Diagnostic Auto Car Scanner Fault Code Reader Tool AL619
customers are viewing this product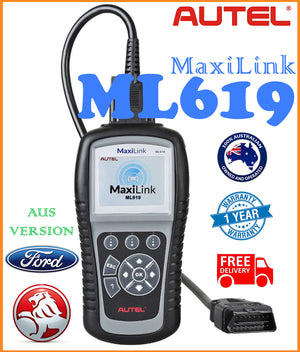 autel al619 / ml619
For Engine, SRS Airbarg, ABS
Product highlights
Genuine Autel Product
Diagnosis Engine, ABS and SRS codes
Live Data - Displays complete OBDII vehicle data stream in ECU
Turns off Check Engine Light (MIL), clears codes, and resets monitors
Displays DTC definitions on the TFT color screen
View freeze frame data
Multilingual menu and DTC definitions
FREE Internet software updates
One (1) Year Warranty
AutoLink ML619: NEXT GENERATION OBDII & CAN SCAN TOOL
The AutoLink AL619® scan tool is built to help you determine why the Check Engine Light, ABS, or SRS warning lights are on for over 50 different vehicle manufacturers. The tool offers the same features as our AL519, but comes with the added benefits of SRS system diagnosis, code reading & clearing with potential fault code explanation. A very powerful tool for body and specialty shops that need quick testing for SRS and ABS, the AutoLink® AL619 is a must for any technician.
Features:

• Diagnosis ABS and SRS codes on most 1996 and newer major vehicle models, including FORD & HOLDEN, Chrysler, Toyota, Honda,Nissan, Mazda, Mitsubishi, Subaru, Volvo, VW/Audi, Fits BMW, Mercedes-Benz, Hyundai, KIA, Land Rover, and Jaguar
• Work with all 1996 and newer vehicles (OBD II & CAN) domestic and import
• Features the unique patented One-Click I/M Readiness Key for quick State Emissions readiness check and drive cycle verification
• Bright color coded LED's provide Readiness Status. Green LED- Vehicle is ready
• Built in speaker provides audible tone every 3 minutes when vehicle becomes ready.
• Live Data - Displays complete OBDII vehicle data stream in ECU
• Retrieves generic (P0, P2, P3, and U0), manufacturer specific (P1, P3, and U1) codes, and pending codes
• Easily determines the cause of the Check Engine Light (MIL)
• Turns off Check Engine Light (MIL), clears codes, and resets monitors
• Displays DTC definitions on the TFT color screen
• View freeze frame data
• Display monitor and Inspection Maintenance (I/M) readiness status
• Retrieve vehicle information (VIN, CIN, and CVN)
• Troubleshooter code tips guide technicians to the root cause of trouble code faster, saving diagnosis, and repair time
• View freeze frame data
• Enhanced OBD-II Mode 6
• Reads, records, and playback live sensor data
• Prints data via PC
• Multilingual menu and DTC definitions (English, Spanish , and French)
• Retrieve vehicle information (VIN, CIN and CVN)
• USB cable included for product updates
• FREE Internet software updates and upgrades via USB Interface
• Limited One (1) Year Warranty
Additional ABS/SRS Diagnostic Function:

ABS & SRS Testing
ABS -"Anti-lock Braking System" in most vehicles is made up of an electronic hydraulic pump of two, three or most commonly four Wheel Speed Sensors (WSS), a G-force sensor, a Vehicle Speed Sensor and an ABS Control Module (EBCM). The EBCM is constantly monitoring the WSS, the Vehicle Speed Sensor, and the G-sensor.
Diagnosing an ABS problem should always start with a visual inspection of all brake components, then you will need to retrieve ABS DTCs to tell you where the problem is.
SRS - "Supplemental Restraint System" is made up of Impact Sensors, a Control Module, and Airbags. When the impact sensors detect a collision they send an extremely fast signal to the control module, which relays that signal to the airbags, deploying them to help prevent vehicle occupants from hitting interior objects such as steering wheels, dashboards, and the like. When the control module detects a problem with the airbags or sensors the Malfunction Indicator Light (MIL) will turn on.
The ABS/SRS diagnostic function is used to retrieve and clear codes from the vehicle's ABS/SRS systems. It also provides the definition of each code to help diagnose problem areas within the systems that may cause the Malfunction Indicator Light (MIL) to turn on.
Vehicle Coverage:
Click Here for AUTEL VEHICLE COVERAGE LIST: Choose the scanner model, click on the Logo of the vehicle and the supported function list will open.
• Australian Ford, Australian Holden, GM, Ford, Chrysler, Audi, Benz, Fits BMW, Bentley, Bugatti, EU Ford, Fits Mini, Maybach, Seat, Skoda, VW, Volvo,
Acura, Honda, Hyundai, Infiniti, Kia, Lexus, Mazda, Nissan, Scion, Toyota, Peugeot, Citroen.
Specifications:
• Display: TFT color display (320 x 240 dpi)
• Operating Temperature: 0 to 60°C (32 to 140 F°)
• Storage Temperature: -20 to 70°C (-4 to 158 F°)
• External Power: 8.0 to 18.0 V power provided via vehicle battery
• Length\Width\Height: 199 mm (7.83")\104.5 mm (4.11")\37.5 mm (1.48")
Package Content:
• 1 x AutoLink AL619 Main unit
• 1 x TF Card
• 1 x OBDII Cable
• 1 x USB Cable
• 1 x User's Manual
• 1 x CD
• 1 x Protective Nylon Case