Autel MaxiTPMS TS508 Diagnostic Tool TPMS Sensor Programmer OBD 315 433MHZ
customers are viewing this product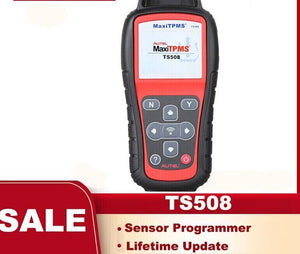 Autel MaxiTPMS TS508 Diagnostic Tool TPMS Sensor Programmer OBD 315 433MHZ
Autel MaxiTPMS TS508 Relearn Tool tire sensor program Tool Auto Diagnostic Tool Key Fob Testing read/check/active Tire Sensor
■ Introduction
The MaxiTPMS TS508 is a new generation TPMS diagnostic & service tool specially designed to activate all known TPMS sensors, read
TPMS sensor status, check TPMS system health condition, program MX-sensors and conduct TPMS relearn. With Quick Mode and Advanced
Mode options, you can save time and energy by choosing the most suitable way to complete TPMS work. TS508K, the starting TPMS kit
with one tool and 8 sensors, can be your right choice to experience AUTEL TPMS lines.
■ Languages
English, French, German, Spanish, Portuguese, Dutch, Polish, Swedish, Korean, Japanese, Russian, Italian
■ Active Sensors
Activates ALL magnetic, frequency and tire deflation triggered sensors using 125Khz continuous or modulated waive signals
■ 4 ways to program Autel MX-Sensors
1.Copy By Activation;
2.Copy By Manual Input;
3.Auto Create 1-16;
4.Copy By OBD;
■ TPMS Diagnosis
Read / clear DTCs of TPMS and resets Malfunction Indicator Light
■ OBDII Connection
Provides fast and accurate communication with Vehicle's ECU to run TPMS Diagnosis
■ Key Fob Testing
If you're tired of going to a dealership to test the signal strength of the key fob, with gm tpms relearn tool TS508, the key fob testing will become easy and convenient. When your key fob starts to perform abnormally or stops working, this TPMS tool can check your key fob to make sure it's in top condition.
■ Comparison of similar products for your reference
■ Advanced Version of TS401/TS408/TS508
As the upgraded version of TS501, Autel tpms scanner TS508 offers faster and smarter TPMS repairs with two TPMS service modes: the basic Quick Mode and the complete Advanced Mode. Compared to Autel TS408 & TS401, TS508 can read/clear TPMS DTCs and has an OBD2 connector, which makes it possible to program sensors via Copy by OBD and relearn sensors via OBD Relearn.
■ Exclusive TPMS Status Screen
1.Read ECU sensor ID;
2.Check sensor ID and ECU ID matching condition;
3.Read DTCs from ECU and erase DTCs;
4.View DTCs detail description;
■ Features
1. Vehicle Specific Database (Domestic, Asian and European)

2. Read TPMS sensor status and check TPMS system health condition

3. Read Data including tire pressure, temperature, battery condition, OEM Part number and relearn information.

4. Read / clear DTCs of TPMS and resets Malfunction Indicator Light

5. Read / write sensor IDs from vehicle ECU

6. Shows ID matching in color and Low Battery Indicator for Sensor

7. Checks Remote Keyless Entry (Key FOB) for transmissions

8. Program vehicle ECU to learn sensor IDs and positions

9. Program Autel Wireless MX-Sensors and Receives 315MHz or 433MHz signals

10. Batch Programming - Program multiple sensors with one touch (up to 16 sensors at a time)

11. Relearn procedures at the touch of help button and Displays different sensor relearn procedures for different OEM sensors

12. TPMS Status Screens and On-screen code definitions for Easy Diagnosis

13. Auto Selection of Frequency for Fast Scanning

14. Activates ALL magnetic, frequency and tire deflation triggered sensors using 125Khz continuous or modulated waive signals

15. Displays OBD locations for test vehicles

16. OEM sensor information display based on vehicle Make/Model/Year

17. Pre-selection process offers faster activation and diagnostics

18. Provides visual and audible responses to confirm sensors are working properly

19. Proper LF signal to prevent being fooled by other RF signals

20. Code Notification Information

21. Built-in rechargeable 3.7 v Li-polymer battery and Automatic power-off to preserve battery life

22. Ergonomic design features strong housing and protective rubber boot

23. TFT Color Display (320 X 240 dpi) and 8.0" LED Capacitive touchscreen with 1024 X 766P resolution
■ Specifications
Display TFT color display (320 x 240 dpi)
Power 3.7 V Li-polymer battery; 3200 mAh
Operating Temp. 0°C to 50°C (32°F to 122°F)
Storage Temp. -20°C to 70°C (-4°F to 158°F)
Dimensions 215 mm (8.46") / 105 mm (4.13") / 37 mm (1.46")
Weight 0.39 kg (0.86 lb.)
Connectivity
Mini USB 2.0 x 1
Mini USB 2.0 x 1
Software Update Lifetime Free Update
■ Package
1 * Host
1 * OBD1 Cable
1 * USB Cable
1 * User Manual