Autel MaxiPRO MP808S-TS Car Online ECU Coding TPMS Test Scan Tool PK MP808TS
customers are viewing this product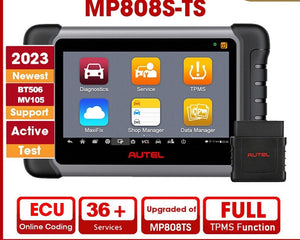 Autel MaxiPRO MP808S-TS Car Online ECU Coding TPMS Test Scan Tool PK MP808TS
Unmatched Vehicle Coverage
Some automotive diagnostic tools are only available for one model or a few models/brands. You have to spend more money to acquire higher-level scanners. This 2022 newly upgraded mp808s-ts diagnostic scan tool for all vehicles expands its vehicle coverage and works well on 150+ car makes and models worldwide (from 1996 to 2022), including the FCA vehicles after 2018.



36+ Special Functions & Updating for More
With car computer code reader MP808S-TS, you don't have to waste time & money to keep buying various car diagnostic tools of different brands to cover more maintenance for more cars. Autel MaxiPRO MP808S-TS diagnostic scanner features 31+ hot services for 99% of daily car maintenance/repairs, covering 99% of the global vehicles in the repair shops, e.g.,

OilReset, EPB Reset, TPMS Reset, ABS Bleeding, IMMO (basic), BMS Reset, Throttle Matching, Injector Coding, SAS Calibration, Suspension Calibration, Trans Adaption, Airbag Reset, ABS & SRS, WIN DR Roof, Seats Calibration, Language Change, Headlamp Matching, CHG Tire Size, TEC Learn, Cylinder, Turbocharging, Clutch, A/F Setting… Constant Updating for More Functions.



AUTOAUTH for FCA SGW Access
The Autel scanner MP808S-TS supports AUTOAUTH for FCA SGW access, allowing you to clear codes, do bi-directional control (active tests) and perform special functions for Chrysler FCA models after 2018 without special adapters. *AutoAuth account needs to be purchased by yourself. Compatible with Fiat, with Chrysler, with Alfa Romeo, with Dodge, etc. (From 2018-2022).



Renault SE~CUrity Gateway Function
Renault SE~CUrity Gateway Function is used for unlocking gateway to perform service functions, active tests, coding…The Autel scanner MP808S-TS supports Renault SE~CUrity Gateway Function and allows you to pay to perform those functions on these models (after 2019), such as CLIO V, CAPTUR II, CAPTUR II CN, MEGANE IV ph2, ESPACE V ph2, TALISMAN/SM6 ph2, NEW ZOE, ARKANA CN, XM3/NEW ARKANA, NEW SANDERO/LOGAN, etc.
Why Should You Choose Autel MaxiPRO MP808S-TS?
The 2022 Autel newly-launched scanner MaxiPRO MP808S-TS works as a great combo of MP808BT PRO+MS906+TS608. It's not only an advanced car diagnostic tool for car repair shops but also an all-in-one TPMS reset tool for tire shops.

Based on MaxiPRO MP808BT/MP808BT PRO/MP808K, Autel MaxiPRO MP808S-TS scanner works well on 150+ vehicle brands (from 1996 to 2022), including the latest models & the FCA models (after 2018). It also features 31+ services, E~CU coding, OE-level all-system diagnostics, bidirectional control, full TPMS functions,10+ high-end features, etc., meeting exacting OE requirements.
Why Update MP808TS to MP808S-TS?