Autel MaxiIM IM608 II & XP400 Pro IMMO Key Programming COMPLETE SET
customers are viewing this product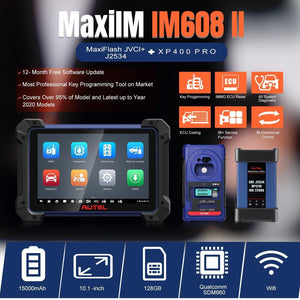 Autel MaxiIM IM608 II & XP400 Pro IMMO Key Programming COMPLETE SET 
2 YEARS FREE UPDATES
Autel MaxiIM IM608 II Scanner is the most advanced and the unique all in one key programming and diagnostic tool that combines advanced key programming, all systems diagnostics, and advanced services in one tablet. It is equipped with XP400 PRO key programmer and MaxiFlash programmer to provide complete coverage of IMMO and programming functions.

It is the upgraded Version of IM608 PRO. Featuring the powerful Qualcomm SDM660 Octa-core Processor, and a 10.1 inch LCD capacitive touchscreen, based on the Android 10.0 multitasking operating system.
Newest Autel IM608 II , Upgraded of IM608PRO
✅Android™ 10.0 OS: Enhancing 5x Faster diagnostic speed than ever.
✅4GB ROM + 128GB Memory: Expanded memory effectively avoids lag and delay when processing multitasking.
✅ Renewed CPU from Samsung Exynos T5260 6-Core to Qualcomm SDM660 Octa-core Processor, 4x 2.2 GHz(A73),4x 1.8 GHz(A53): Optimizing the diagnostic Apps operation and bringing fast AI computing power.
✅ Dual WiFi (2.4 & 5.0GHz): Accelerating the rate of diagnostic data transmission and collection.
✅10.1'' Touchscreen with 1920*1200 Resolution: Portable size for intuitive and comfortable experience.
✅ Upgraded MaxiFlash JVCI to MaxiFlash JVCI+.
✅ Chip Emulation, Ignition coil detection(No need APB112)
✅ CANFD and DoIP(No need Adapter)
✅ SCAN VIN, SCAN License
✅ Remote expert(Comming Soon)
Powerful Key Programming
Upgraded Version of IM608 PRO, the professional key programming tool of Autel IM608S II can work for 85% of Cars In worldwide, Including BMW, BENZ, VW, AUDI, etc. It can read the immobilizer pins and password directly from the vehicle and store this information to use later when learning the newly programmed keys to the vehicle.

1)Read PIN / CS (All Key Lost)
2) Key Generation
3)Key / Remote Learning
4)Backup / Restore IMMO Data
5)IMMO ECU Reset / Adaptation / Refresh / Coding
6)BENZ 3rd Generation IMMO Add Key, All Key Lost, Key Learning
7)BMW FEM / BDC Key Learning and ECU Adaptation
8)BMW CAS4/3/2 Key Learning
9)VW / AUDI MQB Key Learning, 48 Transponder (96-bit) Add Key, All Key Lost, A6 All Key Lost
What Autel X400 Pro Supported?
• XP400PRO Advanced All-in-One Key Programmer

• XP400Pro Key and Chip Programmer Reads/Writes and Learns Keys to the Vehicle

• Performs EEPROM-data Functions Needed for European Vehicles

• Enables Programming of Infrared Keys for Mercedes Vehicles and IC Chip Keys on Late Model Hyundai Kia Vehicles

• Supports Data Read/Write of 3,000 Plus Chip Types (inc. EEPROM, engine ECU, MCU, IMMO ECU)

• Compatible with the IM508 and IM608

Please note that the product does NOT support Read/Write IC Card function. The "IC Card Induction Area" was also removed from XP400 Pro.
ADVANCED IMMO & KEY PROGRAMMING
Smart Mode: for Guided and Automated Key Learning
Expert Mode: for Advanced Key Learning
·Read PIN/CS(All Key Lost)
·IMIMO ECU Refresh/Coding
·Generate Key
·BENZ 3rd Generation IMMO Add Key, All key Lost, Key Learning
·Key Learning
·BMW FEM/BDC Key Learning and ECU Adaptation
·Remote Learning
·BMW CAS4/3/2 Key Learning
·Backup/Restore IMMO Data
·VW/AUDI MQB Key Learning,48 Transponder (96-bit) Add Key. All Key Lost, A6 All Key Lost, and More
·IMMO ECU Reset/Adaptation
ECU Coding
The Coding function is used to re-flash the vehicle control modules, it allows you to update the computer software on the vehicle to the latest version, as well as to reprogram adaptive data for certain components after making repairs or replacements, providing ways for the issues of Drivability, Fuel Efficiency, Power Loss, Fault Codes, Durability of Mechanical Parts.
ECU Programming
The diagnostic tool comes with a free J2534 ECU programmingdevice that helps Benz and BMW users replace the existing software/firmware in the ECU, program new ECUs and fix software-controlled driving performance and emission issues.

J2534 ECU programming tool (also used as a VCI box) that is a SAE J2534-1 & -2 compliant pass thru reprogramming interface device.


Using the updatedOEMsoftware, it is capable of helping BMW and Benz users replace the existing software/firmware in the Electronic Control Units (ECU), program new ECUs and fix software-controlled drivability issues and emission issues.
Languages
English, Spanish, French, German, Polish, Italian, Japanese, Korean, Dutch, Portuguese,Swedish, Russia,Arabic,Hebrew,Turkish,Thailand,Vietnam

After getting the product,please contact with us to active the language.
All-system Diagnostic
Simply accessing the diagnostic modes via AutoVin or Control Unit, and you're able to perform diagnosis over all the systems on the vehicle's ECU in order to locate fault systems and retrieve DTCs.
ECU Information -provides the retrieved ECU information in detail.
Read Codes -displays detailed information of DTC records retrieved from the vehicle control module.
Erase Codes -erases DTC records and other data from the ECM.
Live Data -retrieves and displays live data and parameters from the vehicle's ECU.
Active Test -provides specific subsystem and component tests.
Active Test
The process of sending and retrieving information from a vehicle control module with a device is known as Actuation test or bi-directional control. The main aim of the actuation test function is to request the control module to perform a specific function including system tests, actuator tests, functional tests, inspection tests, reprogramming or reinitialization, thus saving diagnostic time.

Eg: You connect a fuel pressure gauge, cycled the key and cranked the engine but you couldn't figure out anything regarding the fuel pressure. With the actuation test function of this diagnostic tool, you can send a fuel pump command on instruction and see the proper fuel pressure, figuring out if there is a problem with the fuel pump circuit or pump.
36+ Service Functions
Autel MaxiIM IM608S II scanner includes36+ services like Oil Reset, EPB Reset, TPMS, BMS, Brake Bleed, Aftertreatment, Injector, SAS, Suspension, Throttle, WIN DR ROOF, Seats, Odometer, Lang Change, Headlamp, CHG Tire Size, TEC Learn, ABSSRS, Cylinder, VGT Learn, Speed & PTO, Clutch, Trans Adapation, Airbag Reset, A/F Setting, Automatic Start/Stop, Electronic Water Pump Start, EGR, VIN, FRM Reset, Transport Mode, HV Battery, ACC, AC, Rain/Light Sensor, Gateway Module Data Calibration, Reset control unit, Center Console Display Service History, CCS/ACC and etc.
Oil Reset Service: Allows you to perform reset for the Engine Oil Life system, which calculates an optimal oil life change interval depend on the vehicle driving conditions and climate.
EPB Service: Helps maintain the electronic braking system safely and effectively, deactivating and activating the brake control system, assisting with brake fluid control, opening and closing brake pads, and setting brakes after disc or pad replacement, etc.
SAS Service: Allows you to perform calibration for the Steering Angle Sensor, which permanently stores the current steering wheel position as the straight-ahead position in the steering angle sensor EEPROM.
DPF Service: Allows you to carry out numerous functions to the Diesel Particulate Filter system.
Smart Auto VIN & Auto Scan
Get rid of manual input and use the Auto IN/Scan VIN/Scan License feature to automatically read the vehicle identification number, and then you can perform the diagnostics for the vehicle you get.
Note: Auto VIN function can NOT work on all cars. You can always navigate your vehicle through the menu manually to perform diagnostics and services.
Other Feature
1.Superior Mechanics Assistant:

In addition to the MaxiCOM standard features and special functions, there are also a host of enhanced features that are specifically designed for common repair shop work, including; Relearn parking brake pad position after replacement, Force fuel injector regeneration and adjustment, Battery registration and reset, Sensor relearning after repair or replacement.

2.Shop Manager:

You can well manage the workshop information with 3 available functions within this application: Vehicle History, Workshop Information, and Customer Manager. Intuitively look up the summarized details.

3.Data Manager:

The best solution for the data related operations, you can store, print, and review the saved files in Image, PDF,Review Data, Apps Uninstall or Data Logging.

4.Remote Desk:

You can directly get ad-hoc remote support from Autel via Team Viewer software.

5. Wi-Fi Print:

It can connect with Wi-Fi printers to directly print diagnostic reports for better management and analyses.

6.Cloud Report Management:

Allows you to upload diagnostic reports to Autel Cloud so you can share reports with customers through QR Code/ email/ text message directly, customers can view the reports anytime.
Work with G-BOX2 (INCLUDED)
Autel G-Box is designed to be used for Mercedez-Benz vehicles with DAS3 CAN EIS/EZS in AKL. It helps to reduce the time for reading the ECU data from W204 and W207 EISs by over 85%
Work with APB112 (INCLUDED)
Autel APB112 smart key simulator is used to collect the data sent from the ignition coil, aiming to identify the ignition coil troubles and decode the data of the vehicle key chip.
It can also simulate the vehicle key chip.
AUTEL APB112 Function List
1. Smart key simulator
2. Compatible with IM608, IM508, and MX808IM
3. Compact but would need to be used with the XP400
4. Cannot be used with the XP200
5. 46, 4D data collection
6. 46 smart key password calculation
7. 46 chip simulation
8. For T0yota 4D (94/ D4, 98) smart key simulation
9.For T0yota H (88/ A8, A9, 39) smart key simulation
10. Collects data from the ignition coil
11. Identify ignition coil troubles
12. Decode vehicle key chip data
13. Simulate vehicle key chip (ex - 4D chip)
14. Must be used with an Autel diagnostic tool
15. For T0yota/ Lexus smart key all key lost
16. Chip decoding (Hyundai 46)
Work with IMKPA (INCLUDED)
IMKPA is a Key Programming Adapter Kit, enable Read/Write/Erase for Mercedes Benz ESL_W209 / W906 Data, Mercedes Benz NEC Key Learning, BMW EWS3 Key Learning and Volkswagen / AUDI / BMW / Benz Key Unlock.
IM608S II Specification
● Operation System: Android 10.0
● Processor: Qualcomm SDM660 Octa-core Processor
● Memory: 4GB RAM & 128 GB On-board Memory
● Display: 10.1-inch LED capacitive touch screen with 1920*1200 resolution; Wi-Fi:(802.11 a/b/g/n/ac); USB 2.0
● Connectivity: BT V5.0 + BR/EDR; SD Card (Support up to 64GB); HDMI 2.0
● Camera(rear): 16 Megapixel, AF with Flashlight
● Sensors: Gravity Accelerometer, Ambient Light Sensor (ALS)
● Audio: Microphone; Dual Speakers
● nput/output: 3-Band 3.5mm stereo / standard headset jack
● Power and Battery: 3.8V 15000 mAh
● Input Voltage: 12V (9-24V)
● Power Consumption: 6.5W
● Operating Temp: 0℃ to 50℃ (32 to 122℉)
● Storage Temp: -20℃ to 60℃ (-4 to 140℉)
● Dimensions(W*H*D): 300mm (11.81'') x 220.0mm (8.66'') x 50.0mm (1.97'')
Packing list
1 x Main Unit
1 x MaxiFlash JVCI+
1 x XP400PRO
1 x Main Cable
1 x USB Cable(2m)
1 x Mini USB Cable
1 x AC/DC Adapter(12V)
1 x Light Fuse 6*30mm(2pcs)
1 x Cigarette Lighter
1 x AAC001
1 x APC101 (USB Cable)
1 x APB104 (MCU_FQFP64)
1 x APB105 (MCU_FQFP80)
1 x APB106 (MCU_FQFP112)
1 x APB107 (MCU_FQFP144)
1 x APB108 (MCU_FQFP176)
1 x APB129 (EEPROM Adapter)
1 x APB125 (Mercedes infrared Collector)
1 x APA002 (EEPROM Socket)
1 x APA101 (Signal Cable)
1 x APA103 (EEPROM Clamp)
1 x APA107 (ECU Cable)
1 x APA108 (MCU Cable)
1 x APA109 (MC9S12 Cable)
1 x Connect Cable
1 x Quick Reference Guide
1 x Packing List
1 x Carrying Case (634*170*404mm)