Autel MaxiCOM MK908 Diagnostic Tool Upgraded Version of Autel Maxisys MS906
customers are viewing this product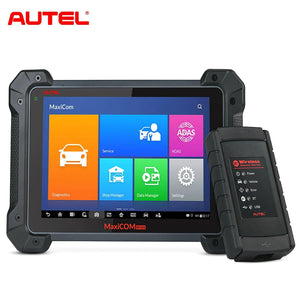 Autel MaxiCOM MK908
As an advanced version of MS908, Autel MaxiCom MK908 Bluetooth Auto Diagnostic Tool is Autel's latest and most sophisticated automotive OBDII scanner.
Autel MK908 is equipped with the hardware including the powerful A7 Quad-Core 1.3GHz processor, 2GB RAM 64GB Memory, it's fast to boot-up and multitasking. Combined with the best possible coverage of OE-Level Diagnosis, various most commonly used service functions and special functions, advanced ECU Coding, full bi-directional control, active tests and Key Fob Programming. Autel MK908 Wireless Automotive Scan Tool is the ultimate scan tool for technicians, mechanics and DIYers.
Autel MaxiCOM MK908 Features:
Vehicle coverage:

 mk908 has full OBD2 coverage, the best possible coverage of OE-Level diagnosis on over 80 American, European and Asian vehicles and also coverage for some OBDI vehicles with 9 OBDI adapters included: Chrysler-16, Nissan-14, BMW-20, Kia-20, Honda-3, GM/Daewoo-12, Benz-38, Hyundai-12+16, VW/Audi-2+2.

Generic

 OBD II operations for retrieving OBD2 vehicle diagnostic information;
Read Codes: displays detailed information of DTC records retrieved from the vehicle control module.

Erase Codes:

 erases DTC records and other data from the ECM.

Live Data:

 retrieves and displays live data and parameters from the vehicle's ECU.

USB or Bluetooth Connection: 

With the VCI dongle, data transmission between the vehicle and the Bluetooth Diagnostic Scan Tool MK908 could be either through the USB cable or the Bluetooth VCI.

Fast Wireless Connection: 

Available Range

 

Up to 230m. MK908 comes with both dual band 802.11n Wi-Fi technology and long range Blue-tooth connectivity that provides its users with an ultra-fast Vehicle Communication Interface. You don't have to wait. Just plug it into the OBD-II dashboard and it will diagnose within seconds.

Muti-Language: 

English, Spanish, French, German, Polish, Italian, Japanese, Dutch, Portuguese, Russian.

AutoVIN Technology: 

advanced Auto-Scan functions to identify CAN-Enabled vehicles, in one touch. Autel mk908 displays the data in the form of text, graph, analog and digital gauge for efficient analysis.

Warranty & Update:

 1 Year warranty for any possible quality problems and 1 Year free updates online
Notice: Please close the anti-virus software in your PC when updating the device.
Autel MK908 All Systems OE-Level Diagnosis & Services:
As an addition to the complete OBD2 functions of a normal OBD2 scanner, this MK908 professional diagnostic computer can diagnose all car systems:
Oil reset

 to close the oil service light and reset service mileage & service interval after you replacing engine oil;

EPB reset

 to brake reset the new electronic parking brake for braking wheels safely again;

SAS reset

 to clear memories of the previous steering angle sensor and store the replaced one;

DPF service

 supports forced fuel injector regeneration and adjustment;

BMS service

 to reset battery management system;

ABS brake bleeding

 to get a firm brake pad after air exhaustion;

TPMS service

 to relearn TPMS sensors so that new sensors can be recognized by ECU;

IMMO service

 enables you to disable the lost vehicle keys and program the replacement key fob. It could be one replacement key fob or more, depending on your needs.
Autel MK908 Bi-Directional Control:
As a professional grade car scan tool, MK908 has full Bi-Directional Control over vehicle-specific subsystem and components like ABS, SRS, window, door and roof.
Available test vary by manufacturer, year, and model, and only the available tests display in the menu. During a Bi-Directional control test, the tester outputs commands to the ECU in order to drive the actuators. This test determines the integrity of the system or parts by reading the engine ECU data, or by monitoring the operation of the actuators, such as switching a solenoid, relay, or switch, between two operating states.
Autel MK908 ECU Coding Capability:
This function allows you to establish a data link to the electronic control system of the test vehicle via the VCI device for vehicle diagnosis, service or programming. You can operate functional tests, retrieve vehicle diagnostic information such as trouble codes, event codes and live data, and perform ECU reprogramming, for various vehicle control systems, such as engine, transmission, ABS and more.
NOTE: The ECU programming function can only be applied through connection with the J2534 programming device (Autel MaxiFlash Elite), which serves as a Pass-Thru interface to establish communication with and transfer data to the vehicle's ECU. ECU programming functions need to buy an Autel MaxiFlash Elite separately. Connect it to MK908 and update the scanner to a MK908P.
Autel ADAS Calibration for Safer Driving:
Advanced Driver Assistance Systems (ADAS) is an array of vehicle systems that aid the driver either through passive alerts or by active control of the vehicle to drive safer and with greater awareness and precision.
Autel ADAS Calibration Tool provides comprehensive and precise ADAS calibration. It covers vehicle makes including Benz, BMW, Audi, VW, Porsche, Infiniti, Lexus, GM, Ford, Volvo, Toyota, Nissan, Honda, Hyundai, and Kia.
Supports the calibration of multiple driver assistant systems, including Adaptive. Cruise Control (ACC), Night Vision System (NVS), Lane Departure Warning (LDW), Blind Spot Detection (BSD), Around View Monitoring (AVM), Rear Collision Warning (RCW) and Heads-up Displays (HUD).
Autel MK908 Add-On Functions:
Extendable Feature: MK908 can be expanded the diagnostic capabilities by working with Autel MP408, MV108 to go deeper into the unseen details for locating the fault easily and accurately, or by working with Maxitpms TS501 for diagnosing comprehensive TPMS problems.
Autel MK908 MaxiFix & Data Manager:
The MK908 MaxiFix application launches the on-line troubleshooter database, which not only provides you virtually all common diagnostic trouble code (DTC) database for most vehicles, but also serves as a forum allowing you to network with other MaxiCOM users, and gives you access to a vast database of repair and diagnostic tips along with proven filed fixes.
The Data Manager application is used to store, print, and review the saved files for future reviews.
Autel MaxiCOM MK908 Specification:
Operating System: AndroidTM 4.4.2, KitKat
Processor: Samsung Exynos hexa-core Processor (1.3GHz Quad-core ARM Cortex-A7 + 1.7GHz Dual-core ARM Cortex-A15)
Memory: 2GB RAM & 64GB On-board Memory
Display: 10.1-inch LED screen with 1920x1200 resolutions
Connectivity: Wi-Fi (802.11 a/b/g/n/ac); USB: 2.0; BT v.2.1 + EDR; SD Card (Support up to 32GB);
Camera (rear): 8.0 Megapixel, AF with Flashlight
Sensors: Gravity Accelerometer, Ambient Light Sensor (ALS)
Input Voltage: 12 V (9-24 V)
Power Consumption: 6.5 W
Operating Temp.: 0 to 50°C (32 to 122°F)
Storage Temp.: -20 to 60°C (-4 to 140°F)
Housing: Strong plastic housing with protective rubber boot
Dimensions (WxHxD): 312mm (12.28") x 208mm (8.18") x 36mm (1.41")
Weight (NW): 1.48kg (3.26 lb)
Autel MaxiCOM MK908 Package List:
1x MaxiCOM MK908 main unit
1x Free ML519
1x Bluetooth diagnostic interface
1x AC/DC adapter (12V)
1x Adapter for Benz-14 (Europe Only)
1x Adapter for Chrysler-16 (America Only)
1x User manual
1x Carrying case
1x Quick reference guide
1x Lighter fuse
1x Main cable
1x Adapter for GM/Daewoo-12
1x Adapter for Audi-2+2
1x Adapter for BMW-20
1x Adapter for Benz-38
1x Adapter for Kia-20
1x Adapter for Mitsubishi/Hyundai-12+16
1x Adapter for Nissan-14
1x Adapter for Honda-3
1x Micro USB Cable
1x Cigarette lighter
1x Soft cloth
1x Packing list
1x Mini USB cable