Autel MaxiBAS BT608E OBD2 Scanner 12V 100 3000CCA Battery Tester All System Tool
customers are viewing this product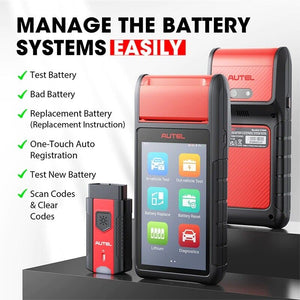 Autel MaxiBAS BT608E Battery Tester 12V 100-3000 CCA Load Tester, Cranking & Charging Systems Analyzer, Adaptive Conductance, Full System Diagnostic Scanner with Auto Battery Registration, Built-in Printer
Newly Released Smart Battery & Electrical System Tester
Adopting advanced adaptive conductance technology, the accuracy of the tests performed by Autel battery tester BT608E is above the market average level. BT608E is featured with battery and electrical systems tests, auto battery registration, and a built-in thermal printer. The applied progressive AutoVIN and ScanVIN helps mechanics' efficiency up. User-friendly applications, Android 9.0, and Wi-Fi greatly enhance BT608E's practicality.
Powerful Compatibility Ability
With the battery tester BT608E, no compatibility issue should be worried about. The battery tester can test almost all 6/12-volt batteries, which include 100-3000 CCA Flooded/AGM/AGM/Gel and EFB, and 12/24-volt cranking/charging systems, it's compatible with various battery standards such as CCA, CA, SAE, EN, IEC, DIN, JIS, and MCA. Cranking and charging systems failures of car, motorcycle, truck, RV, ATV, SUV, boat, yacht, and even lawnmower can be diagnosed.
Intelligent Adaptive Conductance
With the adaptive conductance technology, BT608E' s testing results accuracy up to about 95% to reduce battery misdiagnosis; bad battery detection rates up to 64% to diagnose low capacity batteries; reduce 30% of charge & retest rate to save time and improve workshop efficiency. After numerous market research and rigorous calculations, Autel ensures to provide accurate battery's CCA and reserve capacity and provides users with a premium experience.
Auto Battery Registration & Electrical System Reset
Comprehensive ad BT608E is, it also offer clear battery registration guidance and can complete one-touch registration of new batteries for 53+ vehicle brands. No other registration tool is needed. After the battery replacement, some position settings of the vehicle's electrical components such as sunroof, window, and the door might be lost and need resetting, the BT608E can also complete that task for technicians.
Full Systems Diagnostics & Auto VIN Scan
Like professional scanners, the battery tester BT608E can also do full system diagnostics, making the tester more than a car battery tester. Connecting the VCI to the OBD DCL, basic information of vehicles will be automatically displayed, saving technicians' effort to manually input every detail. You can also use the camera to scan the VIN/license to get the info easily (Please note this function is not compatible with all vehicles).
Lifetime Free Update and Print
The Autel car battery tester BT608E have lifelong free software updates for the operating system/applications/battery testing/battery registration/vehicle manufacturers. The Android-based touchscreen battery testing tool also supports Wi-Fi and Bluetooth connections. The shop-customized reports can be printed out with the built-in thermal printer. No other printing materials except the standard thermal paper are needed.
Bluetooth & Wi-Fi Wireless Connection
There is a VCI device available with the battery tester BT608E. Technicians and DIYers can connect the VCI to the vehicle and enter the VCI Manager menu on the BT608E for connection via Bluetooth and then you can check the communication status, and upgrade the VCI firmware. It also supports Wi-Fi connection for in-time software update.
Description
Operating System:Android 9.0
Screen Display:5.5'' LCD touch screen with 720*1280 resolution
Storage:2 GB
Connectivity:Wi-Fi (802.11 a/b/g/n/ac)
USB 2.0 , Type C
BT5.0+EDR
Camera:8 Megapixel
Input Voltage:5 V DC
Working Current:< 450 mA at 7.7 V DC
Internal Battery:7.7 V, 3000 mAh
CCA Range:100 to 3000 A
Voltage Range:1.5 to 36 V
Working Temperature:0° to 50° C (32° to 122° F )
Storage Temperature:-10° to 60° C (14° to 140° F )
Dimension (L x W x H):204 mm (8.03'') x 90 mm (3.54'') x 32 mm (1.25'')
Weight:510 g (1.12 lb.)