Autel MaxiBAS BT506 Car Battery Tester& Analyzer,Detection Rate of Bad Batteries
customers are viewing this product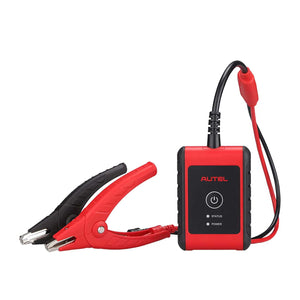 Autel MaxiBAS BT506 Car Battery Tester& Analyzer,Detection Rate of Bad Batteries
Autel MaxiBAS BT506 Car Battery Tester & Analyzer
Know Everything About Your Vehicle Battery and Charging System
Autel MaxiBAS BT506 is a battery and electrical system analysis tool. It uses the advanced battery analysis method of adaptive conductance to check the cold start capacity and reserve capacity of the battery more accurately, which is very important to determine the true health of the battery. MaxiBAS BT506 battery tester enables technicians to view the health status of vehicle batteries and electrical systems. Download the free easy-to-use battery test mobile app for IOS and Android devices. Together with the BT506 battery analyzer , the application can complete battery, startup and charging system tests and display test results. The Autel BT506 can also be used with the latest autel advanced models (such as MS906s, MS906 Pro, MS906 Pro-TS, Ms Elite II tablet) as a supplement to battery testing and alternator testing.
Highlights of Autel BT506 Car Battery Tester
Support in-vehicle and out-of-vehicle testing
Test 6- and 12-volt batteries: 100 - 2000 CCA
Test 12- and 24- cranking/charging systems
Test Flooded, AGM, AGM Spiral, EFB and GEL batteries
Compatible with CCA, CA, SAE, EN, IEC, DIN, JIS and MCA
Creative Adaptive Conductance for 95% accuracy
Display test records in list form, offering a summary review tested and vehicles and/or batteries
PDF repair report for easy viewing, sharing, printing
Permanently valid FREE software updates
Purchase the Autel VCI V200P to upgrade the BT506 to the BT508 to get battery reset, battery change, and full system fault scan functions for one vehicle brand
Adaptive conductance technology, the diagnostic accuracy is more than 95%
What is Adaptive Conductance?
Autel battery tester MaxiBAS family uses Adaptive Conductance [Valued 1000USD Technology] to gauge a battery's conductance health. A low frequency alternating current is sent through the battery to determine its remaining plate area. This method's advantage over ordinary load testers is its ability to allow multiple tests without draining the battery and to test batteries that are low or nearly completely discharged. This Autel car battery tool BT506 similarly uses Adaptive Conductance to test the battery's partnering components, the alternator and starter to see if they can take and store a charge.
Put it in simple words, that will be:
Detect low-capacity batteries, 100% detection rate of bad batteries
Reduce Battery Misdiagnosis and retest
Diagnose Low Capacity or Completely Discharged Batteries
Reduce battery Misdiagnosis, Diagnosis accuracy rate over 95%
Autol MaxiBAS BT506, powerful beyond imagination
Universal battery test
Autel MaxiBAS BT506 digital battery load test tool supports in-vehicle and out-of vehicle testing of 6- and 12-volt, 100 -2000 CCA, Flooded, AGM, AGM Spiral, EFB and GEL batteries, and compatible with major battery test standards CCA, CA, SAE, EN, IEC, DIN, JIS and MCA. It can test almost all the transportation tools batteries such as car, boat, motorcycle or any other.
The battery test results include a color-coded results summary, a list of test data, and repair tips.
Starter test
Autel MaxiBAS BT506 can check the working condition of the vehicle starter, it helps you test and analyze the actual required starting current and starting voltage to check the if the starter works properly or not.
Generator test
With the Autel battery scan tool BT506, you can check and analyze the charging system status, thus to find out whether the output voltage of the generator is normal, whether the diode works properly or not, which helps avoid damaging the battery and shortening its life due to overcharging or incomplete charging.
User oriented simplest operation
On-screen instructions
New to the battery tester? No worries at all! Autel BT506 provides detailed and step to step instructions, just follow the on-screen indicators, you can finish battery diagnosis easily.
Automatically identify battery type
Clamp the BT506 to a in-vehicle battery, the vehicle information will be automatically populated and its battery information tab will pop up from the bottom of the screen, select the correct battery parameters on the screen to process the diagnosis.
Polarity protection
Metal clamps of the BT506 are protected by short-circuit protection, no worries even you reverse the positive and negative poles.
Easy repair report sharing
The Battery Test app can save a history of repair reports from your diagnostic sessions. Repair report in PDF can also be generated for the easy viewing, sharing, and printing of these reports.
More exploration, unlimited possibilities
Upgradeable to BT508
Want more functions? Purchase the Autel VCI V200P to upgrade the BT506 to the BT508 so it will be able to perform battery reset, battery change, and full system fault scan for one vehicle brand
Great addition to autel newest scanners
Already have an Autel scanner at your hands? Autel BT506will be a great addition for detailed vehicle battery health diagnostics. It is compatible with the newest models such as Autel Maxisys MS906 Pro, MS906 Pro-TS, MS Elite 2 to perform complete battery, cranking, charging systems check.
Lifetime free updates
Check regularly to see if there is latest firmware updates, you can download the free software updates valid for a lifetime to keep your BT506 scanner up to date.
Specifications
Item
Description
Connectivity
USB 2.0, Type C
Bluetooth   V3.0 BR/EDR+ V4.2 LE Dual-Mode
Input Voltage
5 V DC
Working Current
< 150 mA at 12 V DC
Internal Battery
N/A
CCA Range
100 to 2000 A
Voltage Range
6 to 36 V
Working Temperature
-10°to 50° C (14° to 122° F)
Storage Temperature
-20° to 60° C (-4° to 140° F)
Dimension (L x W x H)
107 mm (4.21") x 75 mm (2.95") x 26 mm (1.02") (clamp   cable not included)
Weight
320 g (0.7 lb.)