Autel APB112 Smart Key Simulator for IM508+XP400 IM608 & MX808IM+XP400&IM608 PRO
customers are viewing this product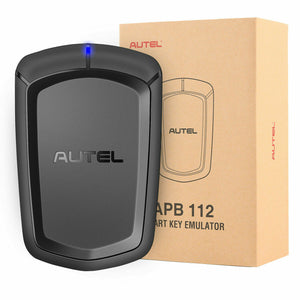 Autel APB112 Smart Key Simulator for IM508+XP400 IM608 & MX808IM+XP400&IM608 PRO
Autel APB112 
The APB112 smart IMMO simulator is used to collect the data sent from the ignition coil, aiming to identify the ignition coil troubles and decode the data of the vehicle IMMO chip. It can also simulate the vehicle IMMO chip. Currently, it supports to simulate the 4D type chip. More IMMO chip types will be supported with future upgrades.
Autel APB112 IMMO Features:
Smart IMMO simulator
46, 4D data collection
46 smart IMMO password calculation
46 chip simulation
Toyota 4D (94/D4, 98) smart IMMO simulation
Toyota H (88/A8, A9, 39) smart IMMO simulation
Toyota/Lexus smart IMMO all IMMO lost
Chip decoding (Hyundai 46)
Collects data from the ignition coil
Identify ignition coil troubles
Decode vehicle IMMO chip data
Simulate vehicle IMMO chip (ex - 4D chip)
Must be used with an Autel diagnostic tool
Compatible with Autel MaxiIM IM608, IM508, and MX808IM, Auro Otosys IM100, IM600
Compact but would need to be used with the XP400
Cannot be used with the XP200
Autel APB112 Details Display:

Status Indicator - Indicates The Current Status
Lights Solid Blue - the power supply is working properly and in default state;
Flashes Green - the data interaction status;
Flashes Red - the status of upgrading;
Lights Solid Red - the boot status
USB Interface - Provides power and data communication
How does Autel APB112 Work?
Please Note:
The APB112 Smart IMMO Simulator needs to be used together with the Autel Diagnostic Device;
Do Not disconnect the USB Cable when in use;
If you try to use the Autel G-box with IM508, you need to have the XP400. Otherwise the Autel G-Box can not work with IM508;
Before operating or maintaining on this unit, please read the instruction carefully, pay extra attention to safety warnings and precautions.
Connect the APB112 smart IMMO simulator to Autel Diagnostic Device with the supplied USD cable;
Complete the connection, status indicator lights solid blue, indicating that the APB112 smart IMMO simulator is working properly. Then it will communicate with the diagnostic device automatically.
 According to the selected vehicle system function, the APB112 smart IMMO simulator application is automatically upgraded on the Autel diagnostic device;
In order to decode the chip, please place the smart IMMO simulator close to the ignition coil for data collection. After decoding, the original car chip data can be copied;
The emulator IMMO chip can generate various types of IMMO chips by performing subsequent upgrades as needed.
Autel APB112 Package Content:
1 x APB112 Smart IMMO Simulator
1 x USB Cable
1 x Quick Reference Guide