Autel MK808 Car Scan Diagnostic Tool Auto Full Systems Scanner
customers are viewing this product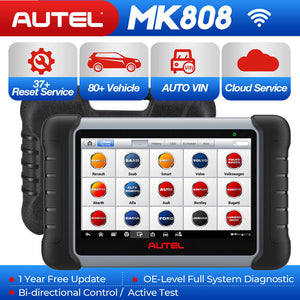 2022 Added Functional Benefits - Making MK808BT Ever Been So Powerful In It's value Range.
1. Bi-Directional Control(Active Test):

What would you do if the wipers stopped working? Just replace one or spend a lot money to fix it? Don't be in a hurry to dismantle your cars! Bidirectional control tool MK808BT can perform real active test that can send commands to the vehicle's ECU to drive the actuators to work, like ABS, window, door, solenoids, valves, wipers, headlamp, etc, helping you quickly find out bad parts and pinpoint faulty issues.

Note: Functions NOT universal, please send VIN(17 digits),car makes, model, year to check compatibility before purchase.

2. Battery Test Capability (BT506 required):

Upgraded from MaxiCOM MK808, MaxiCheck MX808, Autel MaxiCOM MK808BT is exclusively equipped with battery test ability, namely, MK808BT can work with Autel BT506 battery tester to perform professional cranking/ charging system test and In-Vehicle & Out-of Vehicle Battery Test, and with over 95% accuracy result with advanced adaptive condutive technology, which is far more accurate than the 50% of market avreage accuracy.
Autel automotive battery test tool BT506 can test all 6V and 12V 100-2000CCA batteries including the most regular Flooded, AGM, AGM Spiral, EFB and GEL batteries, and compatible with CCA, CA, SAE, EN, IEC, DIN, JIS and MCA standards.
Warm Tips: Battery test service is at the first place of Top 10 of vehicle after-market. So, Battery test can help you win more buiness.

3. Compatible with Autel MV108/MV105 Inspection Camera (not included):

This is a very pratical and useful functions, which allows you to have a futher wear situation check on your car engine/transmission,etc internal structure, to avoid further damage or avoid potential dangerous driving.

4. CLOULD REPORT MANAGEMENT:

This is a long-awaited feature for old customers!! With it, you can upload diagnostic reports to Autel Cloud and share reports with your customers through QR Code/email/text message easily, and they can view the reports anytime. Like other cloud space, it is a back garden for your diagnostic reports to help you enhance data centralization, share simply and quickly, reduce memory burden and improve work efficiency.

5. Supports FCA "Auto Auth" gateway for 2018 and newer FCA cars(Chrysler/Dodge/Jeep,etc) for US/Canada & Mexico.

NOTE: All these new functions are released on Autel system V2.62 and above, which are available to download for all MK808BT since 1st, June, 2022.